NBFC showed the sign of stability in financial sector, as company may hire around 15,000 people for the financial year 2020

New Delhi:  By adding crucial jobs and creating vacancies, National Banking Financial Corporations (NBFC) have indicated stability in the sector after a slowdown last autumn due to liquidity crunch and an increase in capital cost.  
According to the estimate showed by recruitment firm Team Lease, NBFC could hire around 15,000 people in the current financial year. The hiring firms contributing to that number are Mahindra Finance, Shriram Transport Finance, Piramal Capital, Aditya Birla, Finance, IIFL, Magma FinCorp, and Ugro Capital. 
These companies have already started recruiting for the quarter spanning January to March, as the current quarter is estimated to hold half of the expansion due to take place in the entire financial year. As told by Team Lease, NBFCs have hired around 10,000 employees in FY19 alone.  
  
Ramesh Iyer, managing director at Mahindra Finance said "The (NBFC) sector is poised for the next level of growth in next few years and well-run NBFCs would benefit the most (from this expansion)". He added, "We are also expanding and diversifying into new products, such as short-term consumer durable credit and education loans." Mahindra Finance is a non-banking unit which has 30 lakh customers. The company will add 1000 people in its 75-100 branches.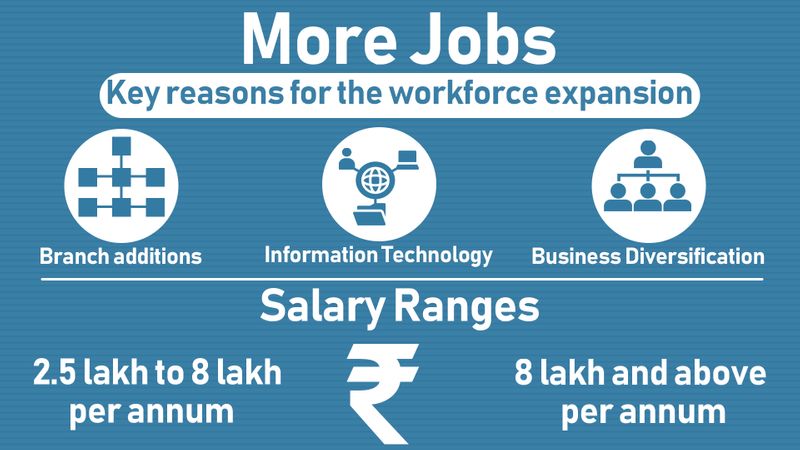 Rakesh Singh, CEO, Aditya Birla Finance, said "The situation was challenging, but there is an opportunity in every challenge,". He also said "As far as we are concerned, our robust asset-liability and NPA management meant we were less affected by these challenges."  
"Hiring will gain momentum next financial year, with 40-50% rise in employee counts," said Sabyasachi Chakraverty, head — banking & finance, Team-Lease Services.  
"We are expanding in Tier-3 cities and even smaller locations, focusing on meeting the financial needs of the under-served," said Sumit Bali, CEO, IIFL Finance. "In the next six-nine months, we would be adding more than 3,000 employees to our workforce."