Euro VI emission standards in India will be implemented by 2020, which will require more skills for design, engine, fuel and overall technology upgradation hence more skilled people will be hired
New India: As the Indian automobile industry will shift its gear to upgrade its technology and will expand its capacity as stiffer emission rules to come up after April 2020. This upgradation will lead to new employment opportunities at both levels, leading manufacturers as well as component makers.  
The hiring in the automobile sector can go up by 10% to 15%for the financial year 2020 as compared to previous fiscal, according to a recent study conducted by a service firm People Strong. But experts predict that the number will be moderately warm in coming two to three months due to election season  
The chairman of Maruti Suzuki, India, RC Bhargava said, "Capacities are being created which require people," considering the company's requirement at between 2,000 and 3,000, once its Gujrat plant is commissioned. 
He also said, "When the Suzuki-Toyota alliance (which will make the Vitara Brezza crossover and the Toyota minivan at each other's factories) goes onstream, additional capacity creation will be necessary."  
 
Indian's largest motor giant, Tata Motors is planning to hire another 2,500 employees for white-collar jobs in the coming two years  
 
Kiran Kumar, founding member and the chief of sale, PeopleStrong said, "Hiring is picking up in the space of connected technologies (AI and automation-related). Skills around digital IoT, 5G connectivity, coding and ADAS (Advance Driving Assistance System) will be the key focus areas in future." he also said, "Currently, almost 10% of hiring in most organisations happens for these roles. And, we are expecting it to reach about 17-20% in the next 12-18 months."  
 
Aswin Kumar, programme manager, mobility (automotive and transportation) at consultancy Frost & Sullivan, said "The industry will see a series of new regulations in the next 12-15 months and the need for skilled labour or embedded technology will significantly increase." he also said, "The automotive market is expected to bounce back to a 7-8% growth rate in FY20."  
"The new norms will lead to vehicle prices going up significantly and this would mean a lot of pre-buying by consumers," said, Vinnie Mehta, director-general of the Automotive Component Manufacturers Association of India (ACMA).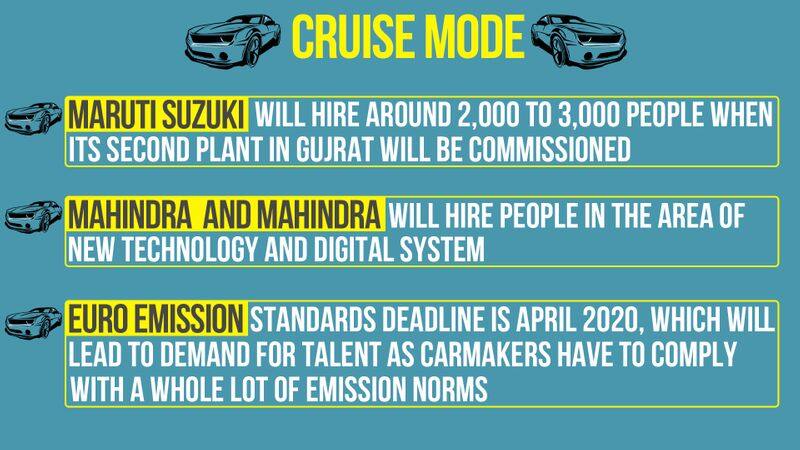 Bharat Stage-VI standards 
Indian automobile industry since 2010 working as per BS-IV standards. Bharat stage emission standards are emission standards enforced by the Government of India to regulate the output of air pollutants from the vehicle engines like internal combustion engines and Spark-ignition engines equipment and motor vehicles. Its standards and implementation are set by CPCB under the ministry of Environment & Forests and Climate change. In 2016, the Indian government decided to implement BS-VI norms directly from BS-IV by 2020. Hence it will bring more challenges for the automobile industries. Which will require more research and development (R&D) as engine, fuel and design technology will require an upgrade. Hence, companies will require more skilled people hence, hiring will go up for that.   
Read Exclusive COVID-19 Coronavirus News updates, at MyNation.
Last Updated Apr 10, 2019, 3:53 PM IST