Sources say BJP zeroed in on three seats out of 9 that are going to poll today and threw their entire organisational might to win those three seats in the last phase.

New Delhi: The last phase of election where TMC has been traditionally very strong, BJP hopes to make a mark as well. Though it will be quite a tough task considering Kolkata and its suburbs are held by Mamata's TMC even when the left front was ruling, but sources say BJP zeroed in on three seats out of 9 that are going to poll today and threw their entire organisational might to win those three seats in the last phase. The Prime Ministers rally to Amit Shah's roadshow were also planned to keep that in mind. 
1. Kolkata North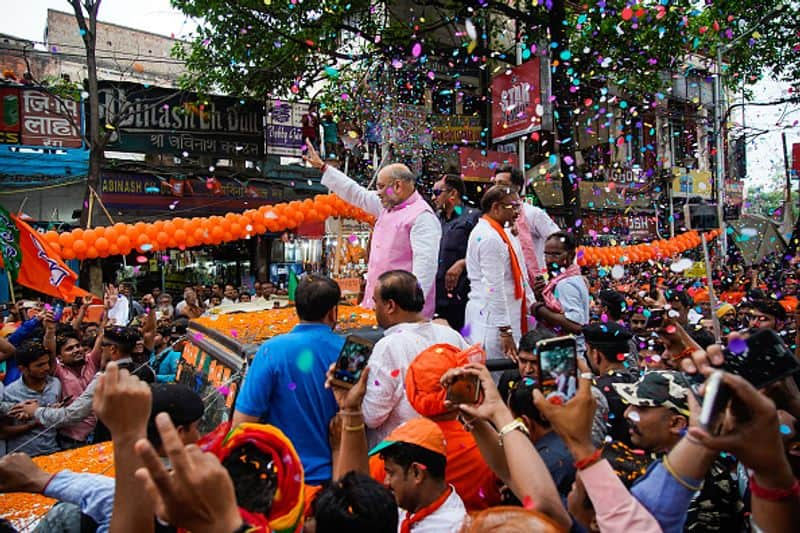 The one seat BJP has been very optimistic from the beginning was Kolkata North. Like last time, BJP's national secretary Rahul Sinha is being fielded from this Lok Sabha seat which has a sizeable population from the Hindi heartland that BJP is banking upon. In 2014, BJP got 1,55,277 Hindi-speaking votes from this area. Though the total number of Hindi-speaking votes in the area is 2,07,036, Bjp hopes to maximise that at the same time undo the perception damage created by TMC after the Vidyasagar statue damage which falls under this very constituency.
2. Dum Dum
Dum Dum is another constituency where BJP hopes to do well. BJP has fielded Samik Bhattacharya, one of the very few faces who could enter the West Bengal Legislative Assembly as a BJP legislator. Sitting MP and TMC candidate Saugata Roy had defeated CPI(M) leader Amitava Nandy by over 20,000 votes last time. With a sizeable swing of left votes towards the BJP and high on the saffron surge, BJP has zeroed in it as one of the seats in the last phase where it hopes to win. This area had already seen violence earlier when his car was targeted even as Mukul Roy had to be rescued from an event in Dum Dum constituency as Trinamool cadre allegedly reached there to protest and shout slogans. BJP claims, these are signs that the party may do well in this seat.
3. Mathurapur
Mathurapur is the third constituency that was zeroed in on by the BJP where it feels it has a chance to win. No wonder then that one of the Prime Minister's rally was scheduled here. It was here that Modi launched a brutal attack on Mamata Banerjee and her nephew, Abhishek Banerjee, saying, Bengal is not the fiefdom of the two. 
चुनाव प्रचार के दौरान और खासकर बीते 3-4 दिन से यहां जो हो रहा है, वो आप भी देख रहे हैं।

टीएमसी के गुंडों ने जो नर्क यहां बना रखा है, जिस प्रकार की हिंसा यहां फैला रखी है, उसके कारण गणतंत्र बदनाम हुआ है: PM @narendramodi

— narendramodi_in (@narendramodi_in) May 16, 2019
Why are they so confident about this seat? Well the CPI-M has held the Mathurapur seat in the Lok Sabha for nine terms almost continuously from 1971 to 2009. Though in 2014, TMC defeated CPIM by a margin of 1 lakh votes, BJP is betting big on the assumption that the majority of traditional left voters who had to go the TMC way in 2014 will vote for BJP in 2019.
Who wins, who loses will be apparent only in May 23rd. But the approach of BJP in the Modi-Shah era has been to find out seats where it holds a chance to win if it gives a tough challenge. Following which the BJP throws their electoral might up from the Panna pramukhs to the star campaigners in those seats. Bengal's 23 seats and 3 in the final phase has not been any different.
Read Exclusive COVID-19 Coronavirus News updates, at MyNation.
Last Updated May 19, 2019, 4:10 PM IST