Kalank star Sonakshi Sinha reveals why she regretted this one thing about Kalank that she even complained to film director Abhishek Varman.
Mumbai: Karan Johar's magnum opus Kalank has finally hit theatres and the movie's ensemble star cast is finally revealing behind-the-scene events from the film shoot. 
Actor Sonakshi Sinha, who plays Satya Chaudhry in the period drama, is extremely happy to be a part of Kalank but told MyNation that she has one regret about the film that forced her to complain to Abhishek Varman. And that can be a spoiler alert for those who didn't watch this period drama yet!
She said, "It was just an amazing experience overall being a part of this film. I am working with Madhuri ma'am for the first time and I am really happy to be in the same with her because I love and respect her. Unfortunately, I do not have any scenes with her and that was my biggest complain to Abhishek Varman (director). I told him that you put me in the same film with Madhuri ji but you are not giving me a scene with her. So, that was my biggest complaint to him."
Also read: Here's why Kalank may end up making it big despite negative reviews
Expressing her admiration for Bollywood's Dhak Dhak girl, Sonakshi said, "Madhuri ma'am is someone we have all looked up to at some point of time in our life and still do because of how she is. I admire her a lot, she is amazing. Any role she takes up, she just owns it. As soon as she comes on the screen, she lights up the entire place. I remember watching Aaja Nachle when I was in college. At that time, I didn't even dream of becoming an actress. But after watching the film, I told myself that if I ever become an actress, I should try to be like Madhuri Dixit."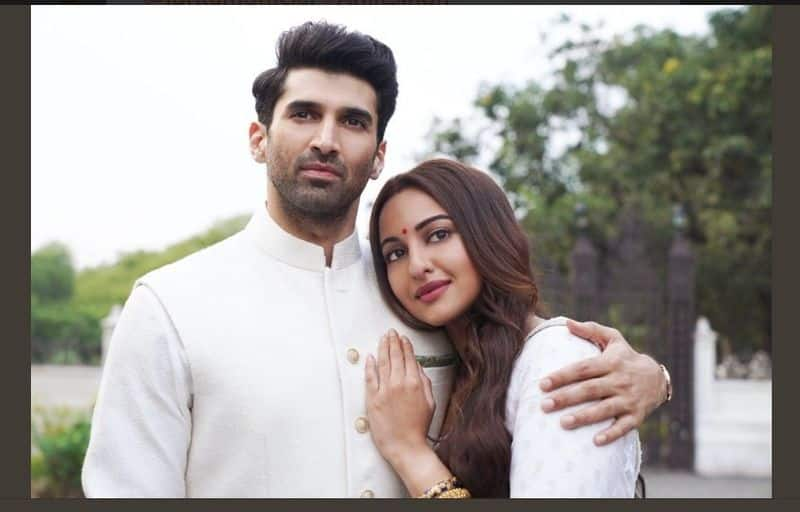 However, not being able to share the screen with Madhuri isn't Sonakshi's only regret about the film. She also misses being a part of any song or dance sequence in the movie. "I don't have any song in this film because my character is such and she is in such a situation that she cannot suddenly break out into song and dance. I really missed it but it's okay. It's good to see the film as a whole. Now with a vengeance, I will compensate for this in every film I do after this," laughed the Dabangg girl. Sonakshi plays a cancer patient in the movie.
When quizzed how she prepped for her role in Kalank, the 31-year-old revealed that she is a spontaneous actor and doesn't follow any process. "I am actually an actor who doesn't really have a process. I am a spontaneous actor. I can only act when the camera is on. When the camera starts rolling, that's when I start acting. My main preparation happens when I speak to my directors about the character. I try and understand from them what their vision is, how they have imagined it. My job as an actor is to do what the director wants me to, what he has imagined, and I add a little bit to it. Once I got the briefing from Abhishek, I was Satya," she concluded.
Kalank also stars Alia Bhatt, Varun Dhawan, Sanjay Dutt and Aditya Roy Kapur in key roles. The Abhishek Varman directorial has hit theatres on Wednesday but has so far garnered mixed reviews. 
Also read: Kalank movie review: Netizens term Alia Bhatt-Varun Dhawan starrer as 'torture'
Read Exclusive COVID-19 Coronavirus News updates, at MyNation.
Last Updated Apr 18, 2019, 3:25 PM IST