Bollywood actress Anushka Sharma posted a picture of a guest attending dinner at home. Read this to know who came knocking at her door
Mumbai: Virat Kohli and his wife Anushka Sharma have always been an adored couple. While Virat is a hero on the cricket field, Anushka has won many hearts with as a heroine in many movies. 
No, if you are under the impression that we are talking about Kohli's another hundred or any of Anushka's movies, you are wrong. We want to tell you about Anushka's love for animals and how she treated a 'furr'fect friend.
Well, any guesses who we are talking about?
Anushka posted a picture of a cat at her residence. Posting the picture, she said that the cat was her special friend and even placed a plate of food in front of the cat.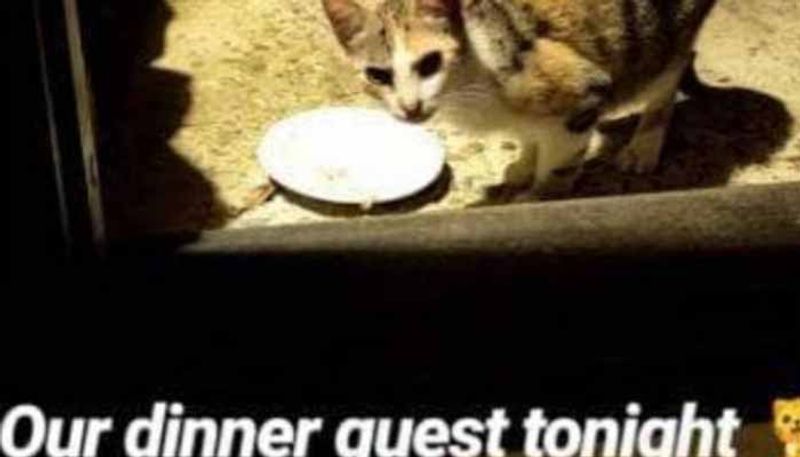 A busy actress, Anushka seldom gets time to appreciate small things in life. It is her fondness for animals and the way she uses these animals to spread awareness about their well-being that sets her apart.
Well, coming back to the issue of cats, they are adorable creatures. It is a myth that many of us tend to believe that dog owners are more in number compared with cat owners. But it is not so.
If that wowed, here are more.
As per a website PetCare:
A cat's meow is used to communicate with humans, not other cats
Cats have more bones in their bodies (230) than people (206)
Cats are far-sighted
Every cat's nosepad is unique, like a fingerprint
A housecat could outrun 100 metre world record holder Usain Bolt as a cat can run 30 miles per hour as compared to Bolt who ran 27 miles an hour.
Read Exclusive COVID-19 Coronavirus News updates, at MyNation.
Last Updated Aug 25, 2019, 5:09 PM IST