On Instagram, India women's hockey team player Navjot Kaur displayed her impressive fitness levels. She was guided by team's scientific advisor Wayne Lombard. Currently, the players are at Bengaluru's SAI due to the coronavirus (COVID-19) lockdown
Bengaluru: Ever since Wayne Lombard took over as the scientific advisor of the Indian women's hockey team, there has been a considerable improvement in the fitness levels of the players, which has resulted in better performances on the field.
The impressive overhaul in the various fitness routines followed by the team has seen them rise to World No. 9 in the FIH World Rankings, and has led them to successive Olympic Games (2016 Rio and 2020 Tokyo).
Also read: 'Seniors have helped me to play freely'
One of the various fitness sessions that the Indian team follows was on display on Friday morning (May 15) as energetic forward Navjot Kaur joined Lombard for an Instagram live session on Hockey India's (HI) official handle.
Watch: India men hockey team player's workout session
The session conducted by Lombard, with the help of a video call, was focused on maintaining and improving Navjot's muscle mass during lockdown, and ensured that social distancing at the Sports Authority of India (SAI) campus in Bengaluru was being followed.
Calling it a hypertrophy focused session, Lombard said it was important for him to focus on maintaining the muscle mass of the players during such circumstances.
"I think it is one of the key areas which often female players struggle to maintain if they are not able to train for a prolonged period of time. However, the drills in our fitness session focused on maintaining or improving Navjot's muscle mass during lockdown to ensure that when we return to full training, there is not much of a difference in her fitness levels," said the scientific advisor.
The Indian forward began the live session by warming up through some stretching exercises called neural flossing which involves the use of a band to get into the groove.
The five-minute warm-up exercises mainly focused on getting the body primed for the session by activating blood flow through the body and getting the heart rate up through skipping, thereby preparing Navjot for a gruelling session ahead. Meanwhile, Lombard was seen interacting with the viewers and explaining to them in detail each of the exercises which the striker undertook during the session.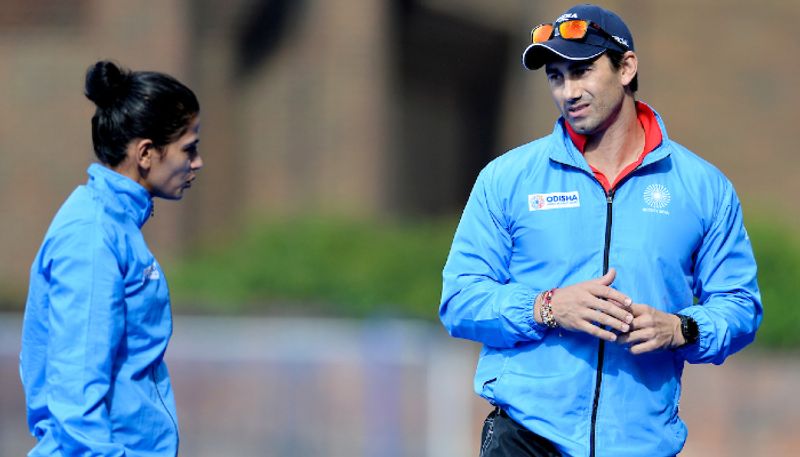 Wayne Lombard (right)
The session saw the 25-year-old do four different giant sets of exercises of the same muscle groups involving repeating the sets with one minute rest period between the sets. The first set focused on upper body movements, involving four exercises, 30 seconds of Iso hold push ups with shoulder touches; 15 push-ups; 15 reps of band triceps extensions; and 15 reps of dumbbell swiss ball chest press. The forward then took rest for a minute and repeated the set before moving onto the second set which involved focus on the lower body, and exercises including 20 reps of Reverse Lunges; 15 reps of dumbell squats; 15 reps of single leg swiss ball hamstring curls; and 15 reps of single leg hip extensions.
The third set focused on strengthening the back through some pull-based drills which included 15 reps of Band Pull Aparts; 15 reps of Dumbell Rows; 15 reps of Band Bicep Curls; and 15 reps of Back Extensions. Navjot was seen finishing the intense workout by activating her core through 40 seconds each of Bicycle crunches and Leg-raises, and then resting for a couple of minutes.
Both scientific advisor Lombard and Navjot were seen answering some questions from the fans. Lombard was asked about the importance of having intense workout sessions.
"With the regulation changes that have come into the sport gradually, hockey has become a really physically demanding sport. It is important to prepare the players for high intensity sessions during practice sessions and matches, and we can only do that through fitness sessions in the gyms and indoors, which eventually make them strong and agile, and improve their stamina," he said.
Navjot was also seen speaking about the importance of fitness. She said, "I believe fitness plays an important role in modern hockey. If our fitness is great, we can perform well on the field and compete throughout the 60 minutes.
"Even during lockdown, it has become important for us to maintain our fitness levels and devote some time to exercising. It will ensure that once we are back on the training pitch, we will only take a few days to get back into our rhythm of playing top-level hockey."
Read Exclusive COVID-19 Coronavirus News updates, at MyNation.
Last Updated May 15, 2020, 2:45 PM IST