Yuvraj and Sakshi's wedding card has nine crisp points on the Rafale deal. It has a unique but trendy headline "Keep calm and trust NAMO".
Surat: It's not only Prime Minister Narendra Modi and his ministers who are trying to woo the voters this election season, even hardcore BJP supporters are doing their bit and how. 
Yuvraj Pokharna and Sakshi Agrawal from Surat are going to get married on January 22 at Silvassa in Dadra and Nagar Haveli, and they have decided to dedicate an entire page of their wedding card to explaining what they call "Rafaela truths". 
Yes, you have heard it right. Though it appears to be just another wedding card with a picture of Lord Ganesha on the top, there are two lotus images. The BJP's election symbol is tough to miss on the bottom of the card. The card requests, "Our gift would be whatsoever you may wish to contribute towards BJP via NaMo app." It goes on to request the guests for voting for the Modi-led BJP in the upcoming Lok Sabha election. 
And it's not just the groom. The bride Agrawal too expects the same from the guests.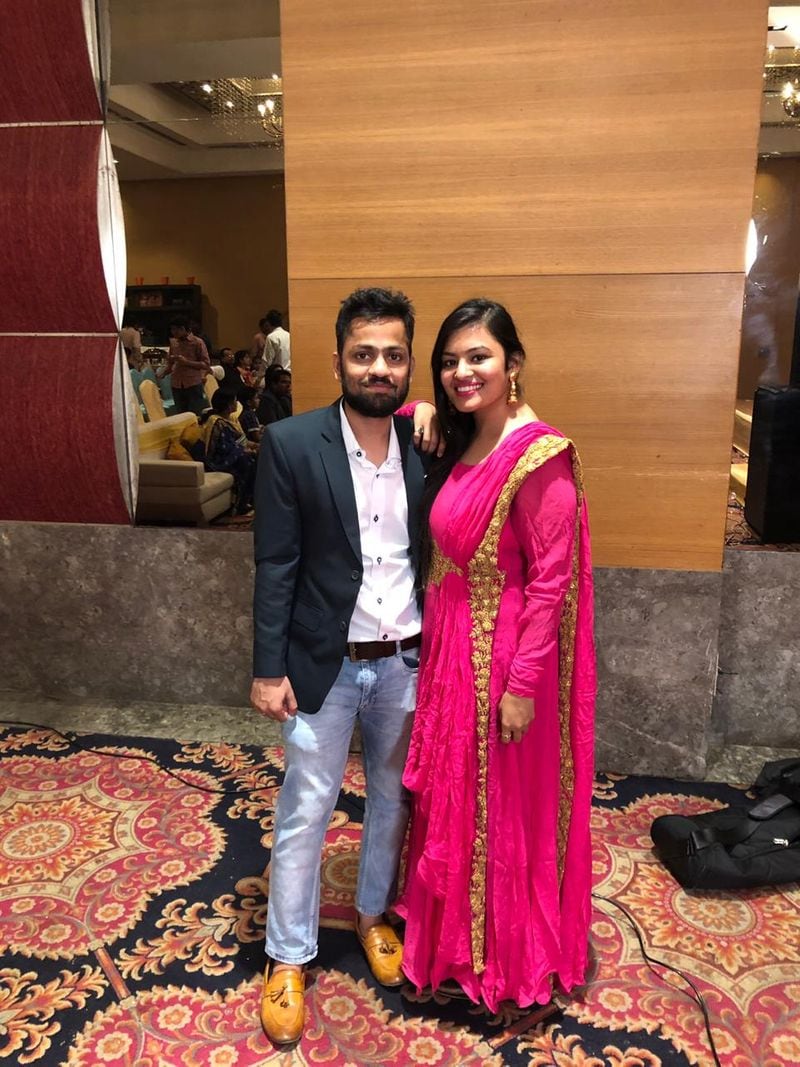 Image: Yuvraj Pokharna (left) and his bride Sakshi Agrawal
"The most important thing in a wedding is the card. People perceive the scale of wedding based on this," Agrawal says.
"What better gift that monetary contribution to the party that I love so much?" quips Pokharna while speaking exclusively to MyNation. What's interesting is that the colour of the wedding card has a saffron tinge as well.


The second page, which generally accommodates further details of the bride and groom's families, the timing of reception or map of the venue, has nine crisp points on the Rafale deal. It has a unique but trendy headline "Keep calm and trust NAMO". 
Watch: PM Modi's supporter requests guests to vote for BJP through his wedding invitation
In those nine short points — the brainchild of Pokharna himself — the wedding card explains the difference between a flyaway aircraft and a weaponised one, the price of the jets, what an offset contract is all about, and how it's not just Anil Ambani's Reliance Defence but 72 companies including Hindustan Aeronautics Limited (HAL) which are the beneficiaries of this contract. Pokharna tries to establish why the demand for a Joint Parliamentary Committee (JPC) is absurd. All that he does in that one page of the wedding card itself. 
"I picked up Rafale and brought out the simplest and most basic points which can be ingested by the simplest of individual," says Pokharna. "We needed to spread the truth and call out the bluff of the Opposition, especially Rahul Gandhi," he adds.
You ask why they have come up with such an idea and pat comes the reply, "We want Narendra Modi to return with a bigger margin. There are efforts being made to create falsehood about the Rafale deal portraying it as a scam. I have tried to demolish that." 
Also read: NaMo app to power BJP's 2019 campaign, people's feedback to decide fate of ticket-seekers
Did he have any idea that his wedding card will go viral? Pokharna confesses even he is surprised at the reaction that card got. 

 
This is not the first time though that support has been sought to be mobilised for Modi and the BJP. Earlier this month, a Surat-based couple Dhaval and Jaya created ripples by seeking votes for the Modi-led BJP as gifts from their guests. Yet another Modi fan from coastal Mangalore in Karnataka had made a similar request earlier. 
"This is the battle of perception for some... for some it is a battle of ideologies," Pokharna says.
Read Exclusive COVID-19 Coronavirus News updates, at MyNation.
Last Updated Jan 14, 2019, 6:46 PM IST