The Soil Health Card scheme, a flagship project of the Narendra Modi government, has been doing well; more than 10 crore cards have been distributed in the first phase while in the second phase 12,06,89,329 were issued cards
Nashik, the California of India, is known for three things – Kumbh Mela, wineries and onion. Located 190 km north of Mumbai, Nashik has earned the distinction of being the wine capital of India, thanks to its favourable climate for growing grapes.
A majority of farmers in Niphad and Dindori taluks in the district grow grapes while in Igatpuri, Thrayambakeshwar, Peth and Surgana taluks the main crop is paddy. In eastern parts of the district farmers mainly cultivate onion, pomegranate and vegetables. Compared to other farmers, grape growers are considered to be the most updated and well-informed ones. They export tonnes of grapes and wine to the US and Europe.
Balasaheb Pingle, a resident of Dindori taluk, says grape cultivation requires meticulous care. "We carry out soil testing at least thrice a year. Apart from the government facilities, we also take the services of private soil testing facilities in our area. We also take the advice of scientists at the National Research Centre for Grapes," he says.
Pingle, a graduate, has been cultivating grapes for the last 18 years. He adopts new and innovative farming technologies. According to him, soil test is a very crucial part of farming and it should be the first priority of any farmer. He vouches that soil test has helped him increase his income. Initially, he used to cultivate grapes in two acres but now he has expanded it to 40 acres.
Besides grapes, he also grows vegetables and maize. He lives in a bungalow, owns a car and a tractor: his children study in good schools. He doesn't believe farming is a non-profitable proposition. If one adopts right techniques and technology, one can make farming a profitable occupation; and at the base of all these techniques is the soil testing, he says.
Bhaskar Porje, a resident of Khambale village in Nashik district, is a happy man now. According to Porje, a small-time farmer, the soil health check he carried out in his fields three years ago has changed his life for the better. In the kharif season, water-guzzling paddy is the main crop here as water is available in plenty -- this region gets up to 2000 mm of rain annually. But after the paddy harvest, resourceful farmers who have wells or farm ponds could grow vegetables in the rabi season. Others are left with no option but to work as farm labourers. For the last couple of years, Porje has been using paper mulching method to grow tomatoes in his two-acre plot. He changed the crop pattern on the advice of agriculture officers which worked wonders for him.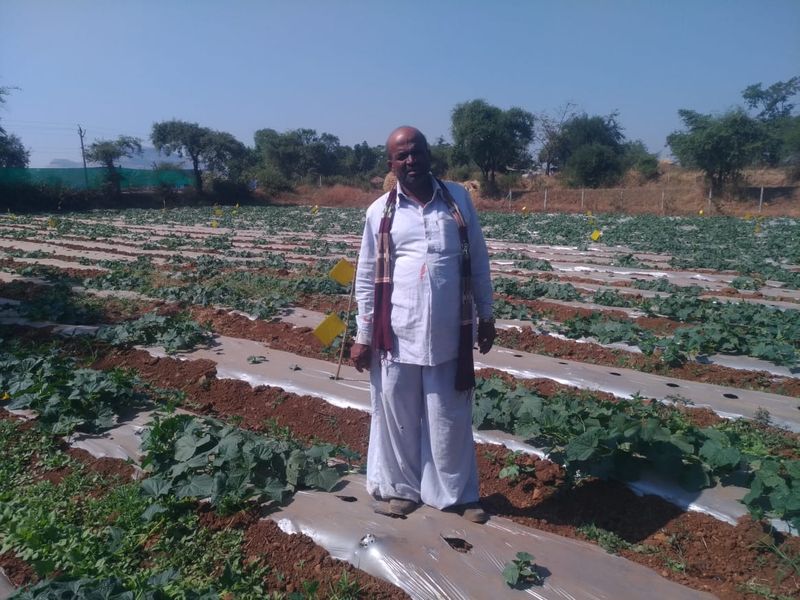 Equipped with a Soil Health Card, Porje is now aware of what his soil needs. The agriculture officials explained to him how micronutrients in adequate quantity in soil help improve harvest. He now knows how to maintain organic carbon and pH levels in the soil. Porje, like his fellow-farmers, now keeps a meticulous record of soil contents and applies fertilizers accordingly. "You have to give what the soil needs and not what you have. If you give that the Prithvi Maa will give back in bounty," he says.
According to Porje, it never occurred to him that he should carry out soil test. Encouraged by district agriculture officials, he, along with 1000 other farmers, conducted the soil test. For all these years, he had been doing the traditional farming practices. "After the test, I came to know that the organic carbon content in the soil was very low. It also showed me the NPK and micronutrient content in the soil. I was advised the agriculture officials to use organic manure. This had a telling effect on the quality of the soil and its water retention capacity. The organic carbon level has also gone up," he says. This had a telling effect: putting less quantity of chemical fertilizers he got four quintal more rice. "Now my expenses on fertilizers have come down drastically and I use only that much which is required," he says.
The increase in income from paddy cultivation has doubled Porje's confidence. He invested the extra income in tomato cultivation. As stated earlier, he used mulching paper technique for this. The amount of water to be used in the farming has also gone down as the retention in the soil has increased due to mulching. Earlier, he used to only have paddy cultivation. Porje believes that this change has been brought about by the Soil Health Card scheme.
The story of Harishchandra Gawane, a resident of Kanchan Gaon in the same district, is no different. He also cultivates paddy but this season he grows cucumber using mulching paper technique. He hopes to get good returns on that also. "This is the result of Soil Health Card," he says with a twinkle in his eyes. He used to apply fertilizers without much thought. "I applied for Soil Health Card three years ago. On the advice of agriculture officers, I gave measured quantities chemical fertilizers. Despite the cut down on chemical fertilizers, the yield was really good. The rice plants were looking robust and grains were big in size. Even the incidence of pest attack has reduced," he says.
According to Nashik district Soil Survey and Soil Testing officer Chhagan Padvi, the farmers have benefited in a big way through this scheme. "After the soil test, the farmers were able to identify the level of micronutrients, NPK and organic in the soil. The farmers can take the decision on the basis of the test results. In the last four years since the launch of the scheme the living standards of farmers in the district have gone up. So far 77,745 Soil Health Cards have been distributed in the district. We tested 91,807 soil samples in the district while in one block of Igatpur, 19,000 farmers have benefited out of this scheme," says the officer.
Going by the data, the Soil Health Card scheme, the flagship project of the Narendra Modi government, has been doing well despite many hiccups. More than 10 crore Soil Health Cards have been distributed in the first phase while in the second phase 12,06,89,329 were issued cards. A total of 22,80,78750 cards have been distributed so far.
(The author is editor-in-chief of Indus Scrolls)
Read Exclusive COVID-19 Coronavirus News updates, at MyNation.
Last Updated Nov 28, 2018, 6:16 PM IST