The Centre has submitted to the SC that according to the extant guidelines (Defence Offset Guidelines) laid down not exclusively by the NDA, but by past UPA governments, 'the foreign Original Equipment Manufacturer (OEM) is free to select is free to select any Indian company as its offset partner'
New Delhi: The Centre on Monday filed its affidavit in the Supreme Court with regard to the "decision-making process" leading to the "award of 36 Rafale fighter aircraft order". The Narendra Modi government has told the apex court that the process followed was well in accordance with the Defence Procurement Procedure (DPP) norms put in place during UPA days.
The affidavit said that it accordance with the SC order dated October 10, 2018, which said that the appraisal it wanted from the government did not include the "issue of pricing or technical suitability of the equipment".
The Centre has submitted to the SC that according to the extant guidelines (Defence Offset Guidelines) laid down not exclusively by the NDA, but by past UPA governments, "the foreign Original Equipment Manufacturer (OEM) is free to select is free to select any Indian company as its offset partner".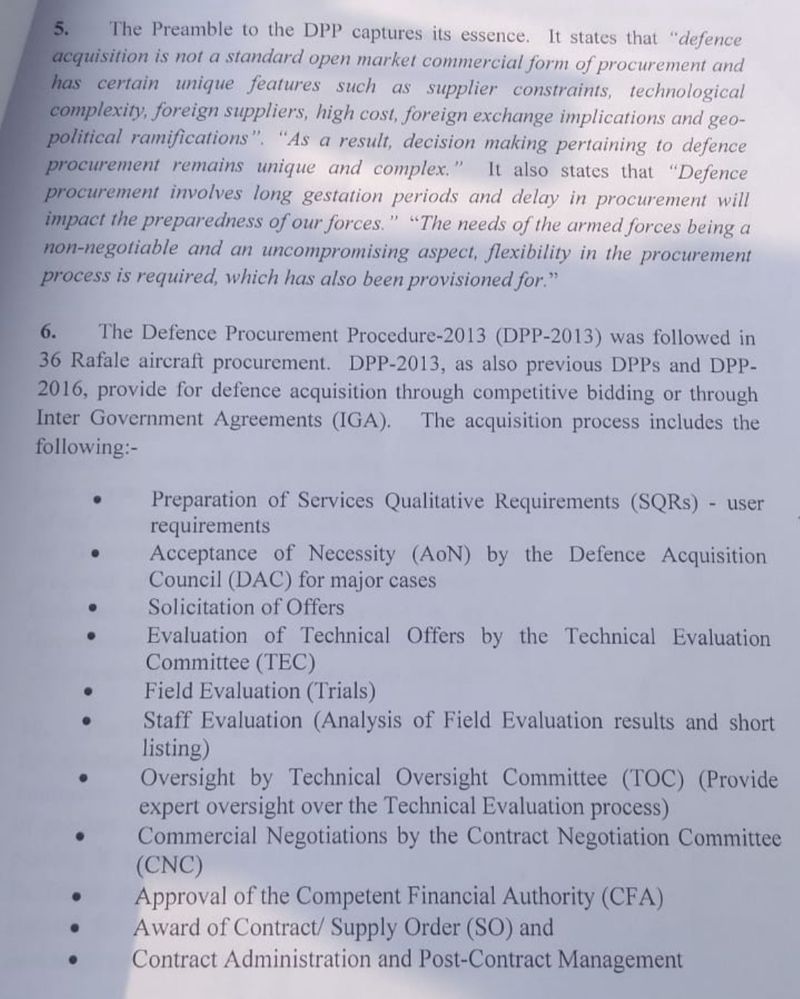 The Centre maintained that: "It has been reported that a JV between Reliance Defence and Dassault Aviation came into being in February 2017. This is a purely commercial arrangement between two private companies. Incidentally, media reports of February 2012, suggest that Dassault Aviation, within two weeks of being declared the lowest bidder for procurement of 126 aircraft by the previous Government, had entered into a pact for partnership with Reliance Industries in Defence sector."
The affidavit also said: "Dassault Aviation has also issued a press release stating that it has a partnership agreement with several companies and is negotiating with hundred odd other companies."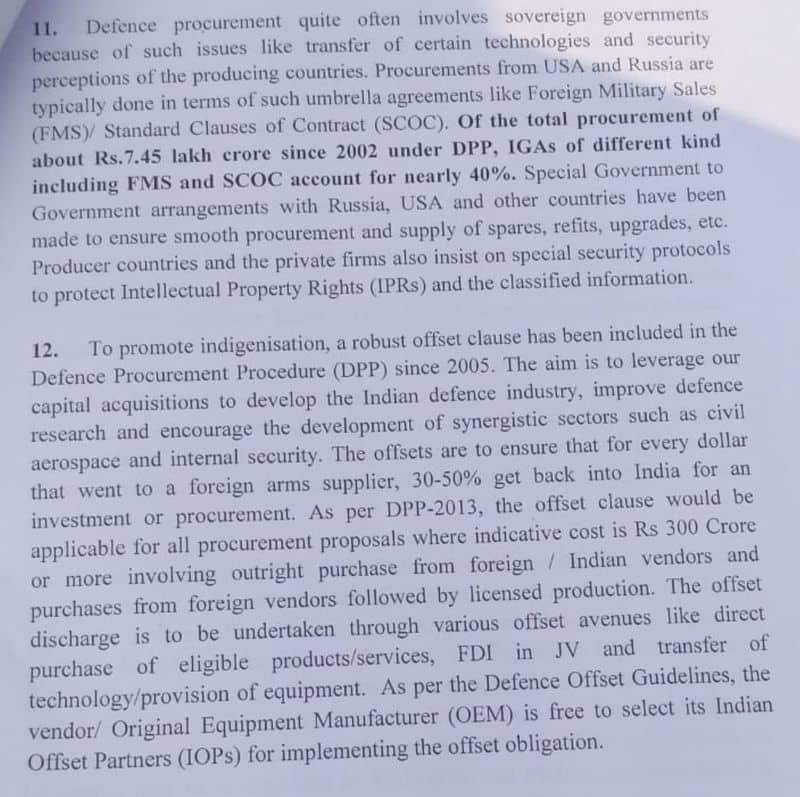 Therefore, the Centre reiterated that the "Government of India has no role in the selection of Indian offset partner which is a commercial decision of the OEM."
What all the Centre has told SC:
1.     The decision-making process was based on DPP. "Post Kargil war, a new set of defence procurement management structure and systems were set up in the Ministry of Defence in 2001…" As a result, DPP 2002 was formulated. These procedures have been successively revised resulting in DPP-2005, 2006, 2008, 2011, 2013 and 2016 to include aspects of "indigenous manufacture, Transfer of Technology (ToT), offsets, etc". "Since 2002, more than 1100 contracts valued at Rs 7.5lakh crore have been successfully concluded using the Defence Procurement Procedure."
2.     The Centre's answer also hauled in the DPP preamble to cite that "defence acquisition is not a standard open market commercial form of procurement and has certain unique features…" "As a result, decision making pertaining to defence procurement remains unique and complex." The affidavit also quoted the preamble: "The needs of the armed forces being a non-negotiable and an uncompromising aspect, flexibility in the procurement process is required, which has also been provisioned for."
3.     The Defence Procurement Procedure-2013 (DPP-2013) was followed in 36 Rafale aircraft procurement. DPP-2013, as also previous DPPs and DPP-2016, provide for defence acquisition through competitive bidding or through Inter Government Agreements (IGA).
4.     The DAC is the highest body headed by Hon'ble Raksha Mantri for Defence Procurement which also includes all Service Chiefs, Defence Secretary, Secretary (Defence Production), Secretary, Defence R&D and Secretary, Defence Finance.
5.     Para 71 of DPP-2013 on Inter-Government Agreement (IGA) states that "there may be occasions when procurements would have to be done from friendly foreign countries which may be necessitated due to geo-strategic advantages that are likely to accrue to the country. Such procurements would not classically follow the Standard Procurement Procedure and the Standard Contract Document but would be based on mutually agreed provisions by the Governments of both the countries. Such procurements will be done based on an Inter-Governmental Agreement after clearance from the Competent Financial Authority (CFA)". The CFA for procurement cases valued at more than Rs 1000 crores was the Cabinet Committee on Security (CCS) during the DPP 2013.
6.     Further, Para 72 of DPP-2013 mentions that "In case of large value acquisitions, especially that requiring product support over a long period of time, it may be advisable to enter into a separate Inter-Governmental Agreement (if not already covered under an umbrella agreement covering all cases) with the government of the country from which the equipment is proposed to be procured after the requisite inter-ministerial consultation. Such an Inter-Governmental Agreement is expected to safeguard the interests of the Government of India and should for the assistance of the foreign Government in case the contract(s) runs into an unforeseen problem".
7.     IGA provides a geo-strategic advantage to the country placing it at an advantageous position compared to its adversaries. IGA also facilitates and strengthens the foreign industry's commitment to long-term support for the equipment and spares through a matching commitment by a sovereign government.
8.     Defence procurement quite often involves sovereign governments because of such issues like transfer of certain technologies and security perceptions of the producing countries. Procurement from USA and Russia are typically done in terms of such umbrella agreements like Foreign Military Sales (FMS)/Standard Clauses of Contract (SCOC). Of the total procurements of about Rs 7.45 lakh crore since 2002 under DPP, IGAs of a different kind including FMS and SCOC account for nearly 40%.
9.     Special Government to Government arrangements with Russia, USA and other countries have been made to ensure smooth procurement and supply of spares, refits, upgrades, etc. Producer countries and private firms also insist on special security protocols to protect Intellectual Property Rights (IRPs) and the classified information.
10.  To promote indigenization, a robust offset clause has been included in the Defence Procurement Procedure (DPP) since 2005… The offsets are to ensure that for every dollar that went to a foreign arms supplier, 30-50% get back into India for an investment or procurement. As per DPP-2013, the offset clause would be applicable for all procurement proposals where indicative cost is Rs 300 crore or more involving outright purchase from foreign/Indian vendors and purchases from foreign vendors followed by licenced production… As per the Defence Offset Guidelines, the vendor/Original Equipment Manufacturer (OEM) is free to select its Indian Offset Partners (IOPs) for implementing the offset obligation.
11.  The Indian Air Force has an approved strength of __ (blank in the original document) fighter squadrons to achieve the capability to counter a two front scenario… In principle approval for the procurement of 126 fighter aircraft was granted by the then Hon'ble Raksha Mantri in June 2001. Services Qualitative Requirements (SQRs) in essence user requirements, were prepared on 08 June 2006. The Defence Acquisition Council (DAC) granted Acceptance of Necessity (AoN) on 29th June 2007 for procurement of 126 Medium Multi-Role Combat Aircraft (MMRCA) which included 18 direct flyaway aircraft equivalent to a single squadron, from the Original Equipment Manufacturer (OEM) and 108 under licence manufacture by HAL to be delivered over the period of 11 years from the date of signing of contract. Bids for 126 fighter aircraft were issued on 28th August 2007.
12.  Six vendors submitted their proposals on April 28. Technical Evaluations were approved in June 2009 and Field Evaluations conducted from July 2009 to May 2010. The Staff Evaluation Report was accepted in April 2011 wherein rafale (M/s Dassault Aviation) and Eurofighter (M/s EADS) qualified field evaluations. Technical Oversight Committee report was approved in June 2011. The commercial bids opened in November 2011 and M/s Dassault Aviation was determined as L1 in January 2012. Contract negotiations commenced from February 2012. In the context of letters received and the issues raised relating to the determination of the L1 vendor, the then Hon'ble Raksha Mantri directed that the Independent Monitors be requested to examine the issues related to the determination of L1. The Independent Monitors cleared the process.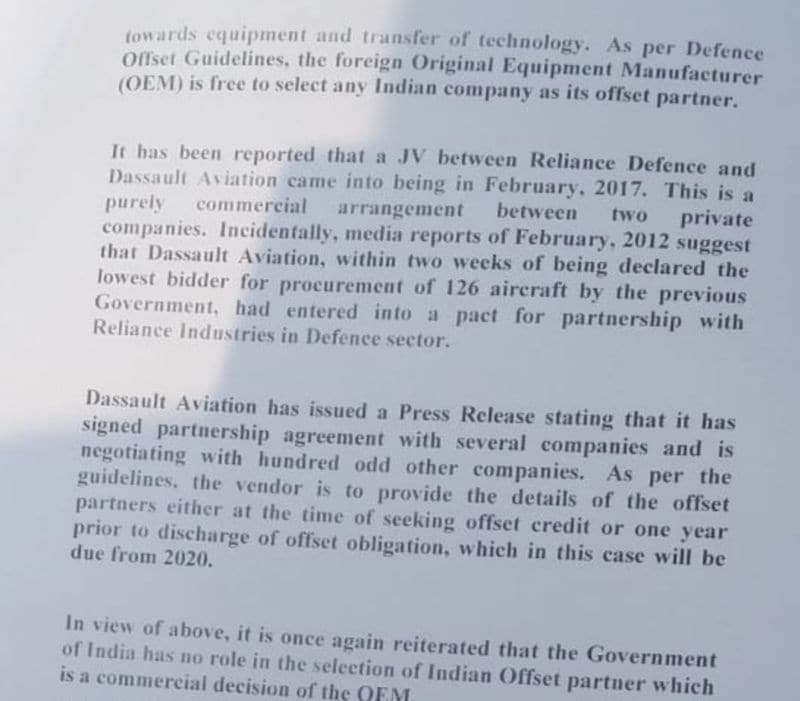 Last Updated Nov 12, 2018, 5:13 PM IST