Dubey didn't stop at that. He tweeted the same text with the same objectionable photo and, finally, justified the act with a citation of the Krishna-Sudama episode from the wrong Purana
New Delhi: If this naked display of feudalism is difficult to believe, just log into Facebook and check the timeline of BJP Member of Parliament Nishikant Dubey's verified account.
The MP from Godda, who prefixes a "Dr" to his name, has posted on his page a photo that shows a BJP worker washing Dubey's feet. The MP did not stop at that. He went on to name the cadre as Pawan Sah whom he commends for "keeping his promise".
Betraying a regressive, medieval attitude, Dubey brazenly states, "Today, a great karyakarta (party worker) of BJP, Pawan Sah, washed my feet in front of thousands for the sheer happiness he derived from the (laying of foundation stone for a) flyover. I wish I too could get a chance to drink water off the cleansed feet of party cadre, after (I do the same for) my parents. Hail BJP, hail India." In other words, he is suggesting, the cadre drank the dirty water off his feet. 
Dubey didn't stop at that. He tweeted the same text with the same objectionable photo too. Then he deleted the tweet. If it was out of embarrassment, one wonders why the Facebook post was not pulled down.
But social media is way too responsive and can be brutal at times. The neta soon realised the world wide web is not just constrained in the cocoon of his political world where leaders are expected to be treated as gods. 
@dasraghubar @narendramodi did this tweet of our honorable MP exist in democracy ...Really #INDIA is growing high..
Today I am saying that I will press #Nota button rather giving my one vote to bjp..

— Koushik Rathore (@RathoreKoushik) September 16, 2018
@MadhupurManch
अति उत्तम
लगे हाँथ आप अपनी खुद की एक मंदिर का भी उद्घाटन क्यो नही कर लेते हैं। अब तो आप देवतुल्य हैं ही।#ShamefullAct

— Rajesh Yadav (@twt_rajeshyadav) September 16, 2018
On Facebook, even his followers pointed out that the worker is a Dalit whom he is humiliating. The caste angle added a new dimension to the dispute.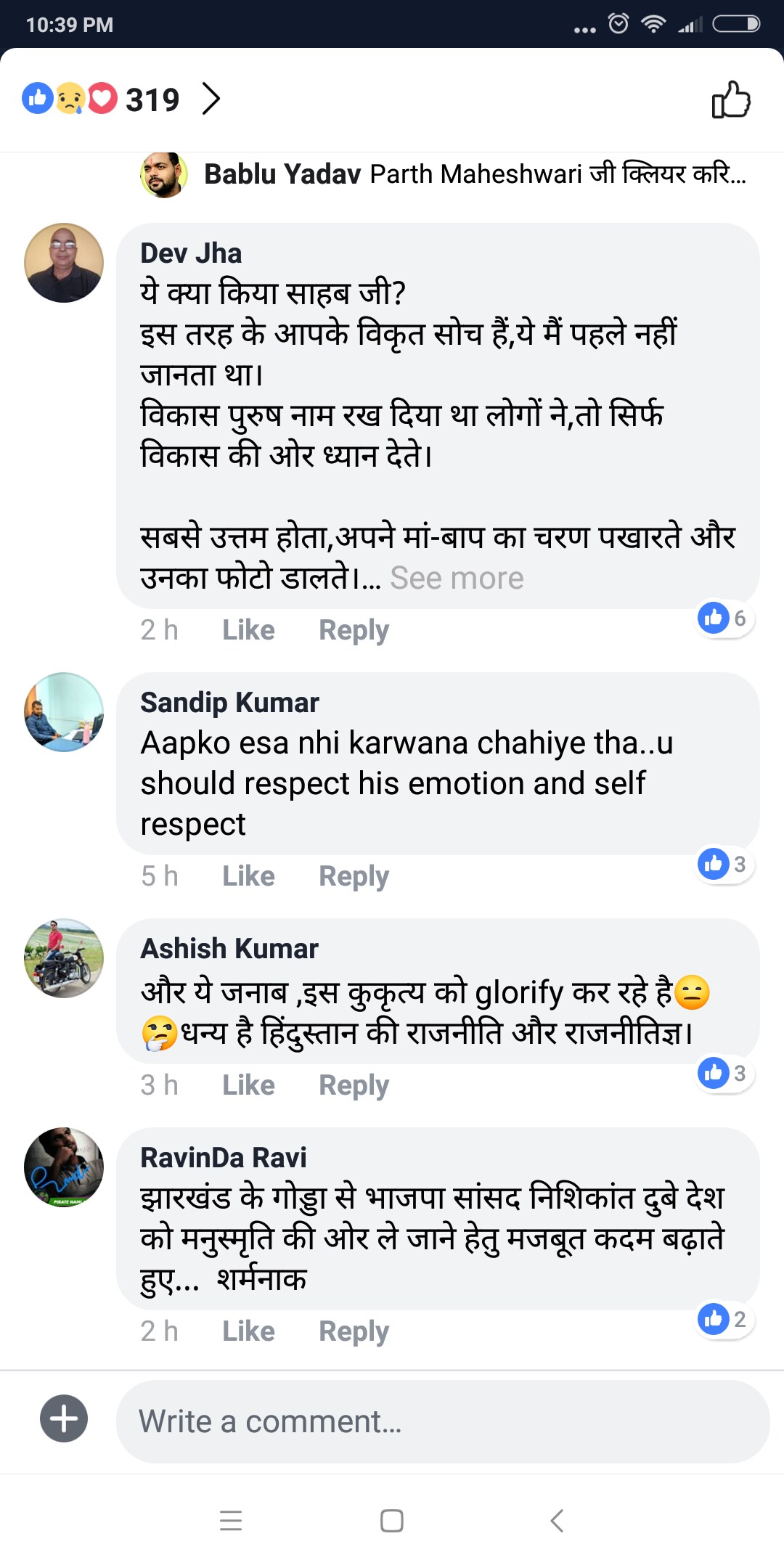 However, rather than removing the atrocious post and tendering an apology, the next best thing to do, Dubey, inflated with his Himalayan ego, composed another post ― this time to defend his previous post. Dubey, like most of our callous netas, tried to hide behind the argument of 'parampara' (tradition). He argued, "If a worker wants to express his happiness by cleaning my feet, what's the big deal? He promised (to do it) in front of people and I have allowed him to do it so that he is not hurt." He continued his defence, to the shock of netizens, arguing, " In Jharkhand, it's a custom. Don't Adivasi (Scheduled Tribe) women do it in all events? Why are people adding a political colour to it? You ask your forefathers, whether cleaning the feet of guests is wrong."
And then the BJP MP delivered his ultimate argument, much to the shock and dismay of many, "Didn't Lord Krishna cleanse (Sudama's) feet in the Mahabharata? Shame on such mentalities." [Note: This is a wrong citation by the MP. The Krishna-Sudama episode appears in Srimadbhagawatam, not in the Mahabharata.]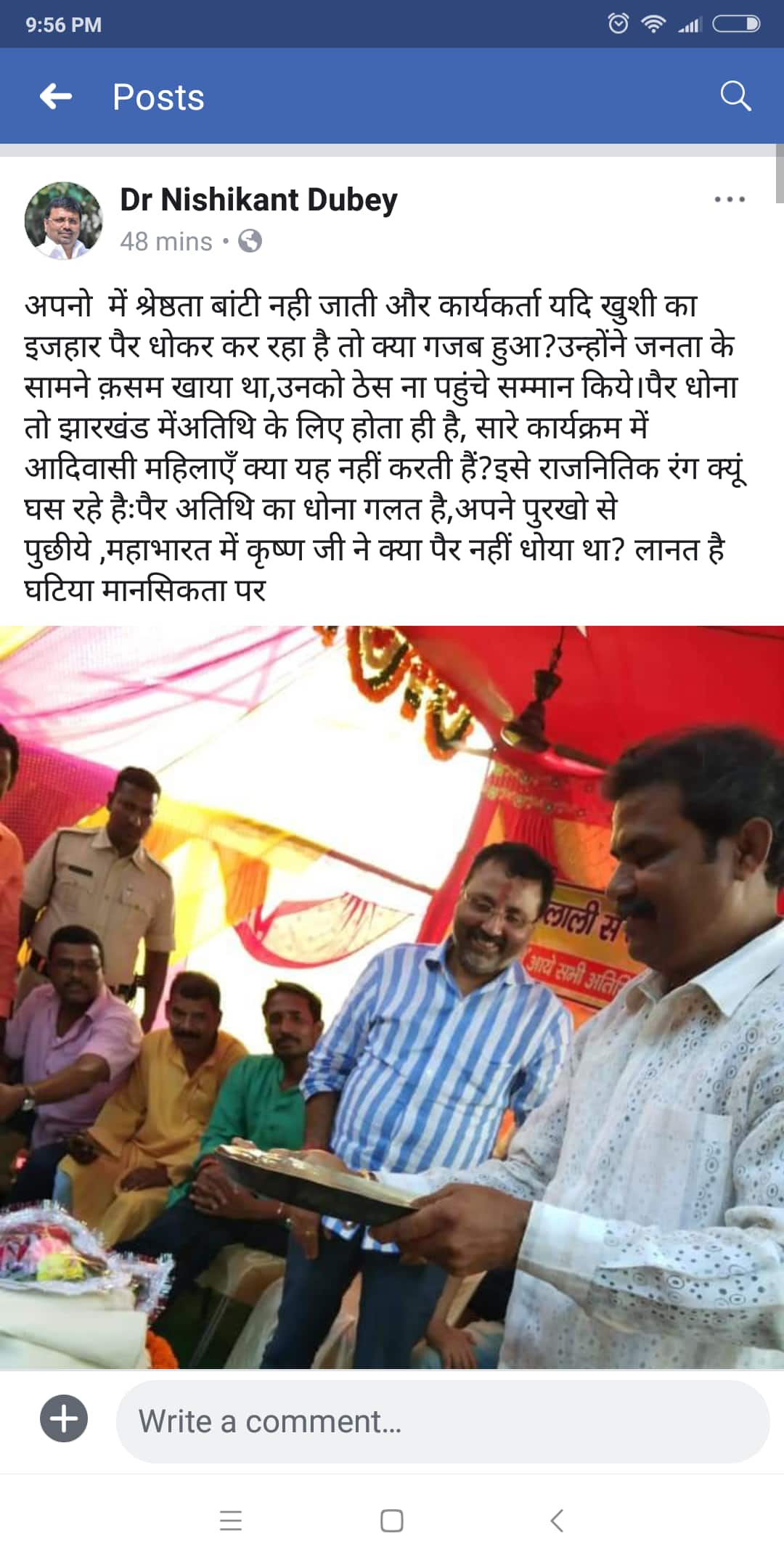 Nishikant Dubey is a mindset that is present in every political party that exposes its archaic mindset to the world from time to time.
Read Exclusive COVID-19 Coronavirus News updates, at MyNation.
Last Updated Sep 19, 2018, 9:27 AM IST