The Indian hackers have not only defaced Paksitani websites like that of the foreign affairs ministry, they have also infected many others with ransomware, in the wake of the Pulwama terror attack.

New Delhi: To avenge the killing of over 40 Central Reserve Police Force (CRPF) jawans by a suicide bomber of the Pakistan backed Jaish-e-Mohammed (JeM) in Jammu and Kashmir's Pulwama on Thursday, Indian hackers have launched a surgical strike in the virtual world by hacking over 200 Pakistani websites.  
Indian hackers told MyNation that they have not only defaced Paksitani websites like that of the foreign affairs ministry, they have also infected many others by injecting ransomware. 
All the underground Indian hackers have joined hand to form a team called I~Crew, which has launched a massive attack on Pakistani infrastructure. They claim to have hacked over 200 websites including crucial government sites and have warned to destroy Pakistani cyber space if terrorists attacks continue to emanate from neighbouring country.
Also read — Enemies within: After Sidhu, Bhushan and Spandana, Congress leader Noor Bano insults nation over Pulwama
The hackers posted the Indian flag and expressed their condolence to the families of the brave CRPF jawans who lost their lives in the Pulwama terrorist attack. Below the post, they attached an image of a burning candle with a message — We will never forget 14.02.2019. Hackers also wrote, "We forgive… ? We forget… ? India will never…!"
The team I~Crew consists of hackers of Lulzsec India, Indishell, IBH, H5h, ICA and KCW hacking groups.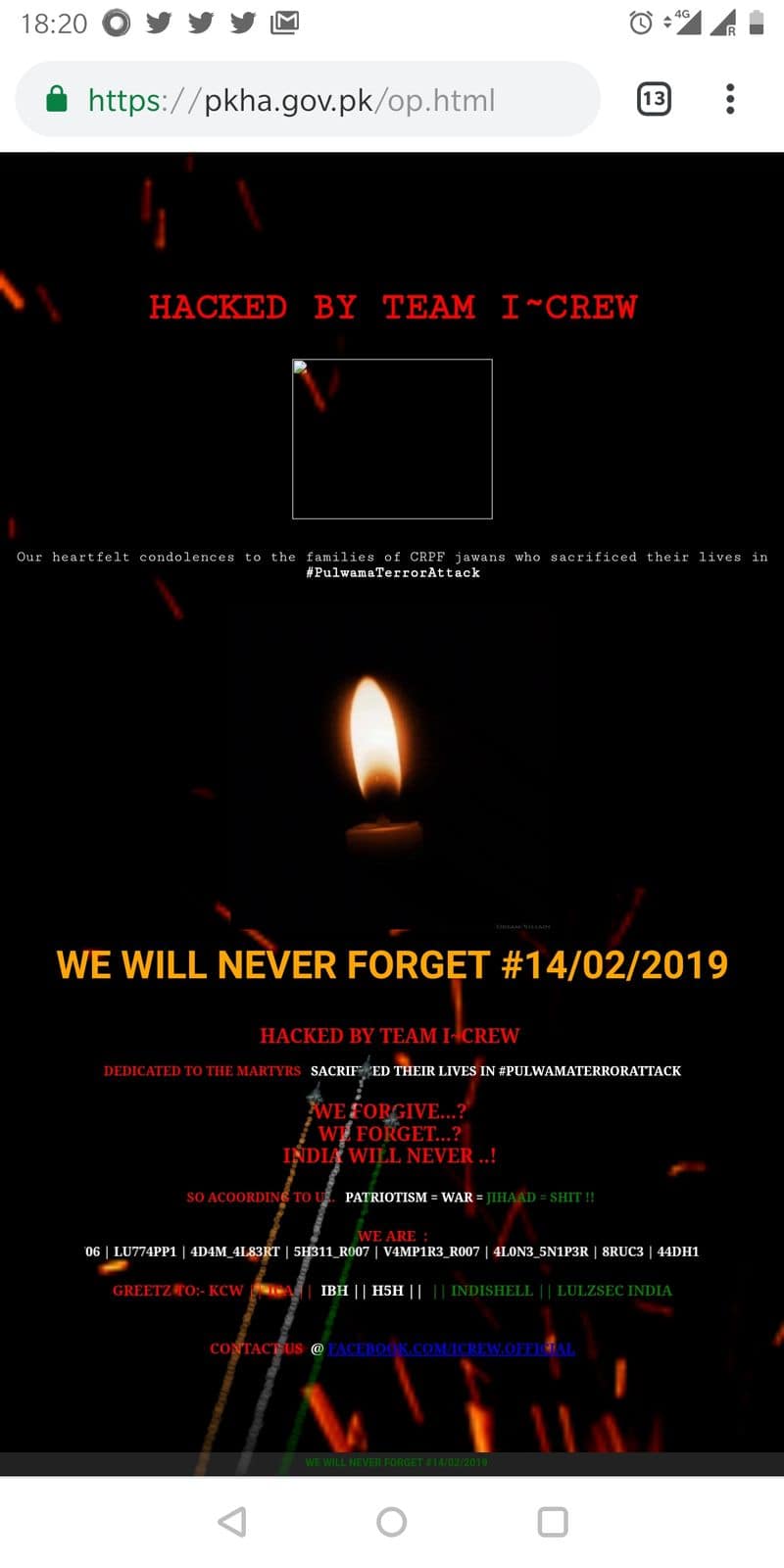 This information has come at a time when the Pakistan foreign affairs ministry's website became inaccessible. Foreign ministry spokesperson Mohammad Faisal said complaints were received about the site being inaccessible by users from several countries. An Indian hacker requesting anonymity told MyNation that they found vulnerability in the Pakistan foreign affairs ministry's website and attacked it.
Cyber crime experts claim that several hacking groups of India are working together and carrying out a mass defacement operation on key Pakistani websites. The group is also identifying and blocking the websites being operated by banned terror organisations like Jaish-e-Mohammed (JeM), Jamaat-ud-Dawa (JuD), Lashkar-e-Taiba (LeT), Students Islamic Movement of India (SIMI) and Indian Mujahideen (IM).
Also read — More enemies within: Several people exposed taking Pakistan's side over Pulwama
"For the past two days, all the active hacking groups are working on attacking Pakistan's cyber territory. Terrorist groups having linkage with Pakistan have once again attacked India and we have to take revenge. We will not stay quiet and will attack them in the virtual world," said an underground hacker. He added that hackers are sharing details of vulnerability in Pakistani websites among themselves in order to deface them.
Each successful attack is celebrated by posting the Indian flag with a condolence message on the compromised website in order to express anger.
A similar attack is carried out by hackers each year to pay homage to the martyrs of the 26/11 Mumbai terror attacks. Days of historic importance like Republic Day and Independence Day have always been favourites for hackers.
Last Updated Feb 17, 2019, 7:12 PM IST