The ugly spectacle by the Opposition took place at the Talkatora stadium, just a few kilometres from the AIIMS, where Vajpayee has been on death bed
Even as the nation prays for former prime minister Atal Bihari Vajpayee, whose health deteriorated in the past 24 hours, the Opposition stooped to an all-time low by going ahead with its 'Sanjhi Virasat', a coming together of Opposition parties to formulate strategies on how defeat Narendra Modi in 2019.
This mega conclave was attended by the who's who of the Opposition parties, including Congress president Rahul Gandhi, former prime minister Manmohan Singh, CPI(M) general secretary Sitaram Yechury, Janata Dal Secular JD(S) leader Danish Ali, Nationalist Congress Party's (NCP) Tariq Anwar, former Janata Dal United JD(U) leader Sharad Yadav, and Chandan Mitra, who had recently joined the Trinamool Congress (TMC).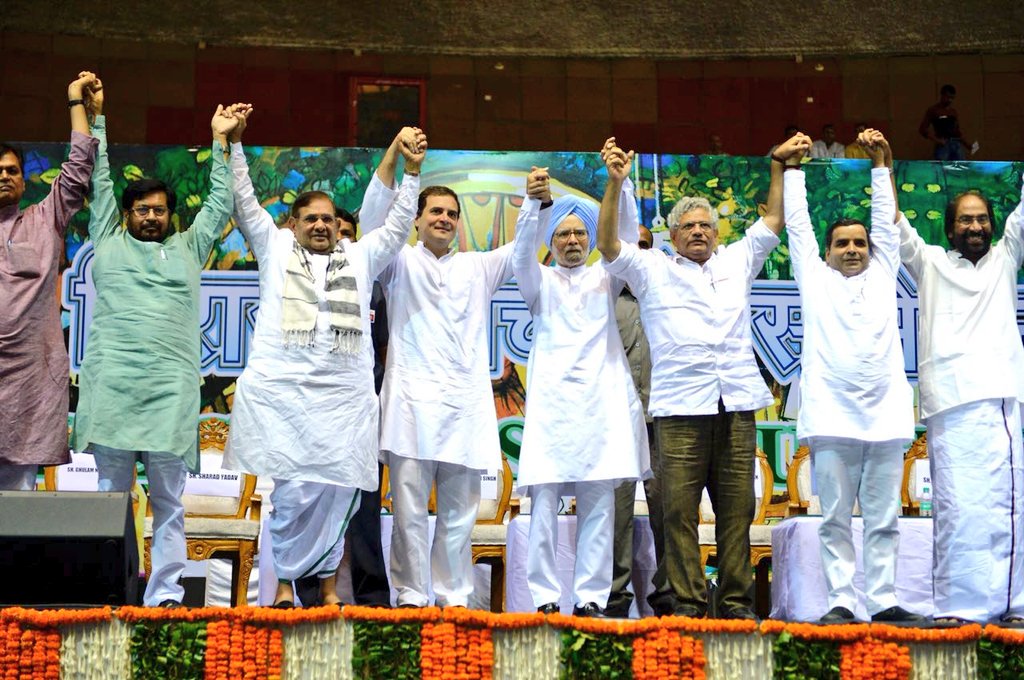 This ugly spectacle took place at the Talkatora stadium, just a few kilometres from the All India Institute of Medical Science (AIIMS), where Vajpayee has been admitted for the past nine weeks. According to latest reports, even the life support system that Vajpayee was on has been removed.
Also Read—Live: Atal Bihari Vajpayee health update, related news from all over the country, world
Prime Minister Narendra Modi has made three visits in the past 24 hours to the AIIMS. Even common people are trickling in to enquire about the health of the former prime minister, who is widely loved, regardless of his political ideology. 
The literal meaning of 'Sanjhi Virasat' is shared legacy. But the shared legacy that the Opposition put up for everyone to see is of selfish political manoeuvring even as the health of the tallest leader of the ruling party is fading with each passing minute.