Statesman and former Prime Minister Atal Bihari Vajpayee was admitted to the AIIMS on June 11. His condition turned critical on Wednesday, with the urinary tract infection affecting his sole functioning kidney and spreading to the intestines. MyNation brings to you news related to his condition as it unfolds.
8:26 PM
Vajpayee's mortal remains will remain at BJP HQ between 9 AM to 1 PM on Friday for people to pay their tributes, says Amit Shah.
8:25 PM
He was one leader who always used to take a stand, be it during Emergency or otherwise, says Amit Shah. His body will be taken to BJP headquarters at 9 AM on Friday.
8:20 PM
PM and Amit Shah at Vajpayee's residence
8 PM
Vajpayee's mortal remains reach his residence at Krishna Menon Marg
"
5:47 PM
Condolences start pouring in.
Extremely sad to hear of the passing of Shri Atal Bihari Vajpayee, our former Prime Minister and a true Indian statesman. His leadership, foresight, maturity and eloquence put him in a league of his own. Atalji, the gentle giant, will be missed by one & all: President Ram Nath Kovind
5:41 PM
PM Narendra Modi condoles the death of Vajpayee ji. He said, "I have no words, I am filled with emotions right now.Our respected Atal ji is no more. Every moment of his life he had dedicated to the nation."
मैं नि:शब्द हूं, शून्य में हूं, लेकिन भावनाओं का ज्वार उमड़ रहा है।

हम सभी के श्रद्धेय अटल जी हमारे बीच नहीं रहे। अपने जीवन का प्रत्येक पल उन्होंने राष्ट्र को समर्पित कर दिया था। उनका जाना, एक युग का अंत है।

— Narendra Modi (@narendramodi) August 16, 2018
लेकिन वो हमें कहकर गए हैं-
"मौत की उमर क्या है? दो पल भी नहीं,
ज़िन्दगी सिलसिला, आज कल की नहीं
मैं जी भर जिया, मैं मन से मरूं,
लौटकर आऊँगा, कूच से क्यों डरूं?"

— Narendra Modi (@narendramodi) August 16, 2018
अटल जी आज हमारे बीच में नहीं रहे, लेकिन उनकी प्रेरणा, उनका मार्गदर्शन, हर भारतीय को, हर भाजपा कार्यकर्ता को हमेशा मिलता रहेगा। ईश्वर उनकी आत्मा को शांति प्रदान करे और उनके हर स्नेही को ये दुःख सहन करने की शक्ति दे। ओम शांति !

— Narendra Modi (@narendramodi) August 16, 2018
India grieves the demise of our beloved Atal Ji.

His passing away marks the end of an era. He lived for the nation and served it assiduously for decades. My thoughts are with his family, BJP Karyakartas and millions of admirers in this hour of sadness. Om Shanti.

— Narendra Modi (@narendramodi) August 16, 2018
It was Atal Ji's exemplary leadership that set the foundations for a strong, prosperous and inclusive India in the 21st century. His futuristic policies across various sectors touched the lives of each and every citizen of India.

— Narendra Modi (@narendramodi) August 16, 2018
Atal Ji's passing away is a personal and irreplaceable loss for me. I have countless fond memories with him. He was an inspiration to Karyakartas like me. I will particularly remember his sharp intellect and outstanding wit.

— Narendra Modi (@narendramodi) August 16, 2018
It was due to the perseverance and struggles of Atal Ji that the BJP was built brick by brick. He travelled across the length and breadth of India to spread the BJP's message, which led to the BJP becoming a strong force in our national polity and in several states.

— Narendra Modi (@narendramodi) August 16, 2018
5:36 PM
Atal Bihari Vajpayee is no more.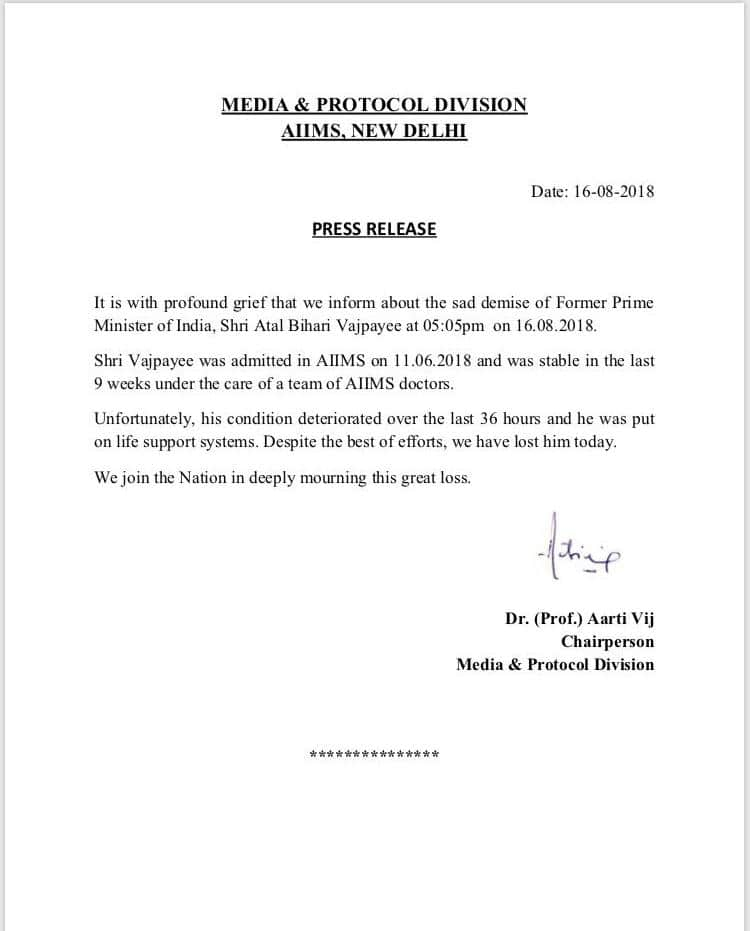 5:30 PM
The third medical bulletin announcing Vajpayee's health is expected before 6 PM
5:15 PM
Madhya Pradesh CM Shivraj Singh Chouhan and Chhattisgarh CM Raman Singh arrive at AIIMS
5:02 PM
Chhattisgarh and the entire nation is praying for him. We pray to the God to make him healthy soon & bless him with a long life: Chhattisgarh Chief Minister Raman Singh
4:55 PM
Bihar Chief Minister Nitish Kumar, Deputy Chief Minister Sushil Modi and Bihar minister Nand Kishore Yadav arrive at AIIMS 
4:35 PM
People in India & outside are praying for him. Entire country loves him. The present generation of politicians draws inspiration from him. The manner in which he maintained dignity in the Parliament is exemplary: Ashok Tandon, the then advisor to the former prime minister
4:17 PM
Social activist Kailash Satyarthi arrives at AIIMS
3:40 PM
Congress president Rahul Gandhi returns to the hospital, Amit Shah leaves 
Facebook Live by MyNation, reporting Vajpayee's condition
2:42 PM
Prime Minister Narendra Modi leaves after meeting doctors at AIIMS
2:15 PM
Delhi Police impose Section 144 in the south district to prohibit an assembly of more than four persons in the area.
2:14 PM
Security forces, local police on standby, say sources.
2:13 PM
Life support system has been withdrawn from Vajpayee.
2:12 PM
Another health update from AIIMS expected at 2:30 PM. A key announcement regarding Vajpayee's health expected at 4 PM.
1:53 PM
West Bengal Chief Minister Mamata Banerjee breaks down while reminiscing her days in the NDA government led by Vajpayee.
1:50 PM
Uttarakhand Chief Minister Trivendra Singh Rawat cancels all appointments and rushes to Delhi to see Vajpayee. All BJP chief ministers to be present in the capital.
1:47 PM
Rajasthan Chief Minister Vasundhara Raje reaches AIIMS.
Also read: Atal Bihari Vajpayee's five defining speeches: Statesman whose oratory skill mesmerises
1:45 PM
Special prayers offered for Vajpayee at Sakteshwar Mahadev Ashram in Ludhiana.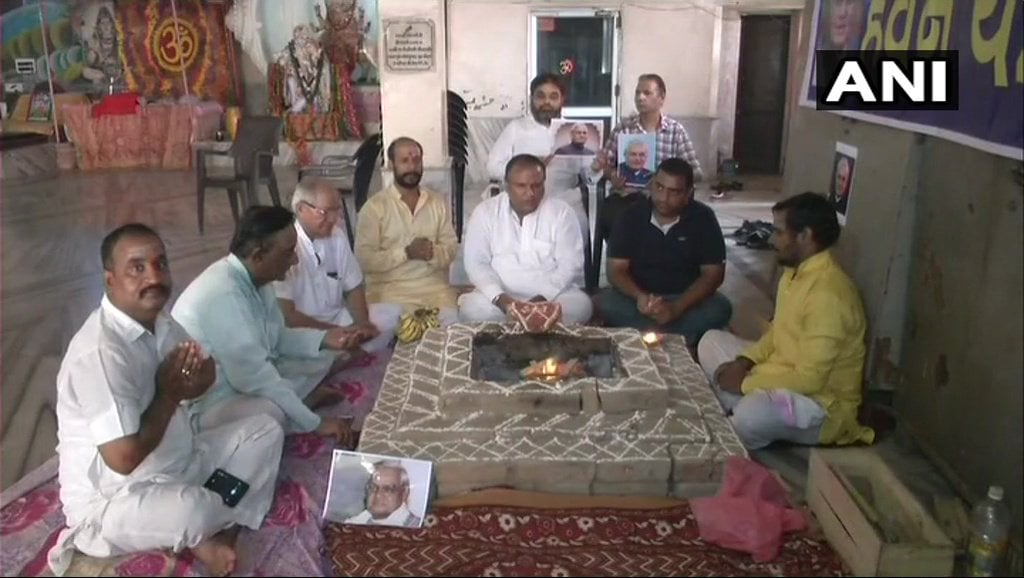 1:44 PM
"I served as a member of his cabinet for two years, to hear about his health is distressing. He is a great leader and to work under him was a very good experience. I would be flying to Delhi today," says Odisha Chief Minister Naveen Patnaik.
1:40 PM
Prime Minister Narendra Modi expected at AIIMS again at 2 PM.
1:38 PM
All BJP leaders leave AIIMS.
1:35 PM
Another health bulletin, updating people about Vajpayee's health, expected from AIIMS.
1:31 PM
All political events cancelled across the country.
1:10 PM
Union minister Ram Vilas Paswan is at AIIMS.
1:05 PM
Madhya Pradesh Youth Congress leader Shakir Khan offers chadar at a dargah in Gwalior, praying for Vajpayee.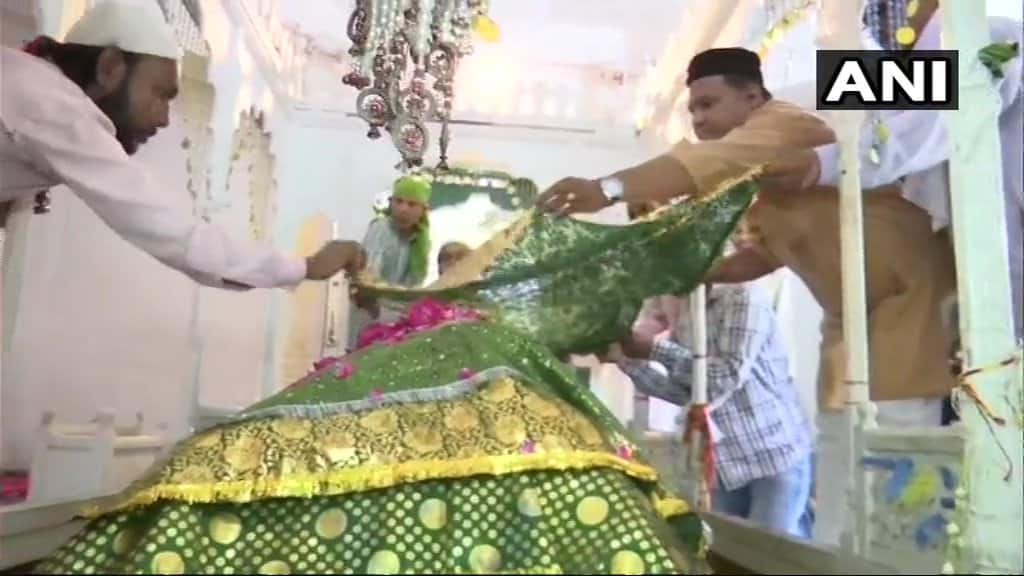 1:00 PM
Congress president Rahul Gandhi reaches AIIMS.
12:50 PM
Security tightened around AIIMS as VVIPs flock to visit Vajpayee. Vehicular traffic diverted away from the roundabout near the hospital. The area turns virtually into a fortress.
12:30 PM
"He is our idol. With just his presence, we got inspiration and encouragement, we pray for his health, no one can ever be like Atal ji, campaigning for him was an honour for me," says Madhya Pradesh Chief Minister Shivraj Singh Chouhan.
12:27 PM
Students of ND Convent Public School, Lucknow, pray for Vajpayee's health.
12:20 PM
"There will never be another leader, another human being like him," says National Conference patriarch and former Jammu and Kashmir Chief Minister Farooq Abdullah. "Haalat naazuk hai (the condition is grim)," he said, adding, "Ab Bhagwan kya karenge mujhe pata nahin (I wouldn't know what God wills)."
12:15 PM
Delhi CM Arvind Kejriwal and Deputy CM Manish Sisodia arrive at All India Institute of Medical Sciences where former Prime Minister #AtalBihariVaajpayee is admitted.
12:03 PM
Chief Ministers of all States cancel their prior appointments in anticipation.
11:50 AM
Kailash Vijayvargiya emerges from the hospital and says he is praying for Vajpayee's health. "Ummeed to hai hi, (there is hope for sure)" he says to a reporter.
11: 45 AM
Ministers, Members of Parliament, politicians from across parties make a beeline to catch a glimpse of Vajpayee at the All India Institute of Medical Sciences.
11:00 AM
The All India Institute of Medical Sciences (AIIMS) issues a fresh statement on former Prime Minister Atal Bihari Vajpayee's health condition, in effect reiterating the fact that he is serious.
Read Exclusive COVID-19 Coronavirus News updates, at MyNation.
Last Updated Aug 16, 2018, 8:26 PM IST