The BJP's youth wing on Thursday (May 16) will distribute 10 lakh postcards printed with Mamata Banerjee's official address in Kolkata to be sent by people with 'Jai Shri Ram' message
New Delhi: If the persistent saffron onslaught in West Bengal was not enough, the youth wing of the Bharatiya Janata Party (BJP) has come up with yet another innovative idea to peeve chief minister Mamata Banerjee.
The Bharatiya Janata Yuva Morcha (BJYM) has decided to distribute 10 lakh postcards on Thursday (May 16) with Mamata's official address printed on them, urging people to send them with the message of 'Jai Shri Ram' apart from any personalised message they would want to write.
Also read: As Hindu exodus murmurs rage in Bengal, VHP smells Kairana
Apart from this, the BJYM has also urged people to buy postcards from their nearest post offices and send the message to the official residence of the West Bengal chief minister and the All India Trinamool Congress chief.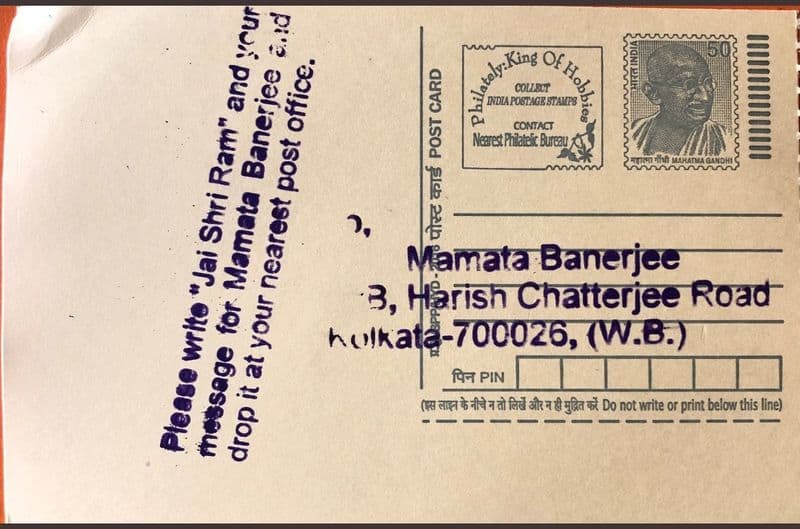 The move comes just days after violence broke out between BJP supporters, who had joined the massive roadshow of their party chief Amit Shah in Kolkata, and TMC workers. The magnitude of the Shah rally has unnerved the TMC leadership even as the BJYM has come up with this idea to further aggravate Mamata.
Also read: 5 questions for Mamata's TMC to answer on Vidyasagar statue vandalising
Recently, the BJYM got locked in a controversy with Mamata when Priyanka Sharma, the executive member of the Howrah unit of BJYM, posted a meme of the chief minister.
A case was lodged against Priyanka by the West Bengal Police and she was arrested only to be released on bail once she moved the Supreme Court. Even there the matter further slipped into controversy as the apex court was not apprised of the fact that the police had already filed a closure report before the verdict was announced.
Watch: Is 'Jai Shri Ram' an abuse for Mamata Banerjee?
Meanwhile, Priyanka also said, "I will fight this case. I will not apologise for a meme… I was detained for 18 hours even after my bail was granted… They did not allow me to meet my advocate and family. They made me sign an apology forcefully. I was tortured in jail. The jail staff pushed me as if I was a criminal."
Read Exclusive COVID-19 Coronavirus News updates, at MyNation.
Last Updated May 16, 2019, 3:49 PM IST