The Vishwa Hindu Parishad delegation raised a number of issues from alleged police harassment in holding VHP workshops to alleged attack on their cadres for chanting Jai Shri Ram
Kolkata: With videos flying thick of Hindus leaving Nauhajari village in Satgachhia Assembly (comes under Diamond Harbour Lok Sabha constituency), the saffron forces have raised the already intense political pitch in Bengal. A Vishwa Hindu Parishad's (VHP) delegation met the state governor on Wednesday and alleged that Muslim mobs led by Azan Shah are terrorising local Hindus and attacking their property, prompting a Kairana-like migration from the area.  Kairana, an area in western Uttar Pradesh, saw an exodus of majority Hindus in 2016.
Polarisation has already peaked in Bengal with the TMC objecting to 'Jai Shri Ram' chants and Yogi Adityanath saying he has ordered that Durga Puja timings won't be changed; if needed, the Muharram processions will be altered.
In this communal tinderbox that Bengal is, the cherry on the cake has been the Vishwa Hindu Parishad's (VHP) delegation meeting the Governor on Wednesday (May 15) to claim victimhood based on religious lines.
What did VHP delegation demand?
The VHP delegation raised a number of issues from alleged police harassment in holding VHP workshops to alleged attack on their cadres for chanting Jai Shri Ram. "While discharging our duties we face several disturbances and harassment from police personnel of govt. of WB as well as other hooligans/antisocials of West Bengal for the last two months. We are pained to state that we are unable to organize our program peacefully due to the unnecessary encroachment on our rights by police and their agents. Even the people are afraid to attend the religious places and satsangs," reads the letter handed over to Governor Keshari Nath Tripathi.
But what should be a worrying sign for the already vitiated atmosphere in Kolkata, is the VHP delegation raising the alleged exodus from Diamond Harbour constituency after alleged communal attacks on the majority community.
Also read: 5 questions for Mamata's TMC to answer on Vidyasagar statue vandalising
It writes, "Further a mini-Kairana is being tested in the Diamond Harbour constituency. Their village in Nauhajari anchal ex-uppradhan and her cohorts forced the Hindu population of the area to vacate to get political mileage. This will cause demographic change of the area."
Recently, around 200 people recently reportedly ransacked houses belonging to the majority community in Bengal's Satgachia area, which falls under Diamond Harbour Lok Sabha constituency.
Why the timing is crucial?
Though what the VHP is claiming is just allegations but the timing is extremely crucial. West Bengal has never been so polarised as it is today. With the last phase of election due, on one hand Mamata Banerjee made her voice heard against triple talaq bill in the minority dominated Basirhar as Amit Shah's roadshow on Tuesday was dotted with cadres dressed as Lord Rama.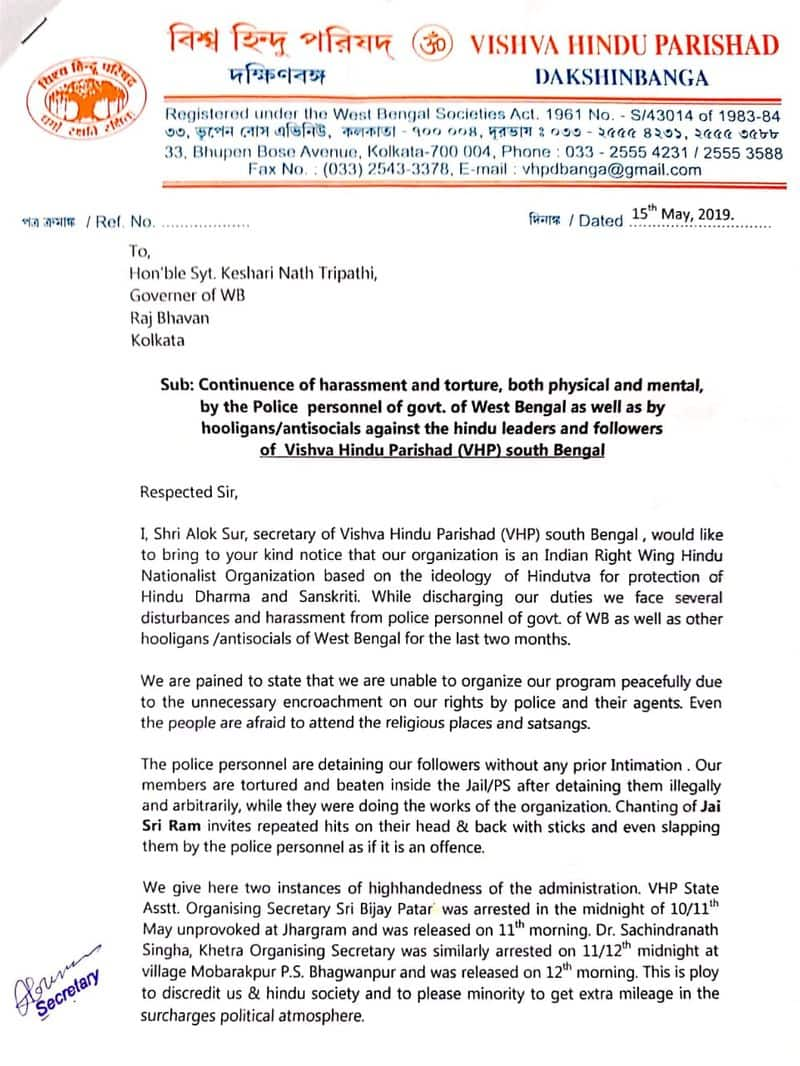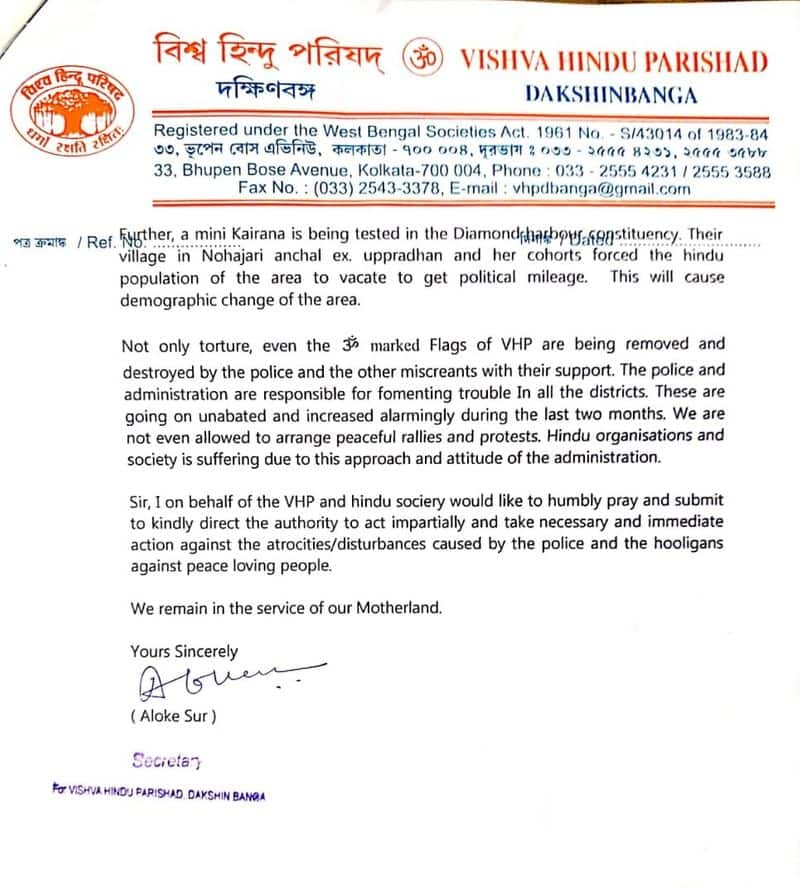 None less than Prime Minister Narendra Modi chanted 'Jai Shri Ram' slogan from a rally in Bengal and dared Mamata to arrest him. This after she objected to few BJP supporters who chanted the slogan at her convoy recently, as she was on way to Chandrakona for poll campaigning.
This Bengal election is divided on imageries, slogans and attacks clearly on religious lines. VHP's two-page complaint letter which otherwise would not have taken with much seriousness, assumes huge importance in this context where the BJP is out to be seen as the champion of the 'Hindu cause'.
Also read: Mamata Banerjee: I can capture BJP headquarter in Delhi, your houses in one second
Bengal has 27% (unofficially 30%) Muslim population, according to 2011 census. It has been a pie every political party wants in its kitty. Earlier the Left front, now the TMC has successfully managed to do so. But what BJP has done is what it did in Uttar Pradesh in the run up to the 2014 general election where it went after the 'Hindu vote bank' which was never considered as a vote bank by any political party, not even the BJP. It paid off by awarding BJP 73 out of 80 seats in 2014 from Uttar Pradesh. Amit Shah wants to repeat just that with an eye on 70.54% Hindu votes.
As Aloke Sur stepped out of the Raj Bhawan, he alleged, "Today the Hindu community is being disregarded due to vote bank". In any point of time, this would have been a VHP secretary doing what they do best. But with the prevailing circumstances, his every word holds huge significance.
Read Exclusive COVID-19 Coronavirus News updates, at MyNation.
Last Updated May 15, 2019, 7:17 PM IST