The chorus for coronation of Rahul Gandhi as the national Congress president grows which only confirms Congress can't look beyond the Gandhi family
Bengaluru: It's certain, along with empirical evidence that the Congress can't look beyond the Gandhi family as its head. 
After the ignominious defeat in the Lok Sabha 2109 polls under the stewardship of Rahul Gandhi, the scion had to hang up his boots, accepting the responsibility for the loss of face. 
But the entire Congress party went down on its knees to ask him to reconsider his decision. But an unyielding Rahul Gandhi did not reverse his decision. In fact, this was a golden opportunity to search for someone from the non-Gandhi family. But as is the case, Rahul's mother Sonia was asked to helm the affairs of the party. 
Now, there is another wilful attempt to coronate Rahul Gandhi as the party president.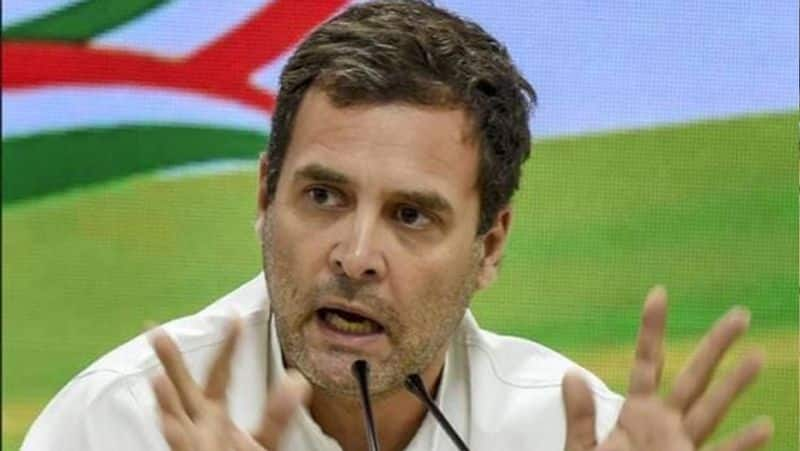 At the CWC meet in Rajasthan, Ashok Gehlot and his party members reiterated their stance of relaunching Rahul Gandhi. 
Now, another Congress leader Sanjay Nirupam has seconded Gehlot's appeal. 
I support the demand made by Rajasthan Chief Minister Ashok Gehlot yesterday in #CWC that Rahul Gandhi should come back as Congress President at the earliest. This demand should have been seconded by a resolution unanimously passed by the whole CWC.
Probably, they missed it.

— Sanjay Nirupam (@sanjaynirupam) June 24, 2020
Congress has often faced the diatribe of being a dynastic party. In fact, as Rahul Gandhi continues with his gibberish over the Galwan clash, BJP national president JP Nadda, took to twitter and said, "A rejected and ejected dynasty is not equal to the entire Opposition. One dynasty's interests are not India's interests. Today, the nation is united and supportive of our armed forces. This is the time for unity and solidarity. Relaunch of 'the scion' for the nth time can wait." 
Also Read: Rahul Gandhi becomes untenable for Congress
What the Congress doesn't seem to understand is how a reluctant politician like Rahul Gandhi is being coerced and prevailed upon to row the boat when he has openly agreed he is not capable of it. 
One should also note that the charges of nepotism have had terrible consequences on the grand old party. Jyotiraditya Scindia tergiversated to the BJP on the same charges. Sanjay Jha, the Congress spokesperson was booted and shunted out while the MLA from Rae Bareli also severed her relationship with the party for her encomiums on CM Yogi Adityanath. 
Down South, during the Rajya elections, the Congress nominated another Congress veteran Mallikarjuna Kharge to the upper house at a time when the BJP – a cadre based party – decided to reward party workers who had toiled hard to improve the party fortunes. 
It is high time Congress saw a prospective and able candidate to head it, instead of sticking to Rahul Gandhi who has been a failure. 
 
Last Updated Jun 24, 2020, 4:10 PM IST