In this episode of Game of Thrones, Daenerys and Arya take major turns in contrasting directions. Read below
Warning: Contains spoilers.
This episode of Game of Thrones was a complete mess. Daenerys went mad, as she burned King's Landing to ashes despite the King's Guard surrendering. The Hound and the Mountain are found engaged in combat before falling into the jaws of death. Arya witnesses the wreckage as she tries to escape.
Daenerys tells Tyrion that she knows how Lord Varys is aware about Jon's heritage. Varys is taken under custody, later he is sentenced to die. Varys is burnt alive by Drogon. Cersei and Jaime reunite.
Dany and her Drogon attack Euron Greyjoy and his fleet and burn them down. She also brutally kills The Golden Company. Grey Worm kills Harry. All this and much more comes packed in this episode.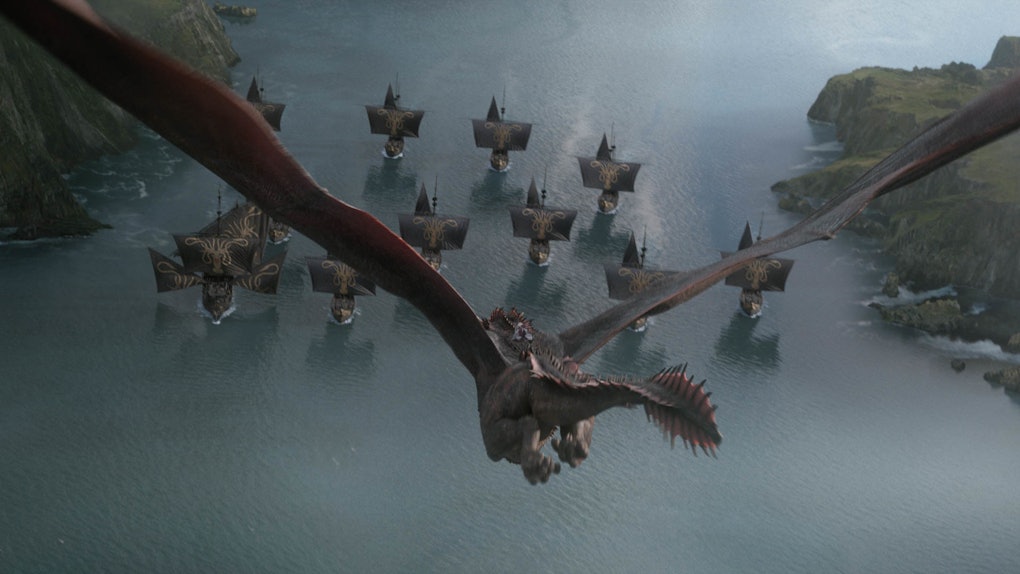 But right now, we're here to talk about how the greed to win the Game of Thrones supposedly killed Cersei and the rest of the innocent people of King's Landing. Here's what netizens have to say about this episode that is second from the last.
Jon snow in #GOTS8E5 pic.twitter.com/5PibHvwMow

— Prakhar (@prakharshubham) May 13, 2019
remember in season 6 three dragons gathered to destroy a single ship and in the season 8 one dragon destroys 15 ships every 10sec #GameofThrones #GOTS8E5 pic.twitter.com/8CJAaw8GXY

— AG MONTANA (@AG_MONTANAA) May 13, 2019
Sansa : i swear it, i will not tell anyone..

*2 mins later*#GameofThrones #GOTS8E5 pic.twitter.com/yiwLVnC3JE

— Saurabh Manjhi 🇮🇳 (@saurabhmanjhi_) May 13, 2019
I can't get enough of this scene😂😂😂 #GoT #GOTS8E5 pic.twitter.com/AWyfp5a2Ne

— Dig Eye You Like (@the_guyyoulike) May 13, 2019
We expected madness, but there's LEVELS to Dany 's. Ooh God🤣🤣🤣#GOTS8E5 pic.twitter.com/lE5JYXRCiK

— Abd'h Muh'd (@muhdy9ted) May 13, 2019
Daenerys ruling the seven kingdoms of Westeros after defeating Cersei and taking over King's Landing like #GOTS8E5 #Dracarys #GameofThrones pic.twitter.com/Wlpifh3vu8

— Axel (@aoleos) May 13, 2019
Me whole of the episode. #GOTS8E5 pic.twitter.com/BTQyueDSj7

— Himaki Kumari (@himakikumari06) May 13, 2019
I think I speak for everybody when I say this was all our reactions when Jaime didn't cut Cersei on sight #GameOfThrones pic.twitter.com/qqyAwiwLML

— Trae McMillan (@TMcMillan14) May 13, 2019
characters we lost tonight:

-cersei
-jaime
-jaime's character development
-sandor clegane
-varys
-euron
-qyburn
-the mountain
-daenerys (she ain't dead but season 1-7 daenerys is)

— 𝐤𝐚𝐭𝐢𝐞 (@stormbornjedi) May 13, 2019
Y'all I was really look forward to seeing Jaime put a sword through Cersei and gallop on back to his true love Brienne and now I'm sitting here looking like boo boo the fool #got pic.twitter.com/Etnvl9UTEn

— kiss the crack of my ass (@chaoticbibabe) May 13, 2019
how i look after years of saying jaime would kill cersei or that arya would kill cersei with jaime's face #gameofthrones pic.twitter.com/sKmm2Swv57

— emily padula (@emilypadula) May 13, 2019
RIP to Cersei Lannister aka the best villain of all times, she deserveda way better death #GameOfThrones pic.twitter.com/z1dw8fnJ4m

— 🔥 (@rinityrell) May 13, 2019
George R.R Martin after watching today's episode #GOTS8E5 pic.twitter.com/7ez5gSf3wi

— Aditya Pusalkar (@adityapusalkar7) May 13, 2019
least he died before seeing that lol #GOTS8E5 pic.twitter.com/mQG7zaY5a9

— Aayush Dahal 👑💯 (@IamDahal) May 13, 2019