Priyanka Chopra and Nick Jonas are busy dating, going out for lunch and now soon will attend a wedding in Italy
Priyanka Chopra recently left for the US after wrapping up her shoot of Shonali Bose's The Sky is Pink following her much-hyped engagement with Nick Jonas in India.
Yesterday, Priyanka and Nick were seeing having a Sunday brunch together in Malibu. The actress was wearing a bell-bottom denim and sheer black shirt while Nick wore a blue shirt over his pants and looked super cool.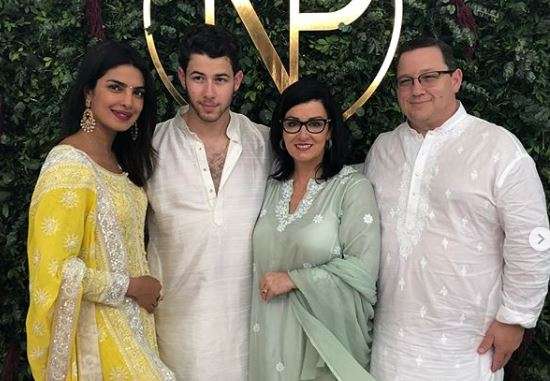 According to reports, Priyanka is set to wed Nick in October in Hawaii. A source told Mumbai Mirror, "Priyanka completed the first schedule of Shonali Bose's The Sky is Pink earlier last week and will now only join them again towards the end of September. Priyanka had stayed back to complete some prior commitments and spend time with her family before heading to the US, a trip that was planned well in advance. During the month-long trip, the actress will also be attending a wedding in Italy with Nick, the bride reportedly being the daughter of a corporate bigwig."
Read More: Priyanka-Nick engagement: GoT actress Sophie Turner welcomes 'future sister-in-law'
Talking to DNA about Priyanka's wedding plans, mother Madhu Chopra said, "They haven't decided on a wedding date yet. It's too soon. These are just baseless rumours. Both of them have work commitments right now, which they need to finish. They will take some time to decide where they want it and when they want it."
Read more: Priyanka Chopra lord of a bigger ring at Nick of engagement
She also said, "I want a traditional Indian wedding for my daughter. That's my only wish. I started the roka with a puja, which is important to me. I'm a modern mother but at heart, I'm quite conservative."
Senior Chopra added, "Nick enjoyed the prayers during the puja. It was a new thing for him and he took it seriously. He followed what our panditji said, and chanted the Sanskrit mantras accurately. Both he and his parents did it beautifully. They are nice people."
Madhu also talked about her would be son-in-law, "Nick is calm and mature. He's a wonderful person and everyone in the family just loves him. He's so polite and respectful towards elders. What more can a mother want."
Read more: Priyanka Chopra- Nick Jonas roka: These celebs made it a starry event (Video)
So there is still some confusion with the date of the wedding, we have to wait until the couple makes an official announcement. However, MyNation guarantees you, we will tell you as soon as we find out.