Former Miss India and actress Niharika Singh took to social media to share her #MeToo story. She called out Nawazuddin Siddiqui in the long post.
Actor Niharika Singh, former girlfriend of Nawazuddin Siddiqui, shared her #MeToo story, describing the actor as "aspirational, sexually-repressed Indian man". She mentioned that they met on the sets of the film, Miss Lovely, which received the National Film Award - Special Jury Award (Feature film) and Best Production Design at the 61st National Film Awards.
Niharika, former Miss India, penned a long post about #MeToo movement in India and wrote her own experiences in the glamour industry, which was shared by author Sandhya Menon on her Twitter handle. 
In the post, she called out her ex-boyfriend Nawazuddin and filmmaker Bhushan Kumar. Mentioning about Nawaz, she wrote: "One morning, when I was home and he had been shooting all night, Nawaz sent me a text saying he was near my building. I invited him over and asked him to come and have breakfast with me. When I opened the door, he grabbed me. I tried to push him away, but he wouldn't let go. After a little coercion, I finally gave in. I wasn't sure what to make of this relationship. He told me it was his dream to have a Miss India or an actress wife, just like Paresh Rawal and Manoj Bajpayee. I found his little confession funny but endearing."
Read Niharika Singh's complete write-up here...
'In 2009,I signed a small indie film titled 'Miss Lovely' with an all new cast and crew. I was required on the set for not more than 15 days. An actor named Nawazuddin Siddiqui who liked to call himself `Nowaz' was signed for one of the lead roles. I'd never heard of him so I wasn't sure whether he could act at all. During one of my interactions on the sets with Nowaz, he gave me a CD that had a short film on it called 'Bypass' which also starred actor Irrfan Khan, his senior from National School of Drama who was helping him get acting jobs. I was amazed by his performance and screen presence. The Nowaz on the set was nothing like the Nowaz on screen. Since I'd barely noticed him on the set before, I was intrigued. The next time I met him, he sensed my curiosity and invited me to his house for lunch. His frugal apartment and grandiose generosity warmed my heart. We talked about his life and I found him real, after all the superficial 'filmy' interactions I'd had in the past years."
'I told Nawaz he must never lie to me again'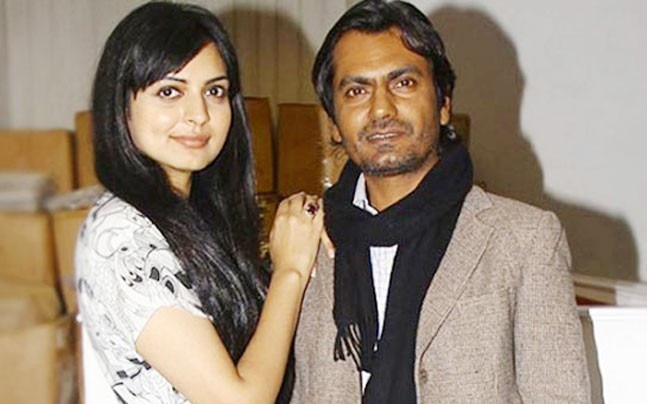 "'Miss Lovely' got into the Cannes Film Festival in 2012. I felt vindicated and enjoyed the attention of the international press. I posed, preened, finally saw myself on the big screen and returned a changed woman. Nawaz and I met at Cannes after three years. We hadn't spoken to each other since 2009. He was apologetic for his past behavior, told me he'd worked on his issues, dissolved his first marriage and married a second time. I started laughing. He started crying, confessing he and his second wife were living separately and it was even more complicated since he now had a daughter who he missed dearly. I looked at him with compassion and told him that he could call me if he needed to talk. There was one caveat though - He must never lie to me again. 2012 was the year he got his first brush with 'fame'. He wasn't used to public life or much attention. He would call me everyday not knowing how to deal with it and I tried to guide him through the madness." Niharika further wrote in her post, "I was living in Dehradun that time and had applied for a film appreciation course at FT1I in Pune. I didn't take up any film offers I was getting because I wanted to study post my Cannes experience and had no inclination to return to my previous 'filmy' life. I tried reconnecting with my family. My mother who had been living separately from my father for years was struggling with mental health and my father was about to retire from government service. Nawaz had family in Dehradun who I had been introduced to. I was very fond of his brother Faizy and his wife. We all even celebrated Eid together once. In 2013, Nawaz was offered a film by Buddhadeb Dasgupta titled 'Anwar ka ajab kissa' and he called me to ask me if I would do a small role in that film. I would only be required to shoot for 3 days. I gladly agreed and went to Shimultata where the shoot was scheduled. He tried to re-engage me sexually, begging me to be with him but I refused, saying I was happy to be his friend and nothing else. After coming back from the shoot, I didn't take his calls and maintained my distance. I met Nawaz again in 2014 at the 'Miss Lovely' India release. This time he came in a SUV, with an entourage as the 'star' of the film. He was constantly throwing tantrums, upset with the way the promotions were being handled. He complained that the director should've just made a painting at home if he didn't care much about box-office. He was very awkward around me so I tried to overcompensate by praising him in media interactions and indulged him to make him feel secure. One evening, after a promotional event in Ahmedabad, he tried to grab me again. I just walked away. 'Anwar ka ajab kissa' didn't get a theatrical release and I heard from various sources that Nawaz had started telling people that I was a terrible actress. I didn't get too many film offers after that. In 2017, Nawazuddin Siddiqui wrote a memoir called 'An ordinary life', with writer Rituparna Chatterjee, which was published by Penguin Random House. Under the title 'Relationships', he wrote a completely fabricated account of our relationship without my knowledge or consent. Before the book launch, publicists leaked sensational excerpts to garner interest in the book. A senior theatre and television actress Sunita Rajwar who had known Nawaz since her NSD days confirmed his 'extraordinary lies' and filed a case. He offered a token social media apology withdrawing the book. I ordered the book online a week later and it was delivered to my house. Director Anurag Kashyap, Nawaz's mentor and close collaborator who chose to turn a blind eye towards sexual harassment within his own company, continues to support Nawaz and his story. 
Writer Rituparna Chatterjee with her completely unethical, defamatory and poorly researched book is not apologetic either. I tried to seek legal help and spoke to a lawyer. His advice to me was to 'meditate' and forget about the whole thing unless I wanted to get on every news channel and have a media trial. Another lawyer from New Delhi took it upon himself to file a complaint against the actor with the National Commission of Women. News channels and publications regurgitated the sensational content from the book along with images from different phases of my life adding further fabricated layers to the story. This public scandal was one of the biggest controversies of 2017. Penguin Random House took no responsibility and remained silent. Filmmakers, Writers, Publishers, Journalists, Lawyers -nobody can take a high moral ground. They were all complicit in this collective public shaming. Nawazuddin Siddiqui after playing the role of 'Manto' became the harbinger of truth. He was invited by JNU and various literary festivals as a guest where he played the role of truth-teller effortlessly. His fan following on social media multiplied; GQ magazine then awarded him 'Actor of the year'. Netflix started a second season of 'Sacred Games' with him in the lead. 
Nawaz's repeated stance that he wrote the memoir while he was preparing for the role of Saadat Hasan Manto makes for the perfect irony. Niharika also named producer Bhushan Kumar in her post and wrote, "Bhushan Kumar called me to his office to sign 'A New Love Ishtory' where he gave me an envelope as a signing amount for the film. It contained two 500 Rupee notes (less than 14$). I got a text from him later that night- 'I would love to know you more. Let's get together sometime.' I wrote back saying- 'Absolutely! Lets go on a double date. You bring your wife. I'll bring my boyfriend.' He never wrote to me again. (SIC)"
Niharika was in the news last year after Nawazuddin in his memoir had published explicit details of their alleged sexual encounters. Niharika had then stated that she was in a relationship with him for just a few months, and Nawazuddin lied in the book.
Read Exclusive COVID-19 Coronavirus News updates, at MyNation.
Last Updated Nov 10, 2018, 12:20 PM IST