Anurag Kashyap congratulated PM Modi for his victory in the Lok Sabha election and asked the Prime Minister advice on how to deal followers who threaten to rape his daughter

Anurag Kashyap has always been outspoken. He has also been critical of the BJP and PM Modi. After the election results were out yesterday (May 23), indicating that the BJP government recorded a huge victory in the Lok Sabha election, film director Anurag Kashyap tweeted, congratulating PM Modi and his party. However, Kashyap also expressed some concern in his tweet. He asked PM Modi advice on how to deal with followers who are celebrating the victory of BJP by threatening his daughter.
Anurag Kashyap tweeted, "Dear @narendramodi sir. Congratulations on your victory and thank you for the message of inclusiveness. Sir please also tell us how do we deal with these followers of yours who celebrate your victory by threatening my daughter with messages like this for me being your dissenter." He shared a picture of a person on his daughter's Instagram page.
The comment read, "Jai shri ram. Apne baap ko bol *** band kare, warna aisa ****tujhe jaisa tujhe kisi ne aaj tak*** nahi hoga ***."
Reacting to his tweet, filmmaker Ashoke Pandit wrote, "This twitter handle seems to be photoshopped because it doesn't exist. Seems to be created by an #UrbanNaxal to give an opportunity to somebody to abuse #Modi when the entire world is happy."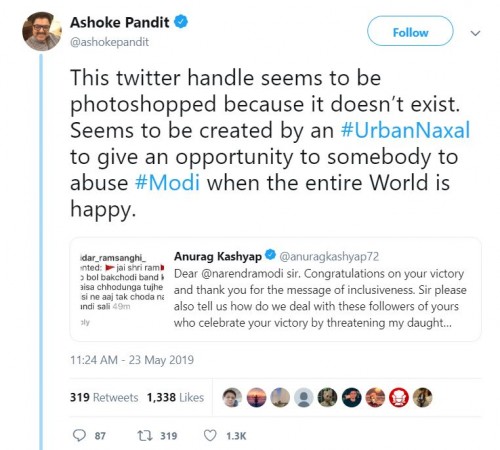 Anurag lost his temper and wrote, "Search for it on Instagram not on twitter you moron... this is my daughter getting a threat a*****e."
Pandit lashed out in his reply stating, "Mind your language Mr. Kashyap. Read my very next tweet on the thread. Let's file a complaint with the police and get him arrested than asking PM what to do. I am sure you know that law enforcing agencies exist in this country of ours."


Pandit also said that Kashyap was sending him drunken texts. He wrote, "@anuragkashyap72 Clearly U r under shock after today's election results. Drunk texting me abuses, tagging the wrong person on Twitter... please pass the joint quicker. Also tagging @MumbaiPolice @CPMumbaiPolice so they can track 'chowkidar_ramsanghi_' and take action."

In fact, a month ago, Anurag had shared a message that he received on WhatsApp which directed him "to vote for Modi" and called it self-explanatory.
Not just Pandit, but many netizens too asked Anurag to complain to police rather than the PM.
Read Exclusive COVID-19 Coronavirus News updates, at MyNation.
Last Updated May 24, 2019, 5:15 PM IST