Kriti Sanon features in an item song Aao Kabhi Haveli Pe from the upcoming film Stree which is going viral.
Horror comedy Stree is all set to release this month and the filmmakers are leaving no stone unturned to attract the audience to the theatres. The movie features Rajkummar Rao and Shraddha Kapoor as the lead.
We've already listened to the songs, Milegi Milegi and Nazar Na Lag Jaaye from the film, which Rajkummar had shared last week on his social media account.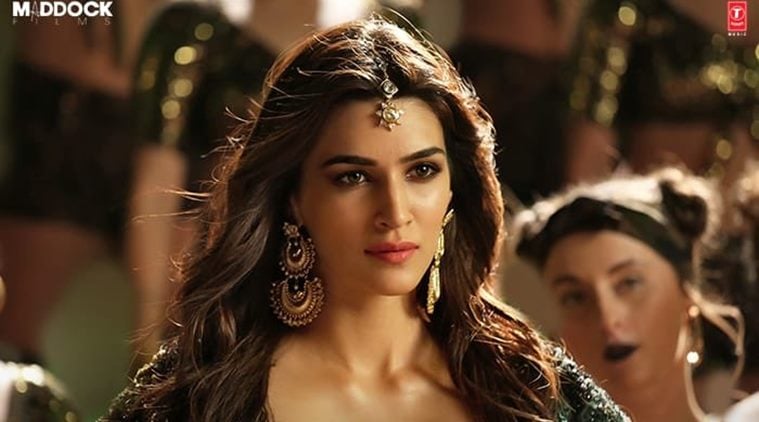 Beside these two romantic songs, Kamariya, an item song, featuring Nora Fatehi, was also released last week and gained everyone's attention.
Now the latest track Aao Kabhi Haveli Pe featuring Kriti Sanon is out and is going viral. Hashtag #AaoKabhiHaveliPe is also trending since Wednesday morning.
In the song, Kriti is seen rising from the dead and hooking up on a date with a ghost (skeleton). Both are seen dancing and drinking wine and are also holding hands.

Composed by Sachin-Jigar, rapper Badshah and Nikhita Gandhi have sung the song.
Directed by Amar Kaushik, the story revolves around the urban legend of "Nale Ba" (means 'come tomorrow' in Kannada) that went viral in Karnataka during the 1990s.
There was a belief that a witch would roam the streets at night and knock on the doors. The witch would deceive people by taking out the voices of their kin and enter the house. Whoever opens the door is believed to die.
To cope with this, the residents of the area would write "Nale Ba" outside their doors and walls of their houses which would make the witch go away and the cycle would repeat.
The film is slated to hit theatres on August 31.