7:16 PM IST
Modi reaches BJP headquarters
Modi to address the nation.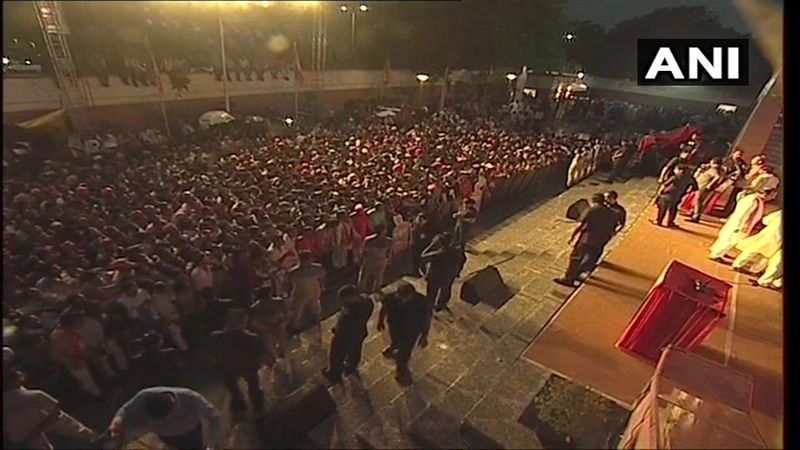 7:03 PM IST
Modi to arrive at BJP headquarters
Prime Minister Narendra Modi leaves his residence, en route to BJP headquarters.
6:09 PM IST
Tejasvi Surya talks to MyNation
After a spectacular victory against Congress stalwart BK Hariprasad in Bengaluru South,  BJP's Tejasvi Surya said that BS Yeddyurappa will become the chief minister of Karnataka. Here's the full interview. 
5:52 PM IST
Rahul Gandhi breaks silence
Congress President Rahul Gandhi: I had said that during the campaign 'janta maalik hai' and today people have clearly given their decision. I congratulate the PM and BJP. He also congratulated Smriti Irani after his defeat in Amethi.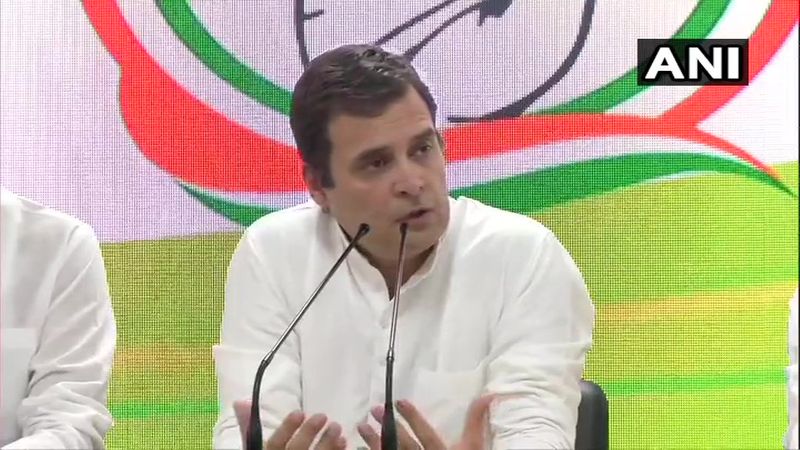 5:46 PM IST
Imran Khan congratulates Modi
"I congratulate Prime Minister Modi on the electoral victory of BJP and allies. Look forward to working with him for peace, progress and prosperity in South Asia," said Pakistan Prime Minister Imran Khan.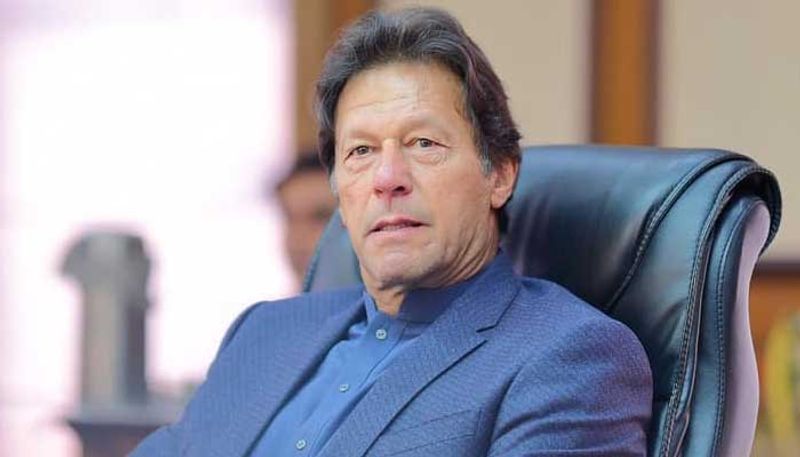 5:13 PM IST
Yeddyurappa talks exclusively to MyNation
Following BJP's victory in Karnataka, Yeddyurappa says 'I don't demand Kumaraswamy's resignation'. Video here.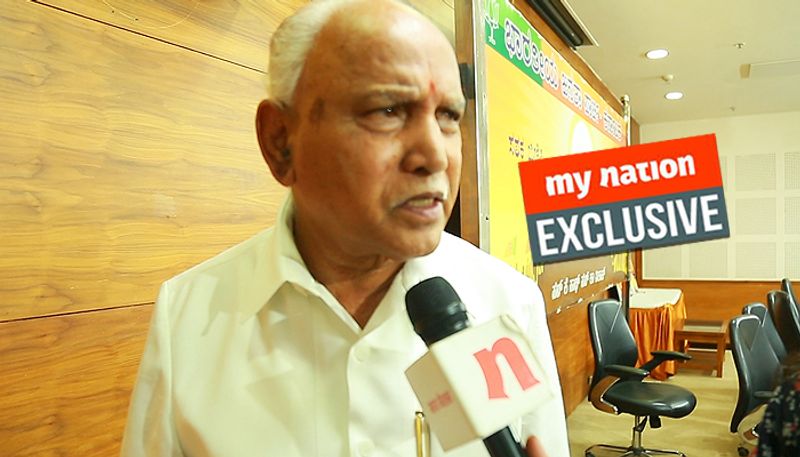 4:54 PM IST
Northeast India update
Assam 
BJP+ - 10
Congress - 2
AIUDF - 1
Others – 1

Arunachal Pradesh
BJP - 2
Nagaland
Congress - 1
Manipur
BJP - 1
NPF - 1
Meghalaya
NPP - 1
Congress - 1
Mizoram
MNF - 1
Tripura
BJP - 2
4:52 PM IST
Agatha Sangma's victory tour
Visuals of NPP candidate Agatha Sangma's victory tour after winning Tura seat.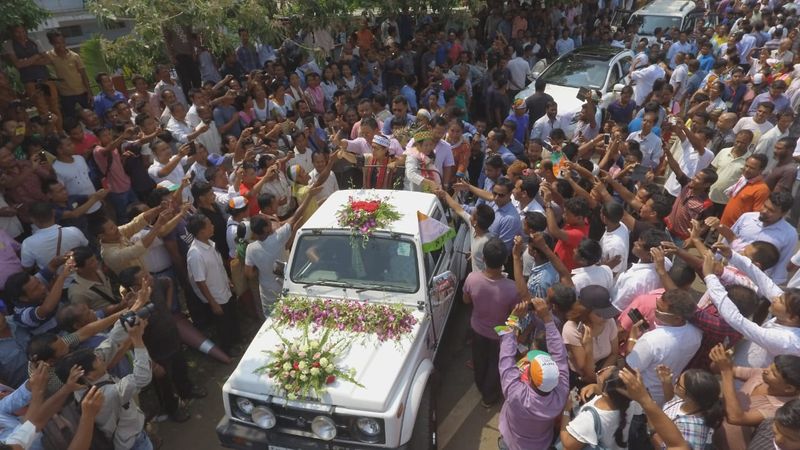 4:02 PM IST
Modi's message
As the Bharatiya Janata Party (BJP) stood poised to return to power with a bigger mandate in 2019 Lok Sabha elections, Prime Minister Narendra Modi on Thursday congratulated the nation. "India wins yet again!" he tweeted. Full report here.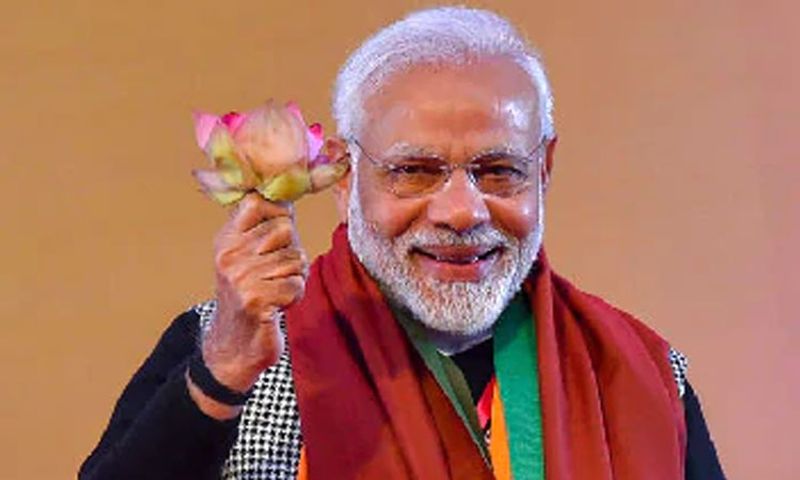 3:38 PM IST
Northeast India update
Arunachal Pradesh
BJP - 2
Nagaland
NDPP - 1
Manipur
BJP - 1
NPF - 1
Meghalaya
NPP - 1
Congress - 1
Mizoram
MNF - 1
Tripura
BJP – 2
Assam
BJP - 9
AGP -1
Congress - 1
AIUDF - 2
Independent - 1
 
2:43 PM IST
BJP's celebrations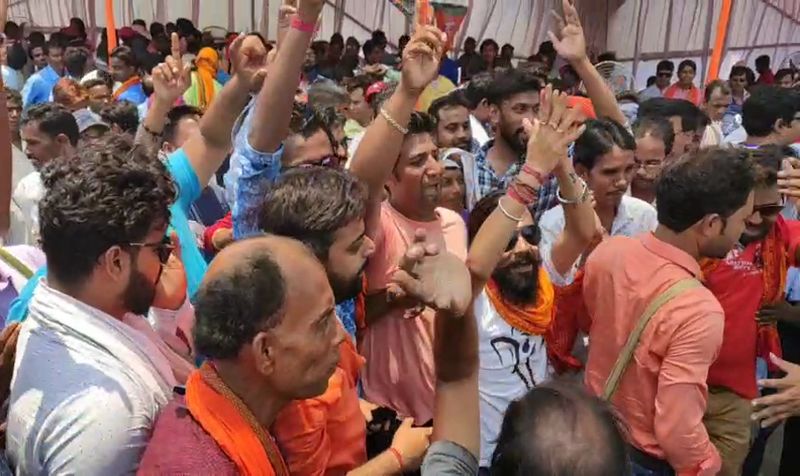 BJP cadre celebrates in Bengal's Purulia. According to the latest updates, the BJP is leading by 45,489 here. 
1:41 PM IST
Prime Minister of Israel sends best wishes
Prime Minister of Israel, Benjamin Netanyahu congratulates Prime Minister #NarendraModi, says, "will continue to strengthen our friendship between India and Israel". Read full report here.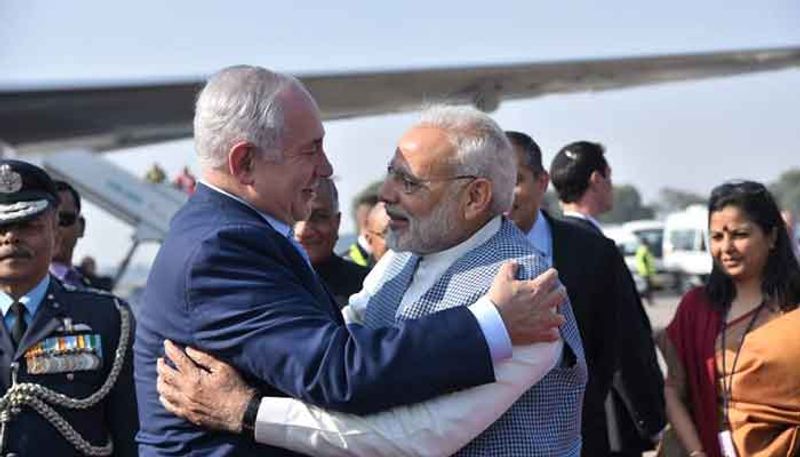 1:16 PM IST
Asansol update
Asansol result at the end of the 7th round 
BJP's Babul Supriyo - 231055
Trinamool's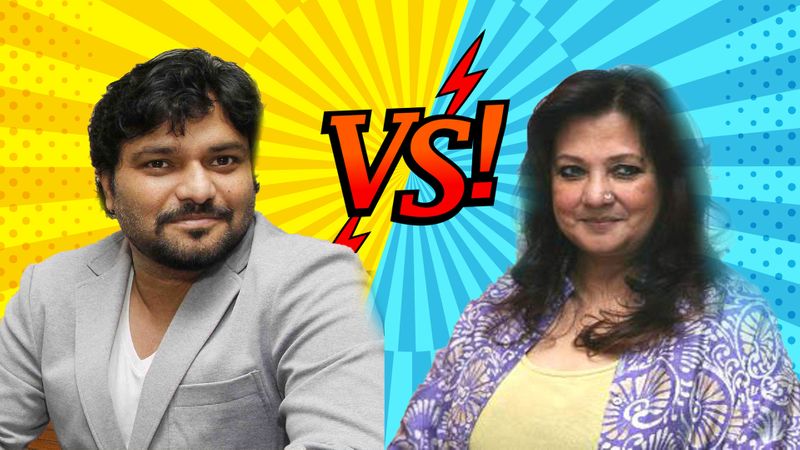 - 155084
1:07 PM IST
Himanta Biswa Sarma's remark
BJP's Himanta Biswa Sarma: People of India have once again given Modi ji a chance to lead the country, they love him. I would like to thank the people of India, especially people of North-East for supporting Modi ji. I want to assure people that Modi ji will take us forward.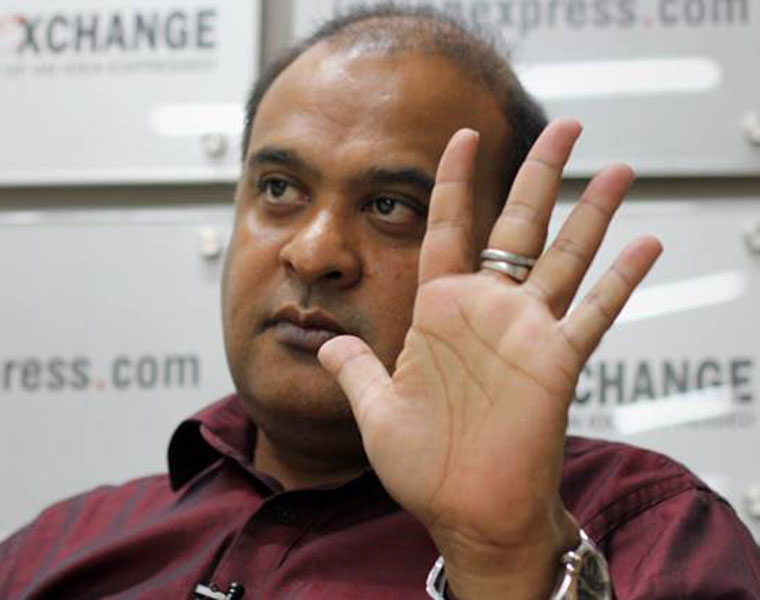 12:55 PM IST
Sri Lanka Prime Minister congratulation message
Prime Minister of Sri Lanka Ranil Wickremesinghe tweets, "Congratulations to #NarendraModi on a magnificent victory! We look forward to working closely with you." 
12:51 PM IST
Bengal update
BJP's seat counts in Bengal 
Asansol leading by 69082
Hooghly leading by 58826
Alipurduar leading by 69440
Bangaon leading by 25794
Bankura leading by 36542
Bishnupur leading by 45127
Burdwan Durgapur leading by 15619
Maldah Uttar leading by 21478
Jhargram leading by 15832
Purulia leading by 45489
Darjeeling leading by 89219
Malda DAKSHIN leading by 13990
Raiganj leading by 4451
Ranaghat leading by 59750
Jalpaiguri leading by 23689
Barrackpore leading by 1548
Coochbehar leading by 1082
 
12:33 PM IST
Owaisi ahead with 85,000 votes
All India Majlis-E-Ittehadul Muslimeen leader Asaduddin Owaisi leading with over 85,000 votes from Hyderabad Lok Sabha constituency.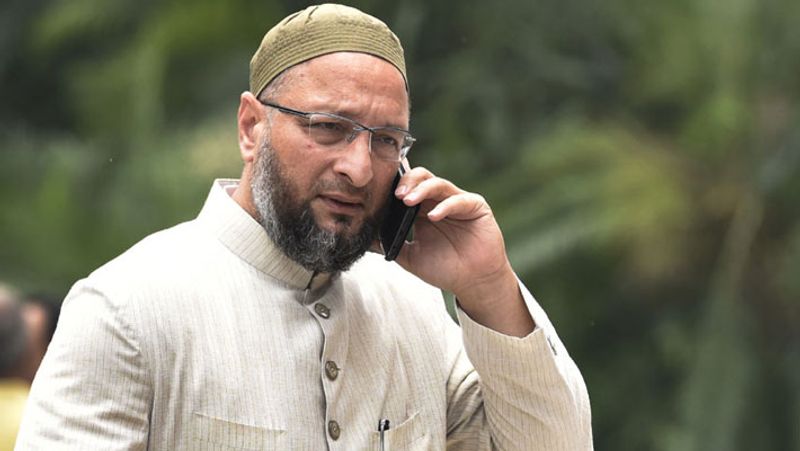 12:06 PM IST
Board meeting today
BJP parliamentary board meeting to be held later today. PM Modi to meet BJP workers at party office at 5.30 PM today.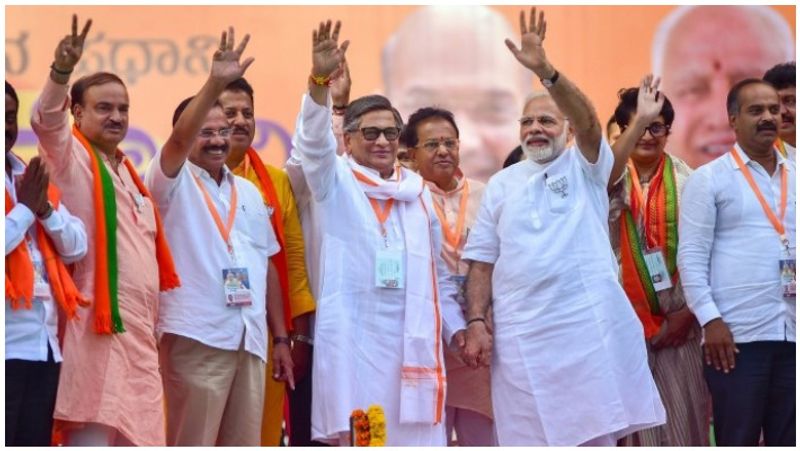 12:04 PM IST
Sudhanshu Trivedi remark
"This is the first election for a generation that opened its eyes in the 21st century, the millennium generation has voted & given a millennium mandate. I think we should wait for final results, the indications are now gradually settling down to same thing," BJP's Sudhanshu Trivedi.
11:52 AM IST
Bagga's message to Mamata Banerjee
BJP leader Tajinder Pal Singh Bagga's message to Bengal chief minister Mamata Banerjee.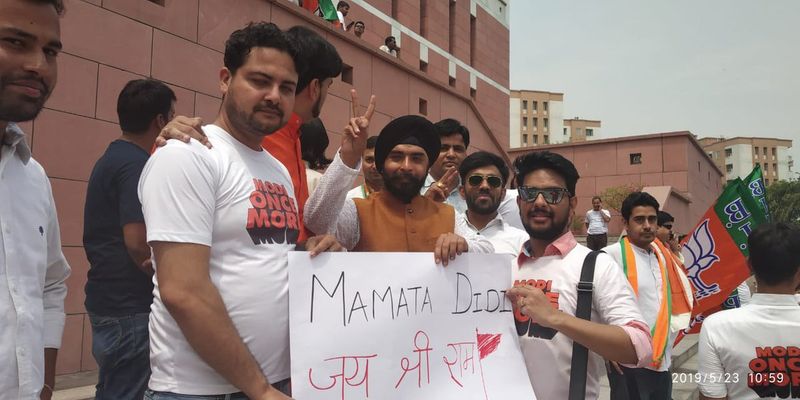 11:41 AM IST
Counting update
Union Ministers Manoj Sinha and Maneka Gandhi trailing from Ghazipur and Sultanpur respectively.
Congress leader Jyotiraditya Scindia trailing from Guna in Madhya Pradesh.
 
11:21 AM IST
Thiruvananthapuram update
Congress's Shashi Tharoor leading from Thiruvananthapuram by over 13,000 votes
11:14 AM IST
Bengal trend
Bengal: TMC leading on 24 seats, BJP leading on 17 seats and Congress on 1 seat; total seats 42.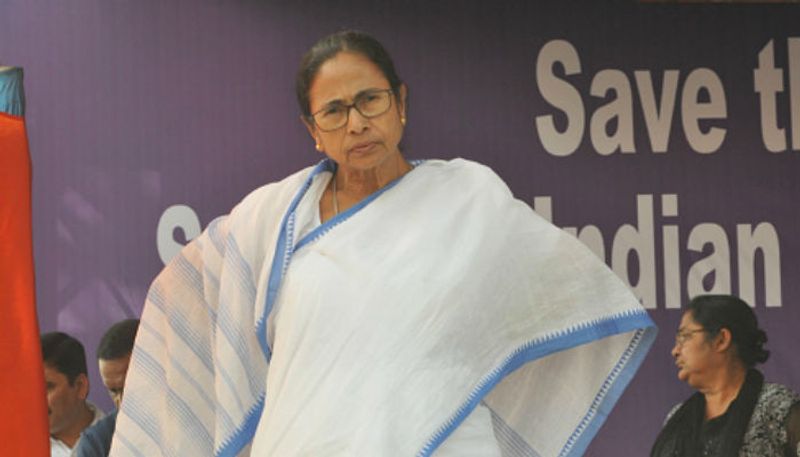 11:00 AM IST
Amit Shah's thumping win
BJP President Amit Shah leading by over 1,25,000 votes from Gujarat's Gandhinagar.
10:45 AM IST
BJP's celebration begins
Visuals of celebrations outside BJP office in Bengaluru.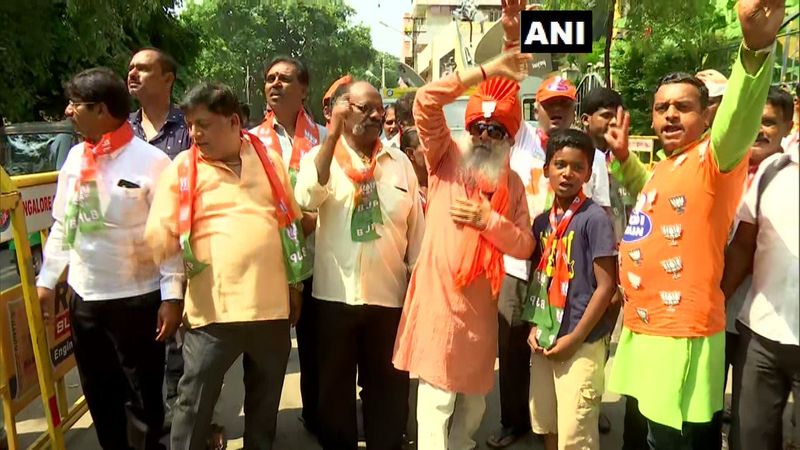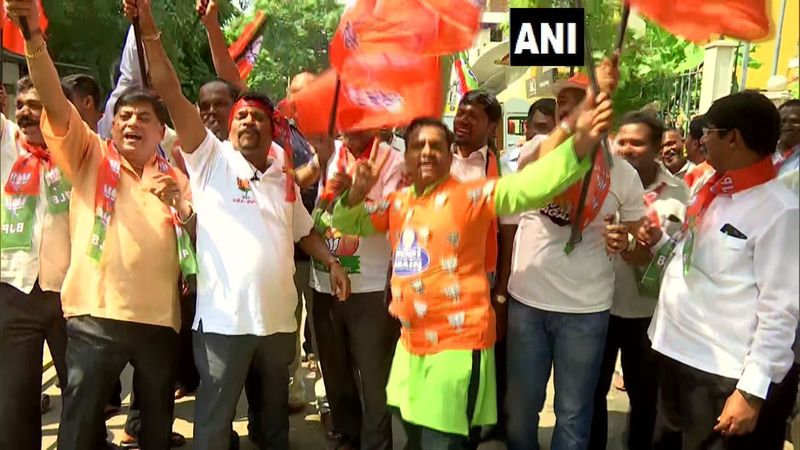 10:39 AM IST
Bengal detail reports
Purulia Lok Sabha 1st round detail counting report.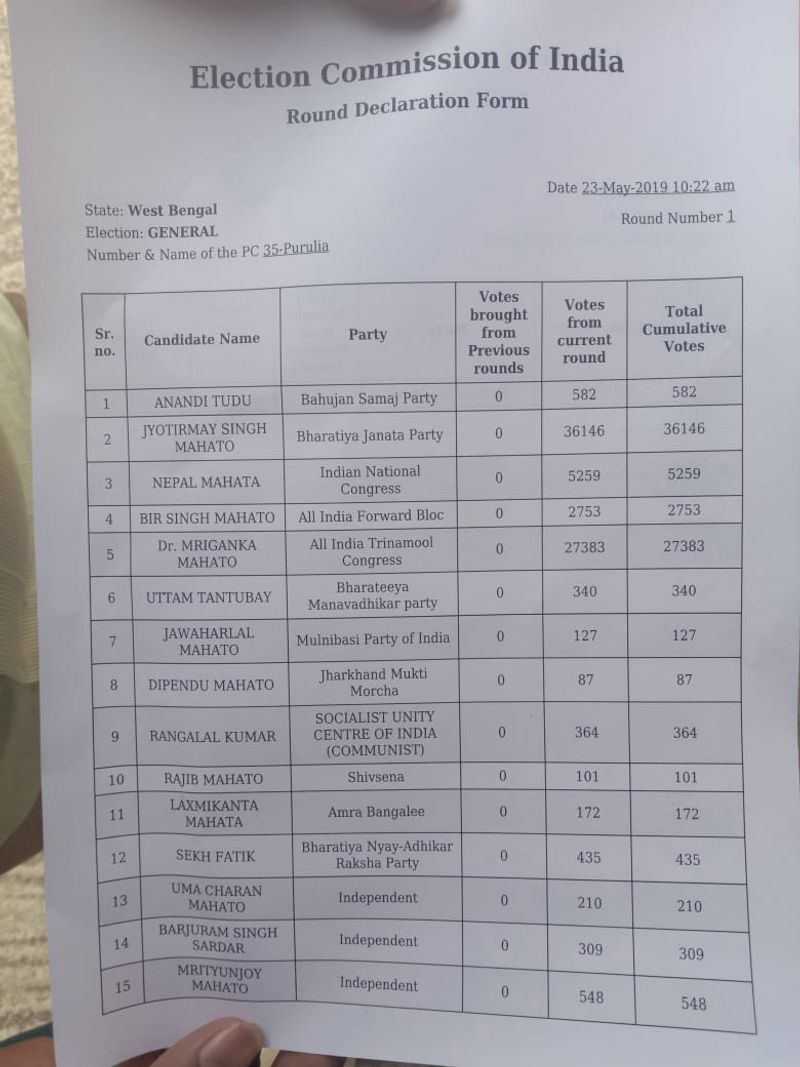 10:14 AM IST
8 seats in Punjab goes to Congress
The Congress is leading in eight out of total 13 Lok Sabha seats in Punjab.The Congress is leading in Amritsar, Faridkot, Anandpur Sahib, Jalandhar, Khadoor Sahib, Ludhiana, Fatehgarh Sahib and Patiala. Meanwhile, BJP is leading in Gurdaspur and Hoshiarpur seats and the Akali Dal in Bathinda and Ferozepur seats. 
10:07 AM IST
Mulayam Singh Yadav update
Samajwadi Party (SP) patriarch Mulayam Singh Yadav is leading in Mainpuri constituency. 
9:58 AM IST
Deve Gowda trailing
The former Prime Minister and JD(S) candidate HD Deve Gowda is trailing in Karnataka's Tumkur.
9:52 AM IST
BJP already has 10 seats in Bengal
BJP leads in 10 seats, out of 42 seats, in Bengal. 
9:51 AM IST
Rampur update
Jaya Prada takes the lead in Rampur. Azam Khan is trailing. 
9:49 AM IST
Morning official trends
Lok Sabha polls 2019: Official trends at 9:30 AM 
BJP-206
INC-55
NCP-2
JDS-2
JDU-7
SP-2
TRS-10
YSRCP-10
TDP-2
SS-12
AAP-1
BSP-10
DMK-14
TMC-5
9:47 AM IST
Results from north east
Arunachal Pradesh (2)
BJP - 2
Manipur (2)
BJP - 1
Mizoram – (1)
MNF - 1
Meghalaya (2)
NPP - 1
Congress – 1
Nagaland (1)
NDPP - 1
 
9:35 AM IST
Abhishek Banerjee is trailing
Abhishek Banerjee, Bengal chief minister Mamata Banerjee nephew is trailing in Diamond Harbour constituency. BJP's Nilanjan Roy has taken the lead. 
9:21 AM IST
BJP crosses 272
Across India, the BJP takes a lead of 272. Meanwhile, UPA is leading on just 88 Lok Sabha seats and 76 seats went to other regional parties. 
9:16 AM IST
Kamal Nath leads in Chhindwara's Assembly by-poll
Madhya Pradesh chief minister and Congress leader Kamal Nath is leading in Assembly by-poll in Chhindwara constituency. 
 
9:10 AM IST
Kanhaiya Kumar trailing in Begusarai
CPI's Kanhaiya Kumar is trailing in Begusarai after BJP's Giriraj Singh took the lead. 
 
9:07 AM IST
Modi leading in Varanasi
Prime Minister Narendra Modi is leading in Varanasi.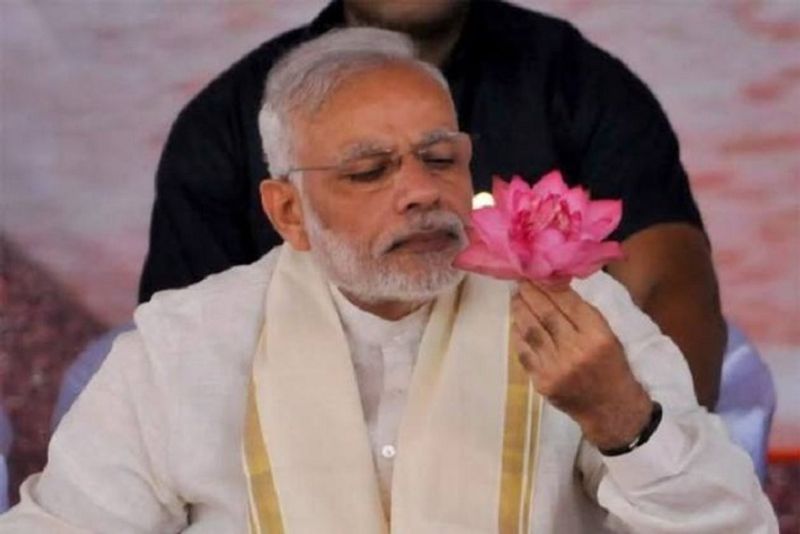 9:05 AM IST
Azam Khan leading in Rampur
Samajwadi Party's Azam Khan is leading in Uttar Pradesh's Rampur against Jaya Prada. 
9:04 AM IST
Pragya Singh Thakur, Anurag Thakur leading
BJP candidate Pragya Singh Thakur and Anurag Thakur have taken the leads in Bhopal and Hamirpur in Himachal Pradesh, respectively. Full report here.
 
8:58 AM IST
Urmila Matondkar trailing
Actor and Congress candidate Urmila Matondkar is trailing in North Mumbai. She is contesting against BJP's Gopal Shetty 
8:57 AM IST
Babul Supriyo leading in Asansol
 BJP sitting MP Babul Supriyo Babul Supriyo is leading in Asansol
8:55 AM IST
Shashi Tharoor takes lead
Congress Candidate Shashi Tharoor is now Leading in Trivandrum.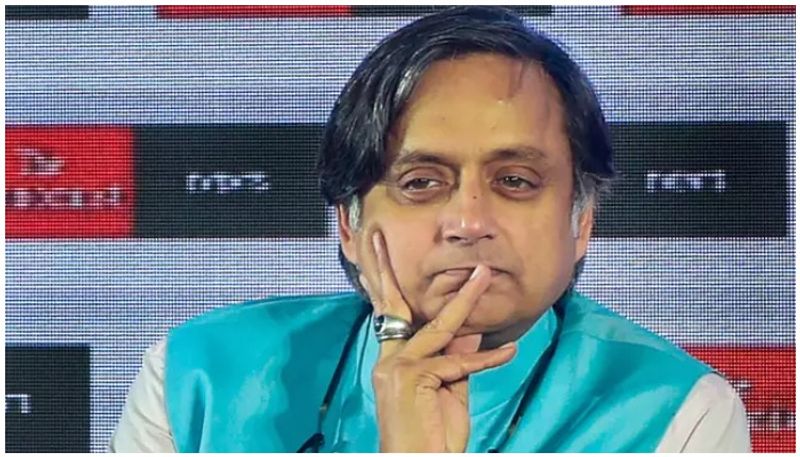 8:52 AM IST
Kirron Kher, Sunny Deol leading
BJP party candidates Kirron Kher, Sunny Deol are leading in Chandigarh and Gurdaspur respectively.
 
8:51 AM IST
Smriti Irani takes lead in Amethi
BJP's Smriti Irani has taken the lead in Amethi. Congress president Rahul Gandhi is trailing. 
Full report here
8:50 AM IST
Smriti Irani takes lead in Amethi
BJP's Smriti Irani has taken the lead in Amethi. Congress president Rahul Gandhi is trailing. 
8:29 AM IST
Assam results
Assam (14 seats) early trends
BJP+ - 8
Congress - 3
AIUDF - 2
Others - 1
8:28 AM IST
Congress's leaders' fate
While Congress candidate Shashi Tharoor is trailing in Trivandrum, Rahul Gandhi is leading in Wayanad. Gandhi decided to contest from Wayanad in Kerala besides his traditional stronghold of Amethi in Uttar Pradesh. 
8:23 AM IST
Election Commission's website glitch
Election Commission's website faces hiatus as voting for Lok Sabha elections 2019 continues.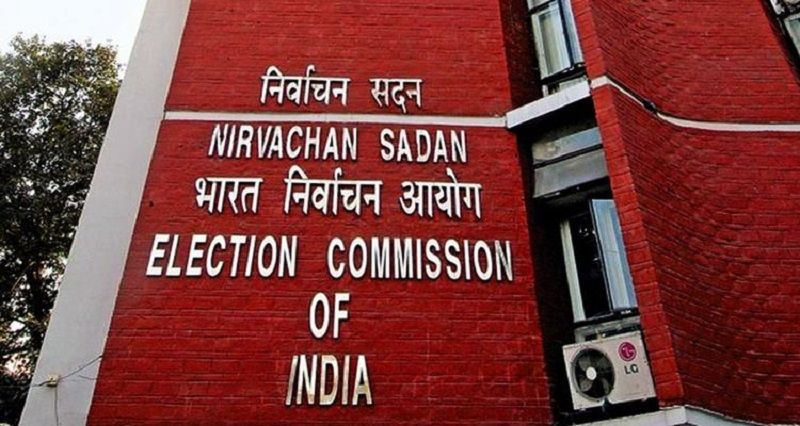 8:19 AM IST
BJP, Congress's new leads
While the BJP is leading in Chhattisgarh, Shiv Sena in Maharashtra's Thane, the Congress is leading in Naxal-hit Bastar district in Chhattisgarh.
8:15 AM IST
Rahul and Sonia Gandhi are leading in Amethi, Raebareli
Congress president Rahul Gandhi and chairperson Sonia Gandhi are leading Lok Sabha seats of Amethi and Raebareli.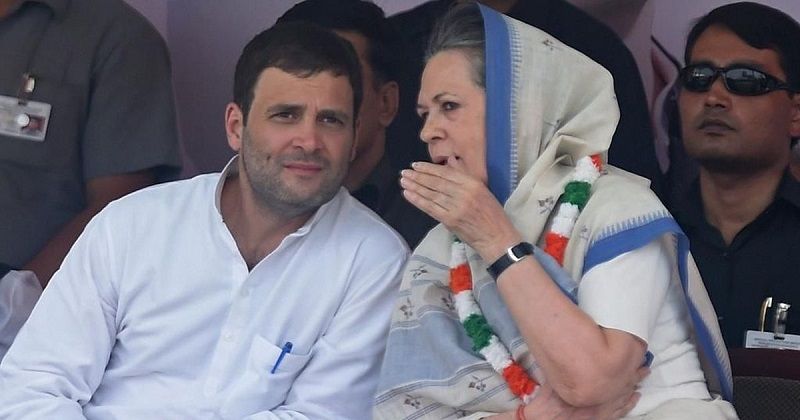 8:11 AM IST
NDA takes the first lead
The BJP candidate has taken the first lead in Karnataka's Hasan constituency. BJP candidate and Union minister Rajyavardhan Rathore has also taken lead in Rajasthan. 
8:01 AM IST
Counting starts
Counting for Lok Sabha elections 2019 begins.
7:59 AM IST
Ravi Kishan offers prayer
Actor Ravi Kishan, who is fighting on Gorakhpur Lok Sabha seat, offers prayers before counting for Lok Sabha election begins.
7:55 AM IST
Visuals from counting centres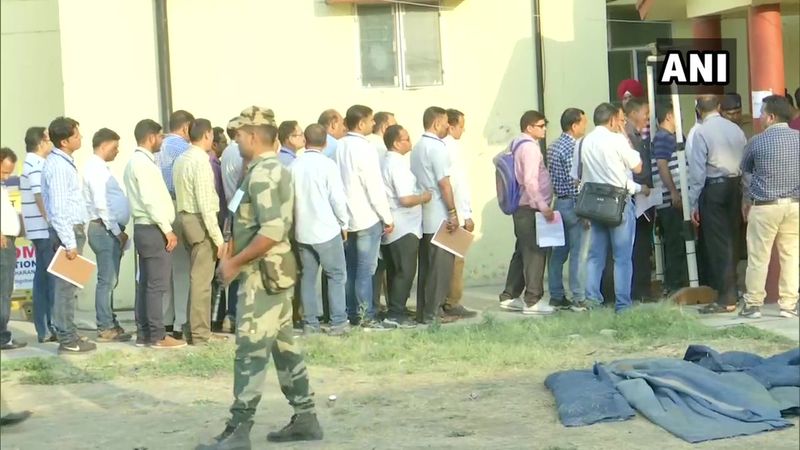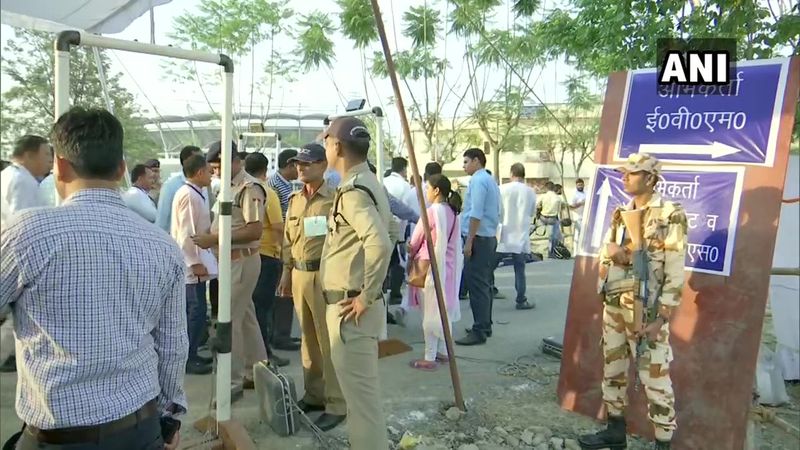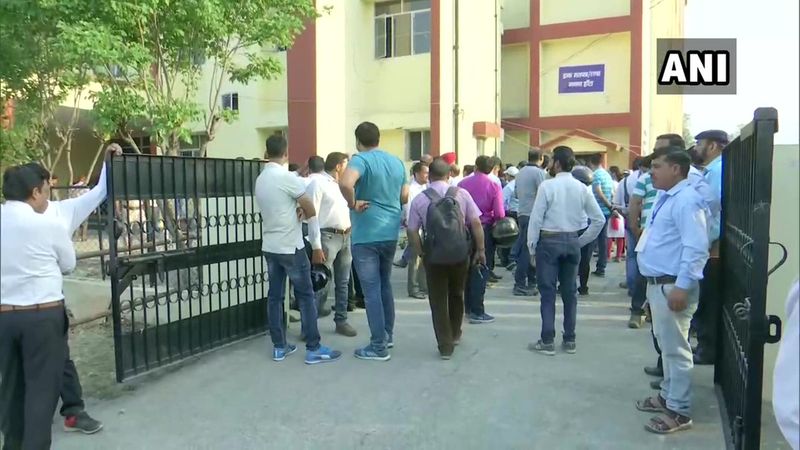 7:51 AM IST
Final stage set
The Election Commission will start counting the Lok Sabha election results at 8 AM on Thursday.