Mayank Agarwal hit his maiden Test ton and his coach RX Murali has explained how they planned for the South Africa series. The coach was happy that the plans were executed well by Mayank in the first Test in Visakhapatnam
Bengaluru: India opener Mayank Agarwal came in for high praise from his coach for scoring his maiden Test century in the ongoing match against South Africa in Visakhapatnam.
Mayank brought up his first Test ton during the opening session of the second day's play against the Proteas on Thursday (October 3). He and Rohit Sharma put on a record 317 runs for the first wicket in the opening contest of the three-Test rubber.
Also read: India vs South Africa 2019 series schedule, squads, live streaming information
Rohit was dismissed for a brilliant 176 while Mayank was 138 not out at lunch as India reached 324/1 in 88 overs. Later, Mayank continued his good form to score his maiden Test double ton. He was finally dismissed for 215.
The 28-year-old Mayank is playing in his fifth Test and he had prepared well for the South Africa series, according to his coach RX Murali.
Also read: Full list records broken by Rohit, Mayank
In an exclusive interview with MyNation, Murali revealed how he and Mayank planned for the home Test series. The coach described the Karnataka batsman as a "fast learner".
"I am quite excited (to see Mayank Agarwal's first Test hundred). He has really worked hard to earn the India Test cap. He performed consistently (in domestic matches). He had good starts in earlier Test matches but now he converted into a hundred. I would say that is a tribute to the understanding of his game, his reading of the situation. He understood that he could have converted at least two innings (into hundreds). Now, he has made it happen. He is a very fast learner," Murali told MyNation after Mayank's century.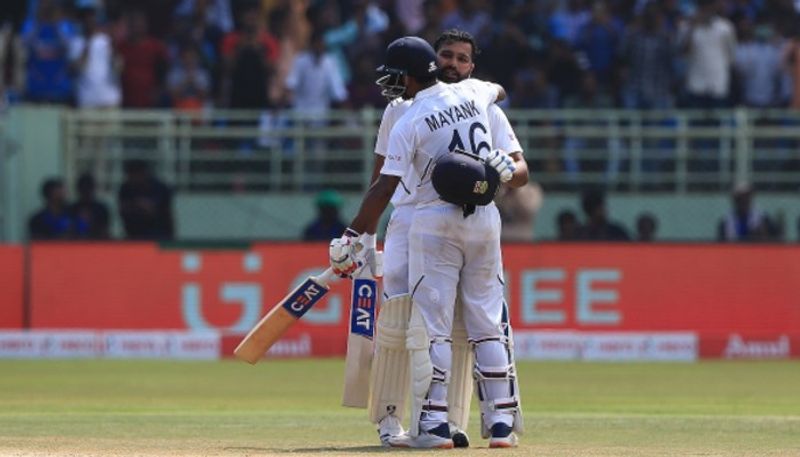 The coach said there were few changes made to Mayank's batting and he was delighted that are working well now.
Take a bow, Mayank Agarwal 🙌🙌@Paytm #INDvSA pic.twitter.com/ESHjPbXP1A

— BCCI (@BCCI) October 3, 2019
"I did watch his innings yesterday and today. We have made few changes, looking at the very short period he has had in international cricket. There were one or two small changes that had to be made. Those changes are working out very well for him," Murali added.
According to Murali, Rohit, who was opening the batting in Test cricket for the first time, helped Mayank.
"For me, like we always say, luck favours the brave. Mayank is a guy who works really hard. I would say he was very lucky to have Rohit (Sharma) at the other end. When you have a brilliant cricketer like Rohit at the other end, it actually helps you to calm down. Rohit made a lot of difference to Mayank's batting," Murali explained the contribution of Rohit.
When asked about how they prepared for the Gandhi-Mandela Trophy, Murali said, "We worked together for the South Africa Test series. We had our own plans for this series. I am happy that he has executed the plans very well so far. We are very happy.
"Yes, there were specific plans for specific bowlers. The best part was he has played (Kagiso) Rabada and other South African fast bowlers. Mayank was clear what to expect from them. We realised that it would be more of spin that would play a big part in India, so we did work on left-arm spinners (Keshav Maharaj, Senuran Muthusamy) too. It is nice to see Mayank going out there and executing the plans."
The coach expects Mayank to score many more Test centuries but he is not thinking far ahead. "Yes, technically we are assured of many more Test centuries from Mayank. But, we don't look that far ahead. We want to take one innings at a time."