Virat Kohli completed a double as he finished the year 2019 as the top-ranked Test batsman in ICC Rankings. He is No. 1 in ODIs too. Do you know for how many days he was No. 1 Test batsman in 2019? Find out here
Dubai: India captain Virat Kohli has ended the year 2019 as the top Test batsman as the International Cricket Council (ICC) updated the rankings on Monday (December 30) after the Australia-New Zealand and South Africa-England Test matches.
Kohli, who is on top of the world in ICC ODI rankings, made it a memorable double going into the New year. The 31-year-old is No. 1 batsman in the five-day format and 50-over version as curtains came down on cricket action for the year. Kohli was at the top of Test charts for 274 days in 2019.
Also read: Meet top 10 ODI batsmen of 2019
With 928 rating points, Kohli heads the ICC Test batsmen table. Australian Steve Smith is at the second position with 911 points. New Zealand captain Kane Williamson occupies the third place with 822 points.
Cheteshwar Pujara and Ajinkya Rahane are the other Indians in the top-10 of the rankings. Pujara is at fifth while Rahane is joint seventh with David Warner of Australia.
Also read: Check out India's all Test, ODI, T20I results in 2019
Australia's Marnus Labuschagne has finished the year at a career-best fourth position while South Africa's wicketkeeper-batsman Quinton de Kock has moved into the top 10.
Also read: Virat Kohli heads ODI rankings list
Labuschagne, who was ranked 110th at the start of the year, has moved up one slot after scores of 63 and 19 in the Melbourne Test against New Zealand, which Australia won by 247 runs to go 2-0 up in the three-match series.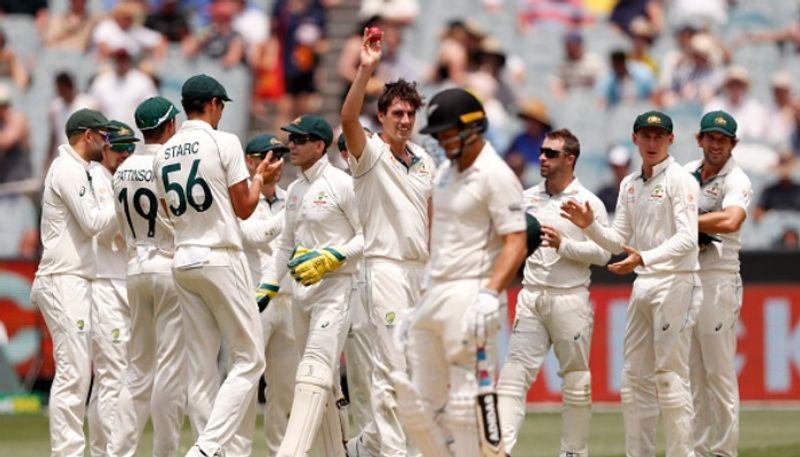 De Kock's 'player of the match' effort of 95 and 34, which helped his team beat England by 107 runs at Centurion to go 1-0 up in the four-match series, sees him advance eight places and reach 10th position.
In Test bowling table, Australia fast bowler Pat Cummins has finished at the top with a five-wicket haul in the first innings in Melbourne. He occupied the top place for 321 days during the year while South Africa fast bowler Kagiso Rabada was No. 1 for 44 days after starting 2019 in top position.
ICC Test Player Rankings (as of December 30)

Batsmen (top 10)
| | | | | | | |
| --- | --- | --- | --- | --- | --- | --- |
| Rank | (+/-) | Player | Team | Pts | Avge | Highest Rating |
| 1 | ( - ) | Virat Kohli | India | 928 | 54.97 | 937 v Eng at Southampton 2018 |
| 2 | ( - ) | Steve Smith | Aus | 911 | 62.84 | 947 v SA at Durban 2018 |
| 3 | ( - ) | K Williamson | NZ | 822 | 51.44 | 915 v Ban at Hamilton 2019 |
| 4 | (+1) | M Labuschagne | Aus | 805*! | 56.42 | 805 v NZ at Melbourne 2019 |
| 5 | (-1) | C Pujara | India | 791 | 49.48 | 888 v SL at Nagpur 2017 |
| 6 | ( - ) | Babar Azam | Pak | 767! | 42.67 | 767 v SL at Karachi 2019 |
| 7= | (+1) | David Warner | Aus | 759 | 48.21 | 880 v NZ at Perth 2015 |
|   | ( - ) | Ajinkya Rahane | India | 759 | 43.74 | 825 v NZ at Indore 2016 |
| 9 | ( - ) | Joe Root | Eng | 754 | 48.41 | 917 v Aus at Trent Bridge 2015 |
| 10 | (+8) | Q de Kock | SA | 712 | 38.88 | 802 v NZ at Hamilton 2017 |
Bowlers (top 10)
| | | | | | | |
| --- | --- | --- | --- | --- | --- | --- |
| Rank | (+/-) | Player | Team | Pts | Avge | Highest Rating |
| 1 | ( - ) | Pat Cummins | Aus | 902 | 21.92 | 914 v Eng at Old Trafford 2019 |
| 2 | (+1) | Neil Wagner | NZ | 859! | 26.51 | 859 v Aus at Melbourne 2019 |
| 3 | (-1) | Kagiso Rabada | SA | 832 | 22.57 | 902 v Aus at Port Elizabeth 2018 |
| 4 | ( - ) | Jason Holder | WI | 830! | 26.37 | 830 v Afg at Lucknow 2019 |
| 5 | (+3) | V Philander | SA | 800 | 21.99 | 912 v India at Johannesburg 2013 |
| 6 | ( - ) | Jasprit Bumrah | India | 794* | 19.24 | 835 v WI at Jamaica 2019 |
| 7 | (-2) | Mitchell Starc | Aus | 790 | 27.08 | 806 v NZ at Perth 2019 |
| 8 | (-1) | J Hazlewood | Aus | 777 | 26.20 | 863 v India at Bengaluru 2017 |
| 9 | (+2) | R Ashwin | India | 772 | 25.36 | 904 v Eng at Mumbai 2016 |
| 10 | (+2) | M Shami | India | 771 | 27.09 | 790 v Ban at Indore 2019 |
Last Updated Dec 30, 2019, 3:34 PM IST