Fans clashed on Twitter over two trends, #DhoniRetires and #DhoniNeverTires after rumours were spread on social media over MS Dhoni's retirement. Dhoni's wife Sakshi lashed out at 'mentally unstable' people for tweeting fake news
Bengaluru: MS Dhoni has not played for India since the ICC World Cup 2019 semi-final in last July. His fans are patiently waiting to see him in action. He was set to play in the Indian Premier League (IPL 2020) but that has been suspended indefinitely due to the coronavirus (COVID-19) pandemic. Now, rumours of Dhoni's retirement have emerged.
Also read: ICC dismisses World T20 postponement reports as 'inaccurate'
On Wednesday evening (May 27), some people started trending the hashtag #DhoniRetires on Twitter. It was fake news as Dhoni has not made any announcement about his cricket future.
Also read: Full schedule of India-Australia Test series
Many social media believed that Dhoni has retired. Then, Dhoni's loyal fans, stood up to counter that trend. They started trending #DhoniNeverTires. To support them Chennai Super Kings (CSK) too tweeted.
Later, Dhoni's wife Sakshi posted a tweet just before midnight but deleted it. She  hit out at those who were spreading rumours of Dhoni's quitting. She called them "mentally unstable".
"Its only rumours ! I understand Lockdown has made people mentally unstable ! #DhoniRetires .. Get a life ! (sic)," Sakshi tweeted.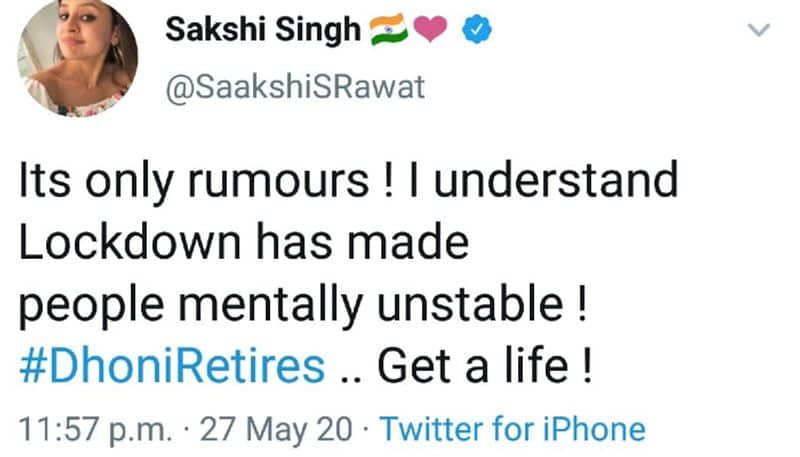 As India continues to remain under a lockdown to contain the spread of the virus, Dhoni is spending time with Sakshi and their daughter Ziva. Sakshi regularly posts videos on Instagram where Dhoni is seen playing with Ziva at their farmhouse in Ranchi.
Last Updated May 28, 2020, 11:28 AM IST