Congress MP Rahul Gandhi was trolled on Twitter with #RahulBacksPakistan after his tweet was used by a Pakistani minister to tell the UN that Indian politicians were not happy with PM Modi's cancellation of Article 370. Here is how Rahul reacted

New Delhi: Twitter users are slamming Congress leader and Wayanad MP Rahul Gandhi for his comments on Jammu and Kashmir.
"Rahul Backs Pakistan" hashtag (#RahulBacksPakistan) is trending on Twitter on Wednesday (August 28). Rahul is being trolled on Twitter for allegedly supporting Pakistan.
The issue was raised citing a letter written by the Pakistani minister for human rights, Shireen Mazari, to 18 UN Special Procedures mandate-holders on Kashmir.
In the letter, Mazari mentioned that even prominent Indian politician Rahul had noted that people are dying in Jammu and Kashmir.
She was trying to make a point that after the removal of the special status to Jammu and Kashmir by the Narendra Modi government, there have been incidents of violence and death reported in the region.
Following this, Rahul was trolled on social media stating that his tweet which claimed there have been incidents of violence in Kashmir was making India look in bad light.
Rahul after visiting Srinagar on August 26, tweeted, "It's been 20 days since the people of Jammu & Kashmir had their freedom &  civil liberties curtailed. Leaders of the Opposition & the Press got a taste of the draconian administration & brute force unleashed on the people of J&K when we tried to visit Srinagar yesterday (sic)."
Following the backlash by Twitterati with #RahulBacksPakistan, Rahul also took to Twitter to make his stance clear. He posted two tweets in this regard.
"I disagree with this Govt. on many issues. But, let me make this absolutely clear: Kashmir is India's internal issue & there is no room for Pakistan or any other foreign country to interfere in it (sic)," tweeted Rahul.
" There is violence in Jammu & Kashmir. There is violence because it is instigated and supported by Pakistan which is known to be the prime supporter of terrorism across the world (sic)," he tweeted.
Congress also released a statement slamming Pakistan for misusing Rahul's name. AICC communications in-charge Randeep Surjewala said that Rahul Gandhi was "mischievously dragged" to justify the pack of lies spread by Pakistan.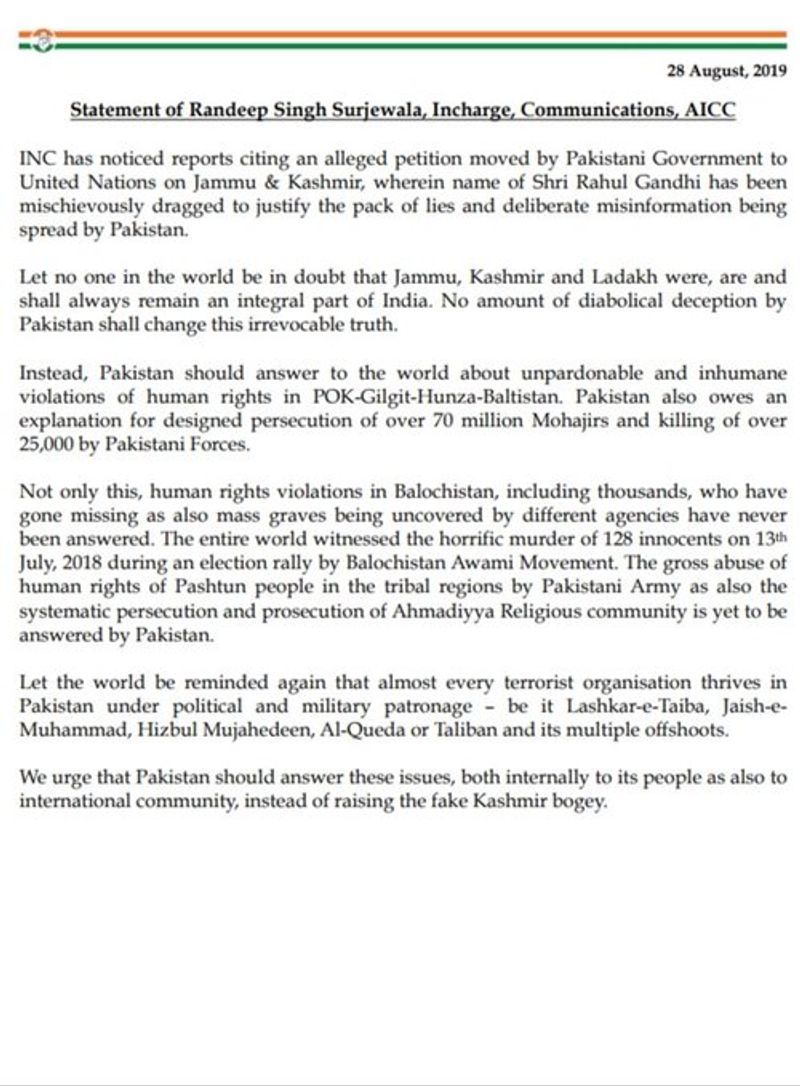 But this has not stopped Twitterati from blaming Rahul. A user wrote, "People of India don't trust a chameleon like you! You guys have done enough of damage to the country. We don't need you anymore! Please feel free to stand with Pakistan like you've been doing and we'll ensure to send you to your beloved country #TerrorStatePakistan (sic)."
"We don't need your clarification that Kashmir is ours... You are the disastrous creature for our country (sic)," said another Twitter user.
Read Exclusive COVID-19 Coronavirus News updates, at MyNation.
Last Updated Aug 28, 2019, 6:21 PM IST