Despite Kumaraswamy's efforts to hold on to power, Yediyurappa's dream has come true as the latter has been sworn in as chief minister. Meanwhile Just For Laughs on MyNation wonders what Speaker Ramesh Kumar must be thinking after resigning from his post.
Bengaluru: It looks like the saying: "When you want something, all the universe conspires in helping you to achieve it," has come true in Karnataka. Chief minister Yediyurappa repeatedly said that the government will fall and he will become the chief minister since the day Kumaraswamy formed the coalition government in May last year. Now, after many efforts, he has realised his dream and has become the chief minister of Karnataka.
On the other hand, despite numerous attempts, which also includes weeping on several occasions, Kumaraswamy stands as the former chief minister after he lost the trust vote to BJP's Yediyurappa.
Another person who faced a lot of music during the turmoil in Karnataka politics is Speaker Ramesh Kumar. He was slammed as taking sides with the coalition government (when the latter was in power). Then he was criticised for his decision to issue notices to Karnataka's rebel MLAs. Then again, his decision to disqualify 17 rebel MLAs was taken with a pinch of salt.
Thus after facing the music for a quite a few days, Speaker Ramesh Kumar has finally resigned. Just For Laughs on MyNation feels that Kumar, for a change, can listen to music at leisure now.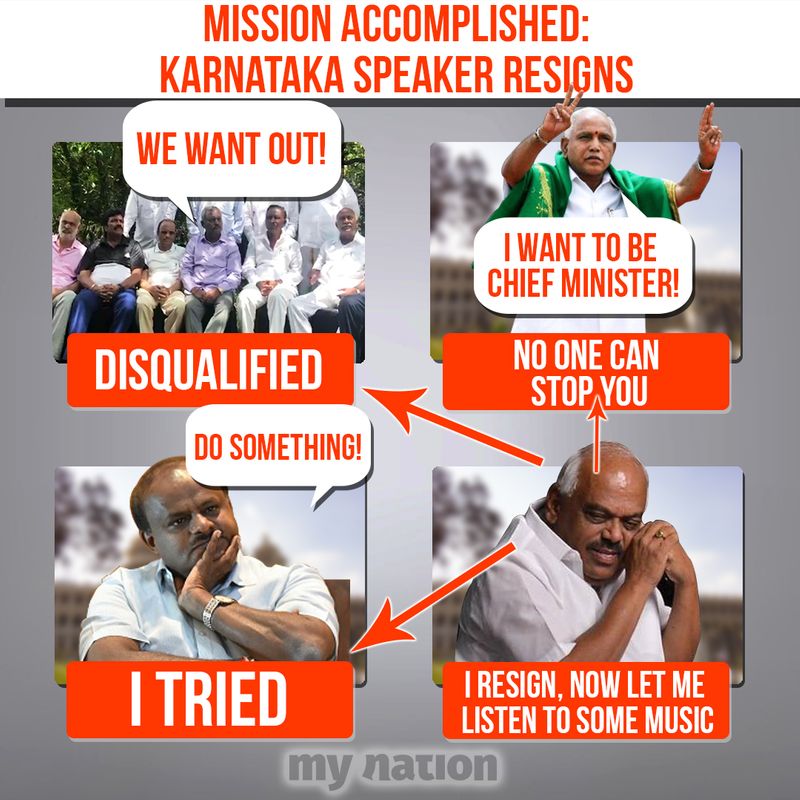 Read Exclusive COVID-19 Coronavirus News updates, at MyNation.
Last Updated Jul 29, 2019, 3:22 PM IST