During the ICC World Cup 2019, Hardik Pandya's performance on field has been a talking point. We at MyNation have put out his recent controversy on Koffee with Karan show along his performance.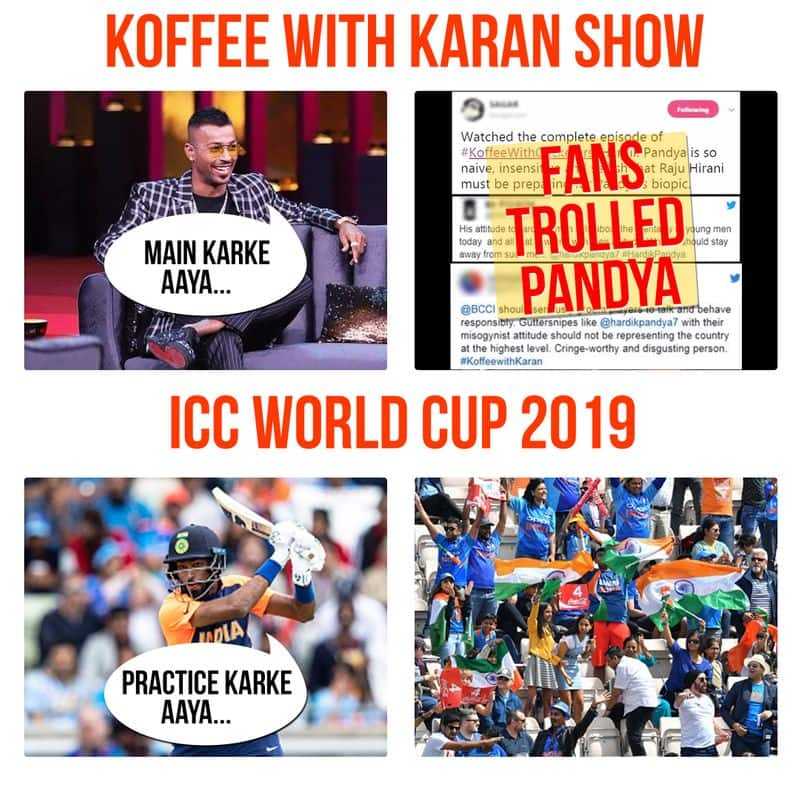 Hardik Pandya and KL Rahul found themselves in soup after their sexist and racist comments on a popular chat show hosted by Bollywood filmmaker Karan Johar. 
Hardik Pandya's statement, "Aaj mein karke aaya" took the internet by storm making him the butt of many memes and jokes. 
Pandya was making a reference to his apparent sex life when he made the statement. He claimed to have told his parents that statement when he had sex for the first time. 
The cricketer further boasted about walking into a room full of women and exclaiming to one of his family members that he had been physically involved with each one. 
After making such misogynistic comments on the show, Hardik Pandya took to Twitter to tender an apology. 
However, the episode was sufficient for the Board of Control for Cricket in India to put the two cricketers under provisional suspension and asked them return home from Australia.
Rahul, however, kept a level head on his shoulders and chose his words very carefully while replying to Karan Johar's questions throughout the show.
However, MyNation has put a spin on the episode at a time when Hardik Pandya has been doing pretty well during the ICC World Cup 2019. 
Pandya has been at the receiving end of praise, all thanks to his performance on field. 
Last Updated Jul 2, 2019, 3:31 PM IST