After being friends during the 14-month coalition, senior Congress leader Siddaramaiah and former Prime Minister HD Deve Gowda engaged in a war of words. Turning foes in defeat, the two leaders have shown that one has to pick their moments according to the need of the hour. Just for Laughs on MyNation picked this as the time to put out a meme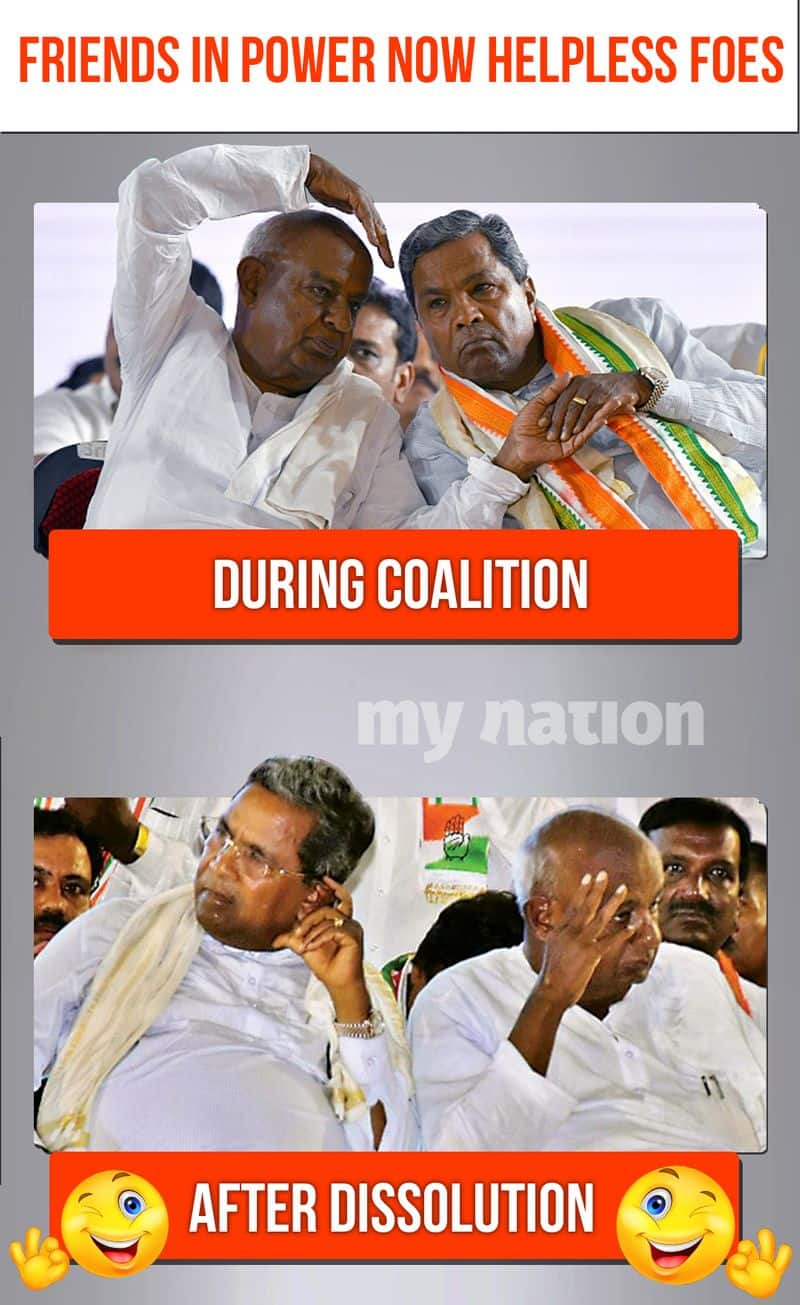 Bengaluru: After losing the trust vote last month, Congress and Janata Dal-Secular coalition leaders in Karnataka engaged in a war of words. Leading from the forefront, was senior Congress member Siddaramaiah and JD(S) supremo HD Deve Gowda.
Siddaramaiah on Friday (Aug 23) hit back at the former Prime Minister and blamed him and his son HD Kumaraswamy for the coalition's collapse.
This after Deve Gowda pointed fingers at Siddaramaiah, saying he was the cause of the coalition government collapse
"Deve Gowda has made some allegations against me. They are all baseless, politically motivated and false. Gowda never allowed someone else to grow. JD(S) does not even let people from their own caste grow. But I have friends from all castes, and in all parties," Siddaramaiah said.
Deve Gowda had said that the Congress had been "wrong" in making his son, HD Kumaraswamy, the chief minister without consulting Siddaramaiah.
"I have clearly said that without taking Siddaramaiah, who was CM for five years, into confidence Sonia Gandhi and Rahul Gandhi all of a sudden came and said HD Kumaraswamy is the next chief minister, it was their wrong decision," the former Prime Minister said.
After the coalition government collapsed Siddaramaiah came under severe criticism because a few of the MLAs who resigned were believed to close to him. However, he dismissed the allegations.
"I did not want the BJP to come to power, so when Congress leaders from Delhi said the high command has decided that despite having 80 MLAs, we should support the JD(S) with 37 MLAs. I accepted it without opposing it," Siddaramaiah retorted.
Former chief minister Siddaramaiah also responded to allegations that he was to blame for election defeats suffered by Deve Gowda and his grandson.
"We (me and HD Deve Gowda) had campaigned in many constituencies. If he blames me for his and his grandson's debacle in the election, he should tell me why our candidates lost," he said.
This sure is a case in point to shoe that in politics, many are friends only for the sake of power. After all, a friend in greed, is a friend indeed.
Read Exclusive COVID-19 Coronavirus News updates, at MyNation.
Last Updated Aug 24, 2019, 1:46 PM IST