It's not the first time that a sponsor has backed out from an event organised by the government grant-dependent SPIC MACAY. And there are artistes higher in seniority and repute than TM Krishna who lost out on the opportunity to perform whom the Carnatic music exponent is not concerned with. Delhi deputy chief minister Manish Sisodia must be asked what the brouhaha is all about.
L'affaire TM Krishna is much ado about nothing. Why such a hullabaloo over a sponsor backing off? Has it never happened in the entertainment industry? It is incomprehensible that an organisation — SPIC MACAY (Society for the Promotion of Indian Classical Music and Culture Amongst Youth) — which stitches and conceives a festival of music and dance at a park as one of its flagship programmes where numerous legends have performed, is silent over the finger pointing at the government. Over the years, the organisation has been supported by many sponsors, corporates, public limited companies, philanthropists, etc.
The Union government even today supports SPIC MACAY with a substantial grant of nearly Rs 2 crore a year, appreciating it as a cultural institution with a national presence. The organisation works in close conjunction with institutions of the Ministry of Culture like IGNCA on various programmes.
So what if the Airport Authority of India chooses, due to whatever exigencies, to step out of the sponsorship? Is it something that has happened for the very first time? Is there really a need to create such a hullabaloo that the Union government has decided not to sponsor the event only because a TM Krishna is performing in it? This is not the very first time that the said artiste is performing for SPIC MACAY. Blaming the government is totally uncalled for. And this, when its health depends a lot on government grant!
Who spread this rumour that the sponsor refused to continue because of Krishna's participation? The other artistes — Sonal Mansingh, Priyadarshini Govind and Shahid Parvez — lost out on their performances, too. They did not utter a squeak of protest. Like an artiste must behave with dignity and grace, they accepted the postponement and surely will await a fresh date as and when the organisation finds a replacement for the sponsorship.
To quote Sonal Mansingh, "As an artiste with over five decades of experience, one has to be prepared for any eventuality, including the cancellation of a programme. I am sure this was not the first or the last programme of Krishna's that has been cancelled."
Suddenly, the entire Krishna ecosystem — The Hindu, The Wire, Ramachandra Guha et al — sprung into action and spiteful narratives flowed: right from AAAI being told to back off to Prime Minister Narendra Modi ordering the cancellation of the event and so on. In fact, one even heard that Modi was 'exacting revenge' on Krishna and that the Prime Minister did not want him to visit or perform in Delhi. This was the joke of this century. Of course, Krishna performed at IIC Delhi a few months ago.
"I will sing in Delhi; just give me a place to sing," says Krishna and Manish Sisodia opened his arms like a Shah Rukh Khan offering the artiste the opportunity and venue to sing. How graceless to unceremoniously ignore the three other artistes — Sonal Mansingh, Priyadarshini Govind and Ustad Shahid Parvez!
The Delhi government-led Sahitya Kala Parishad just grabbed Krishna's offer and became the 'large-hearted Samaritan' giving him a platform in total haste.
What started off with Krishna proclaiming that Modi is silencing his voice and creating a voice of hate and anger has become a political statement. It's now an AAP-versus-BJP fight. If 'they' do not have the concert, we do!
But the same Krishna, who said in his interview with Rajdeep Sardesai that the BJP, RSS and their leaders were "encouraging hate" did not utter a word to the AAP to include the remaining three artistes who lost on the opportunity, too. Where is the large heart? Where is his inclusive philosophy? Where is his voice of love? Does he respect his seniors Ustad Shahid Parvez or Sonal Mansingh who obviously have a voice different from his? Now, where is his tolerant listening to other choruses and taking them along. Could he have told Sisodia that he would perform only of his seniors in the field of arts were respected and included too? Well, well, 'I am taken care of so why bother!'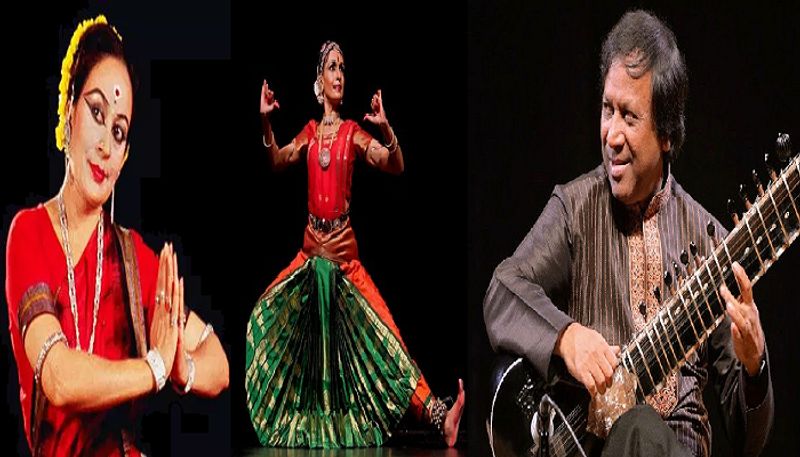 At this point, it's important to bring to light CPI (M) leader Harkishan Singh Surjeet's article "Desaffronise our institutions" where the late politician had announced the list of people who needed to be removed from the system. This was published in December 2004 in The Indian Express.  The list included LM Singhvi, Sonal Mansingh, Anupam Kher, Tarun Vijay, Kireet Parekh, MV Kamath, Sudhakar Sharma, Sarita Prasad, JS Rajput amongst others. There were no sounds, no intolerance brigade, no editorials, no TV shows to support these people! The Congress and Left did as they wanted. Indira Gandhi banned Kishore Kumar during the Emergency. Films like Aandhi, Kissa Kursi Ka and Nasbandi were banned also.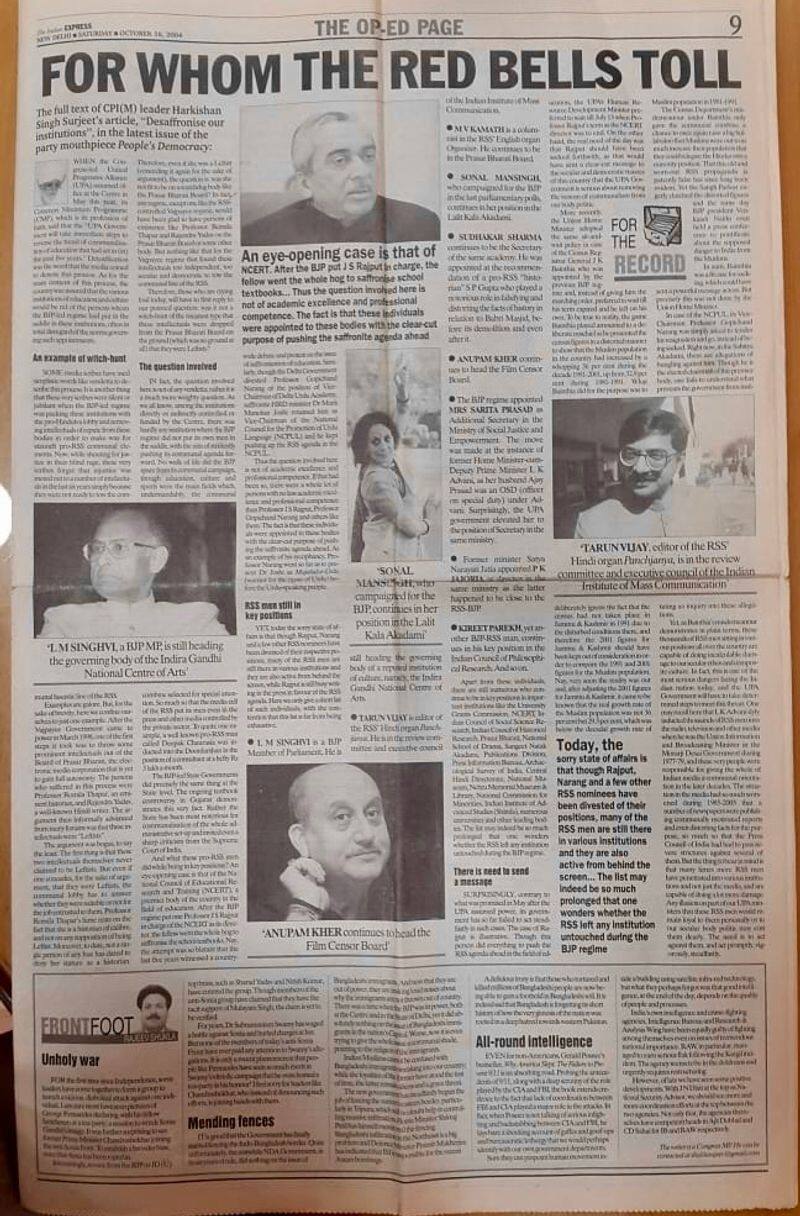 Those who are speaking or singing in the chorus must introspect: woh bhi ek waqt tha; yeh bhi ek daur hai!
The writer is a former member secretary, Sangeet Natak Akademi, Ministry of Culture, Government of India, and a veteran organiser of events of performing arts
Read Exclusive COVID-19 Coronavirus News updates, at MyNation.
Last Updated Nov 17, 2018, 1:34 PM IST