When Hindus observe that other communities in general and Muslims in particular act as a monolith on issues of national import, they realise the majority is at a significant political disadvantage. The situation aggravates as celebrities such as Naseeruddin Shah, Shah Rukh Khan, Aamir Khan, etc whine while lib-left Hindus fan their fantastic grievances
After counselling the Islamic community some years ago to get over its persecution complex, thespian Naseeruddin Shah has betrayed the same insecurity that actor Aamir Khan had some years ago. Aamir's wife was, as alleged by him, feeling unsafe in the country while Naseer's children are now looking for the first opportunity to flee India as, according to the veteran of a plethora of arthouse films, the life of a cow has become more important than that of a human being!
In November 2015, Naseer had advised Aamir: "I don't think he should have said this. Regardless of what he feels, we Muslims do not need any further aggravation of our feeling of persecution. I think, a person like Aamir saying a thing like this is going to create a fear psychosis, and that's the last thing Muslims in India need to have at the moment."
Reacting to the Bulandshahr incident, while ignoring similar or worse instances from Bengal and his own state Uttar Pradesh, Naseer now says,
Time and again in the past four-and-a-half years, the bogey of intolerance has been laid to rest, as researchers on social media, quoting the NCRB and other authoritative data, have shown that the rate of crime of the type shows no spike under Narendra Modi's rule. That would, of course, not make veiled advocates of the ancien regime let go the opportune moment of an election season, the greatest festival of which arrives in about five months. One recalls how Akhlaq and Dadri had grabbed the headlines even as a gang of 'intellectuals' got into an overdrive of returning state awards until the Bihar election was over and India once again, albeit until the next election, turned into an El Dorado of multiculturalism and plurality!
Click on this link and then keep scrolling down for scientist Anand Ranganathan's exhaustive research on Indian 'intolerance':
This type of scaremongering is totally unacceptable in any civilised society; a prelude to a nonexistent civil war. pic.twitter.com/fqQDtY5d8l

— Anand Ranganathan (@ARanganathan72) March 18, 2015
Before junking the theory of intolerance, this article will focus on scripts manufactured by the tinsel town in films that betray a community's deep-seated persecution complex as and when they are at the helm in the form of directors, producers, scriptwriters or such actors that are infamous for interfering unabashedly in the director's work.
In the home production of Saif Ali Khan, Agent Vinod, the edge-of-the-seat entertainer showcasing India-Pakistan rivalry ends with a damp squib, as Dhritiman Chatterjee, known for his communist beliefs, surfaces in the final shots as a Rothschild-like character who was masterminding the tension in the bilateral relations between the two Asian countries. That this Jewish family of businessmen controls the whole world is among the most popular of conspiracy theories that the Islamic community subscribes to — no questions asked.
In Farah Khan's Main Hoon Na, it's Pakistan that is interested in friendship with India whereas a renegade soldier, played by Sunil Shetty, refuses to let India reciprocate with equal warmth. In Kunal Kohli's Fanaa, the wife (Kajol) and father-in-law (Rishi Kapoor) of the terrorist played by Aamir Khan are troubled by his militancy; India's security forces deployed in Jammu and Kashmir must be asked whether this is the kind of benign Kashmiris they encounter during their anti-terror operations.
Both My Name is Khan and Phantom are maudlin apologies. The first more than the second. MNIK betrays a guilty conscience where a patient of Asperger's Syndrome, clumsily essayed by Shah Rukh Khan, struggles to make the point that not all Muslims are terrorists (whoever said they were?) while Phantom consciously chooses a lone Muslim commando, played by Saif Ali Khan, to bump off a Hafiz Saeed-lookalike deep inside Pakistan.
But it is Naseeruddin Shah's change of outlook that must hurt us the most. For, he comes from serious cinema. You may not agree with the viewpoint of all the have-nots and losers Naseer brought to the silver screen through the films of Govind Nihalani, Shyam Benegal, Ketan Mehta etc in the 1970s and '80s, but you cannot deny the genius of his acting prowess. Keep aside the absolutely nonsensical Tridev and Tehelka, the kind of stuff Naseer and his compatriot Om Puri indulged in either for fun or out of frustration, and you're left with A Wednesday: as serious as it was commercial. This generation that barely knows what parallel cinema — inspired by the French celluloid since Satyajit Ray's Pather Panchali in 1955, a genre that peaked in the 1980s — is, will be pained to see this new avatar of Naseer.
But then, India's greater problem are Hindus who, rather than laying the bogus conspiracy theories to rest, fan the outrage. While an actor is entitled to espouse a political view, when he chooses to convey a uniform message across the roles he picks, the view is certainly pathological and incorrigible. Chatterjee, referred to above, evokes hatred for Hindu believers by attempting the character of a devout temple administrator in Ray's Ganashatru who takes on a medical practitioner (Saumitra Chatterjee) who objects to the contamination of water and prasad served at a place of worship in the neighbourhood. In Agantuk, of Ray again, he makes us believe that upper-class Hindus hold that tribal people are promiscuous, social anarchists.
If you have any doubt Dhritiman is a communist, do not even consider his Pratidwandwi where he credits the peasants of Vietnam for having achieved a greater feat in the 1960s by thwarting an 'imperial' US than what Neil Armstrong and crew achieved by landing on the moon in that famous "great leap for mankind". Do not consider Mrinal Sen's Padatik either, where the actor seeks pride in losing everything to activism. Rather, consider what Chatterjee said in real life. Soon after Ray got the Oscar for lifetime achievement, the actor who had interviewed the towering filmmaker for Doordarshan, slammed the Academy of Motion Picture Arts and Sciences in a column in Anandabazar Patrika. Why? Because the "Americans" had recognised Ray's talent so late!
As evident during the spate of returning of state awards, the saner elements, expected to heal the frayed nerves of the falsely aggrieved, aggravate the sense of banishment in the community further. Journalists fare no better. During the debate on the trial of Parliament House attack accused Afzal Guru (who was finally convicted and hanged), which lasted at least two years until then President Pranab Mukherjee put his foot down, not one scribe from the community reposed their faith in the robust appellate system of Indian judiciary. Not even MJ Akbar who went on to join the ruling BJP when Modi came to power, and was first given the position of the head of the party's media coordination team and then made a MoS in the Ministry of External Affairs. On the other hand, Hindus were a house divided. While those satisfied by the capital punishment of Guru were sober in their endorsement, the CPI(M) accused the then UPA government led by the Congress as well as the BJP of "communalising" the issue. Pro-insurgency Arundhati Roy, of course, went cantankerous as is her wont.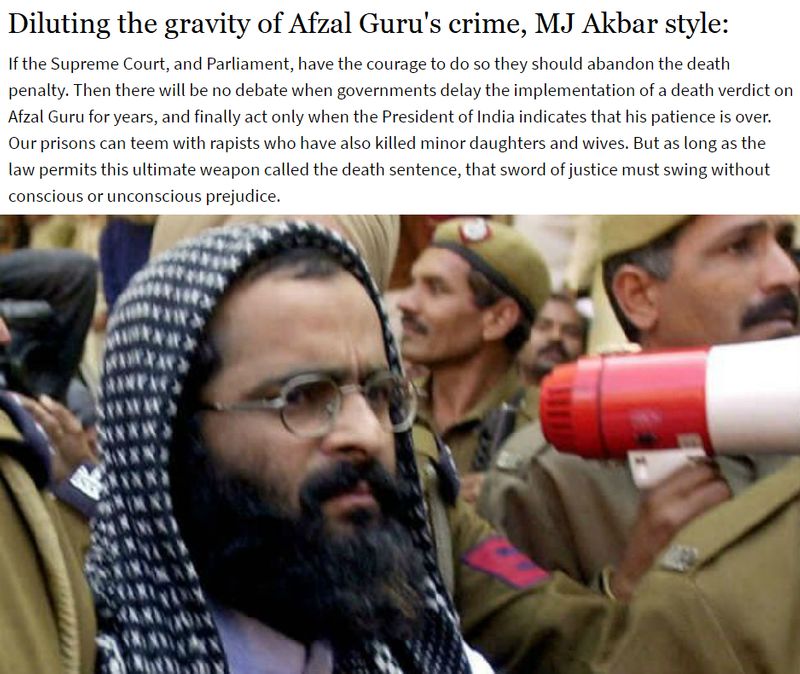 Not very different from the nature of Guru's case was that of Yakub Memon. Convicted for his involvement in the 1993 Mumbai bombings, Memon received ample support and sympathy from the breast-beaters. A prominent face in the brigade was that of Naseer. Those who endorsed the mercy petition for Memon, barring Naseer and lawyer-MP Majeed Memon, made a long list of mostly Hindu names: Justice (Retd) Panachand Jain, Justice (Retd) HS Bedi, Justice (Retd) PB Sawant, Justice (Retd) H Suresh, Justice (Retd) KP Siva Subramaniam, Justice (Retd) SN Bhargava, Justice (Retd) K Chandru, Justice (Retd) Nagmohan Das, MP of BJP gone rogue Shatrughan Sinha, Congress MP Mani Shankar Aiyer, lawyer and MP Ram Jethmalani, Ahatrughan Sinha (MP), N Ram of The Hindu, MP and then general secretary of the CPI(M) Sitaram Yechury, CPI's MP D Raja (who happens to be a Christian), lawyer-MP KTS Tulsi (a Sikh), journalist-MP HK Dua, T Siva (MP), CPI(M)'s members of Politburo Prakash Karat and his wife Brinda Karat, general secretary of CPI(ML)-Liberation Dipankar Bhattacharya, Mahatma Gandhi's grandson Tushar Gandhi, filmmaker Mahesh Bhatt, various academicians, members of the legal fraternity, activists and filmmakers, actors etc.
If today India's society seems polarised, it must be a result of keen observation by many Hindus, who were once wholly neutral on political issues, that Hindus alone are divided. In post after post of social media platforms like Facebook and Twitter, one notices that Muslims espouse an almost uniform view, cutting across the differences between Deobandi and Barelvi Sunnis, Shias, Bora Muslims, Ahmediyas, etc. The Hindus who underwent a change of heart must have reckoned that their community was at a significant disadvantage because of the varied opinions they stood up for.
A handful of journalists rose up as did several owners of Twitter handles and Facebook pages with an enormous following. They punched big holes in the fantastic conjectures of persecution that Muslims and the lib-left among Hindus had been found furthering for decades. Has this helped the Muslim cause?
As more and more cases of the duplicity and hypocrisy of the lib-left are exposed, more Hindus who are 'secular' will turn 'communal'. This would marginalise the already ghettoised poor Muslims if not the more privileged ones.
This is how a 'secularist' bureaucrat-turned-politician, JD(U)'s Pavan Verma, observed the changing reality in an article published in 2017: "... Secularism did not mean that Muslims become a vote bank for electoral gain. Such a policy, and the unnecessary appeasement that was often its consequence, created an opposite reaction even among Hindus who did not wish to be communal."
Recently, there were reports that the fear of inviting the draconian Scheduled Caste and Scheduled Tribes (Prevention of Atrocities) Act has affected Dalit recruitment in companies. The West is already reporting the adverse, unintended impact of #MeToo, which has left employers wondering whether they should offer jobs to women uninhibited. Bloomberg announced it with a screaming headline, "Wall Street Rule for the #MeToo Era: Avoid Women at All Cost." In a nation strained since the era of Partition, as scare-mongering by big Muslim names hits a crescendo, the community might face a socio-economic embargo. Election results and then governance could reflect Hindu assertion, too. What is now an imagined grievance of the likes of Naseeruddin Shah could turn real.
Last Updated Dec 21, 2018, 9:13 PM IST