We woke up to news items with headlines reading, 'India's fastest train, Vande Bharat Express breaks down a day after launch' which left us shocked. However, within a few seconds, I realised that the allegation was coming from the 'usual suspects'.
I had the privilege of travelling on the Vande Bharat Express on its first run from Delhi to Varanasi. The Vande Bharat Express is a stellar Make in India initiative of the Indian Railways that has culminated into the nation's first semi-high speed train. 
The train was inaugurated by Prime Minister Narendra Modi on February 15, 2019. The mood of the nation that morning was sombre as just a day before, a CRPF convoy was attacked by a Jaish-e-Mohammed suicide bomber and 44 of our bravehearts perished in the line of duty. 
The entire compartment was discussing the incident and everybody was very angry with Pakistan. The passengers were demanding strong and strict action against Pakistan. During his inaugural speech, the Prime Minister assured the nation that strong and swift action shall be taken. Amid all this hullabaloo, the train began its first journey from Delhi to Varanasi via Kanpur and Prayaraj.
Train 18
The Vande Bharat Express or Train 18 has 16 air-conditioned coaches, out of which two are executive class coaches with bigger and better seating capacity, just like the business class in an aeroplane. It can accommodate 1,128 passengers, which is much more than that of the Shatabdi Express even with an equal number of coaches, because of design improvements and the shifting of all electrical equipment below the coaches. The first visuals from inside the train were stunning and I had shared them on Twitter.
Also read: Vande Bharat Express breakdown reports exaggerated; was just a cattle-hit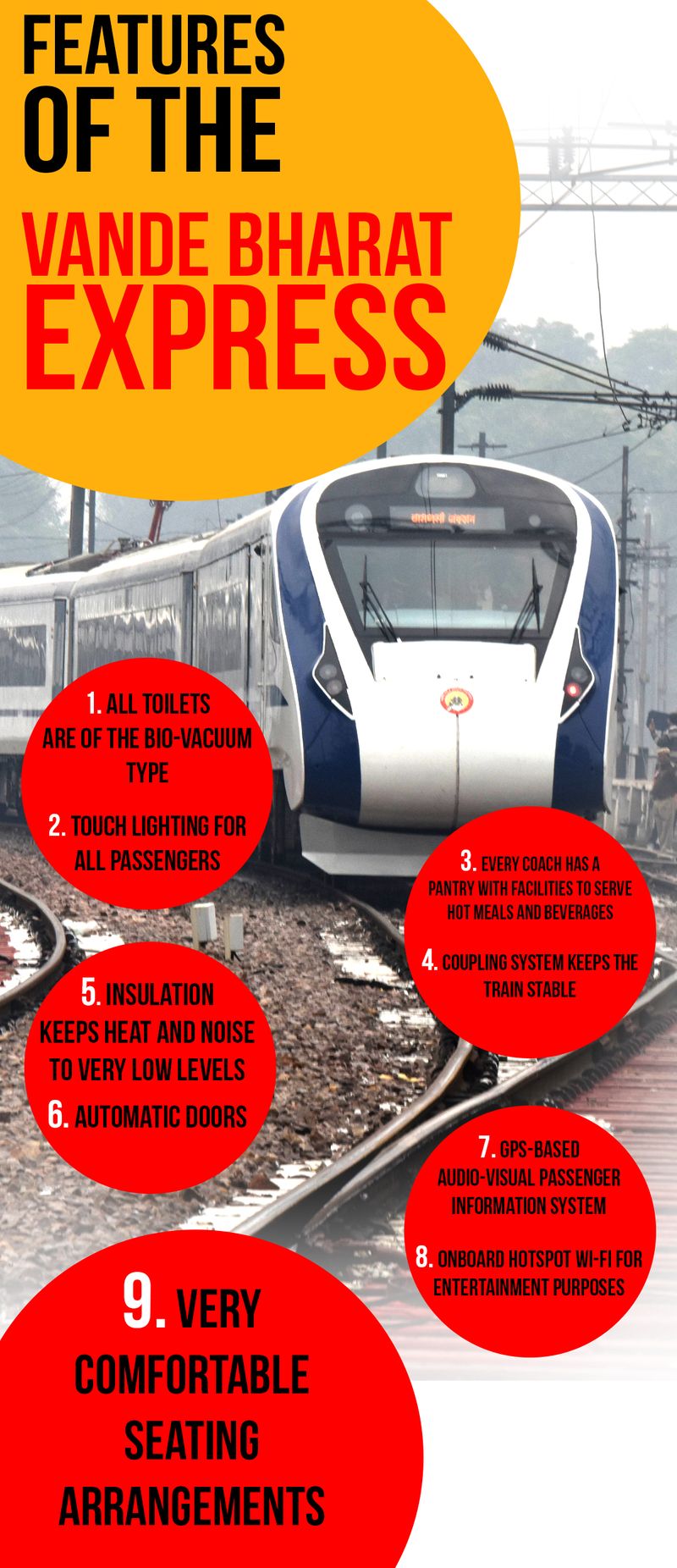 The very first look of Train 18 made me feel very proud because all the major components were made under the Make in India initiative. The engineers from the Integral Coach Factory, Chennai were also onboard. These very people had designed and built this masterpiece in just 18 months. 
We were informed by the experts onboard that if the same train would have been imported from outside, it would have cost double the price than what it cost us to develop Train 18 within India. One has to travel in this train to appreciate the efforts by our engineers and designers and do justice to their efforts and dedication.
We had an extremely comfortable journey till Varanasi and covered the distance of about 780 km in only eight hours (travel time) which gives the train an average speed of 100 kmph. 
Also read: Vande Bharat Express: Wheels of progress to a new India
The train has two stops in between. As this was the first run with the railway minister Piyush Goyal himself onboard, there were two public meetings organised at Kanpur and Prayagraj where the minister addressed the excited citizens who had thronged the railway station for clicking selfies and the first look of the train. We reached Varanasi with no fatigue or tiredness. The onboard facilities and hospitality, the engineering behind the train are top notch and a matter of pride for the entire nation.
Cut to the next morning. We woke up to news items with headlines reading, "India's fastest train, Vande Bharat Express breaks down a day after launch" which left us shocked. However, within a few seconds, I realised that the allegation was coming from the 'usual suspects'. Hence, a little restraint must be exercised and one must be on guard against fake news. It turned out to be a massive hit job. 
I spoke to a few Railways officials who were onboard with us (we were travelling back to Delhi via another train) and tried to understand what had happened. The initial news was that the train hit an animal which had caused communication issues in the last four coaches and the safety features of the train had caused the brakes to be applied. This halted the train a few 100 km away from Delhi. Thereafter, it was inspected and the train has now successfully completed its first commercial run from Delhi to Varanasi. It was a temporary glitch due to an accident that was efficiently and professionally resolved by the engineering team of Train 18.
Also read: Shot in the arm for Make in India as Army chooses desi weapons over Israeli Spikes
What pained me was everything that had happened in between these two events. The entire Left-liberal ecosystem lapped up this unfortunate event to mock and deride the Make in India initiative. Not that I expected anything better from them, but this time around, I was personally witnessing the success story of Make in India, and fake news, just a day after the train's launch, pained me. 
I kept wondering, who mocks labour? What kind of a person celebrates a tragedy? The Congress IT cell head Divya Spandana even dragged the Pulwama terror attack into this and mocked the Vande Bharat Express. 
The cherry on the cake was provided by the Congress president Rahul Gandhi himself. He tweeted, "Modi ji, i (sic) think Make in India needs a serious rethink. Most people feel it has failed. I assure you we in the Congress are thinking very deeply about how it will be done..."
I find it appropriate to remind Rahul that he is still "thinking" about Make in India notwithstanding the fact that his party, directly or indirectly, ruled over India for nearly five decades since Independence. Why is he still thinking? Will his thinking solve any problems? Here are a few "actions" under the Make in India initiative which have already materialised and bearing fruits.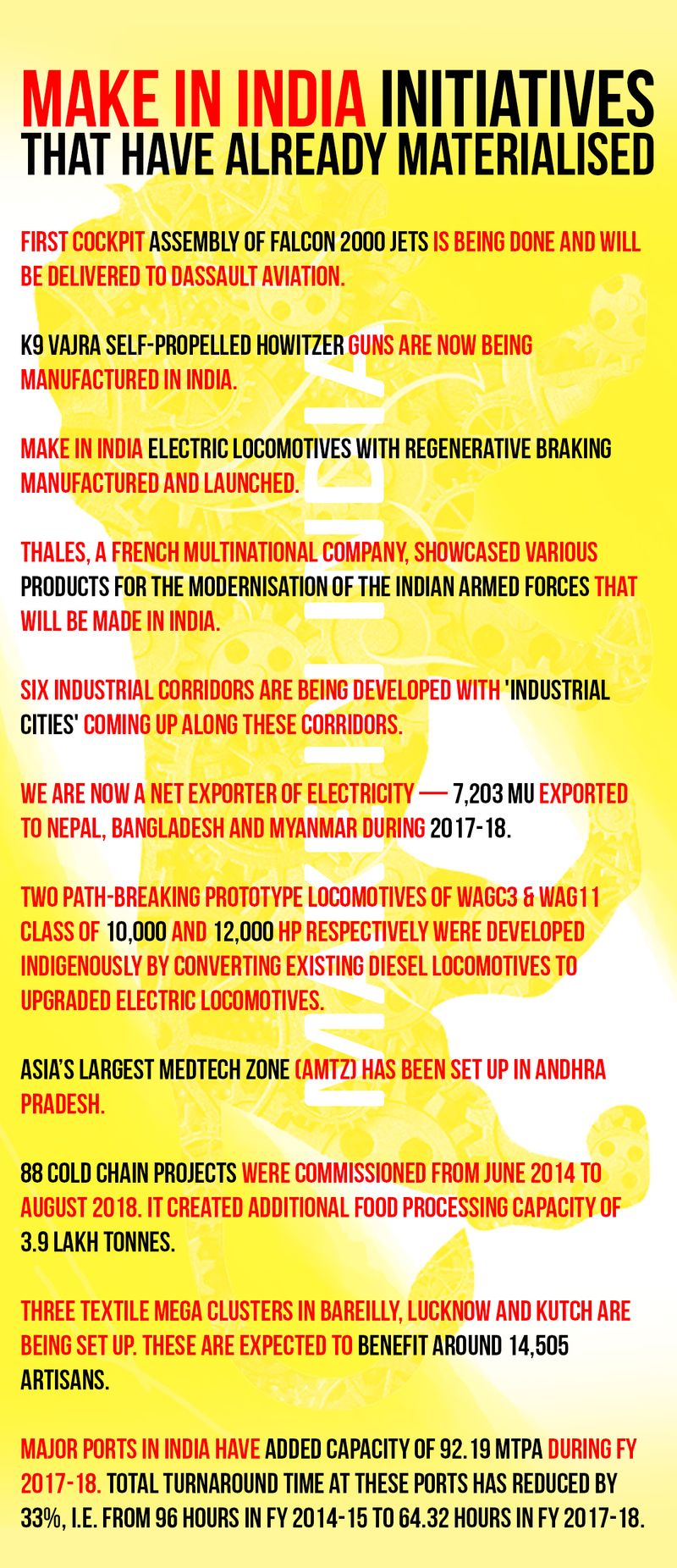 While the entire country is gearing up to the challenges, innovating and trying to make the best use of its skill and intellect, what is the scion of the principal opposition party doing? 
How do you think the engineers who worked on the Train 18 project or the ones I mentioned above would feel if their perseverance and hard work is mocked? I felt extremely sad. We are better off with the Congress leaders being in opposition. Such mentality has never helped anyone and will not as well. 
There is no place for negativity in the new India that we all are building. It is high time we identify such mischief mongers and reply them with even better work. I feel a person who himself has never done any job or manufactured/produced any goods or service can only mock others' hard work. This is the best Rahul can do. It is up to us what we as a country can achieve.
Read Exclusive COVID-19 Coronavirus News updates, at MyNation.
Last Updated Feb 17, 2019, 6:33 PM IST