The United India rally is being seen as merely a show of strength by Mamata Banerjee. She nurses prime ministerial ambitions and is trying to emerge as the natural choice for the regional parties.
Mamata Banerjee held a rally of Opposition parties in Kolkata on Saturday in which leaders from more than 20 parties were present. Those present at the 'United India' rally at the Brigade Parade Ground included former Prime Minister HD Deve Gowda, BJP rebels Yashwant Sinha, Arun Shourie and Shatrughan Sinha, chief ministers Arvind Kejriwal, Chandrababu Naidu and HD Kumaraswamy and former chief ministers Farooq Abdullah, Akhilesh Yadav and Gegong Apang.  
"Badal do, badal do, Delhi mein sarkar badal do," Mamata proclaimed from the rally. The Trinamool Congress chief, however, skirted around on the question of who will lead the mahagathbandhan and said it will be decided after the general elections. Yashwant Sinha rephrased BJP's slogan of 'sabka saath, sabka vikas' and said the actual slogan was 'sabka saath, sabka vinash'. Shourie emphasised on putting up a single Opposition candidate against the BJP. 
Let's look at which parties and groups attended the Kolkata rally and which parties gave it a miss.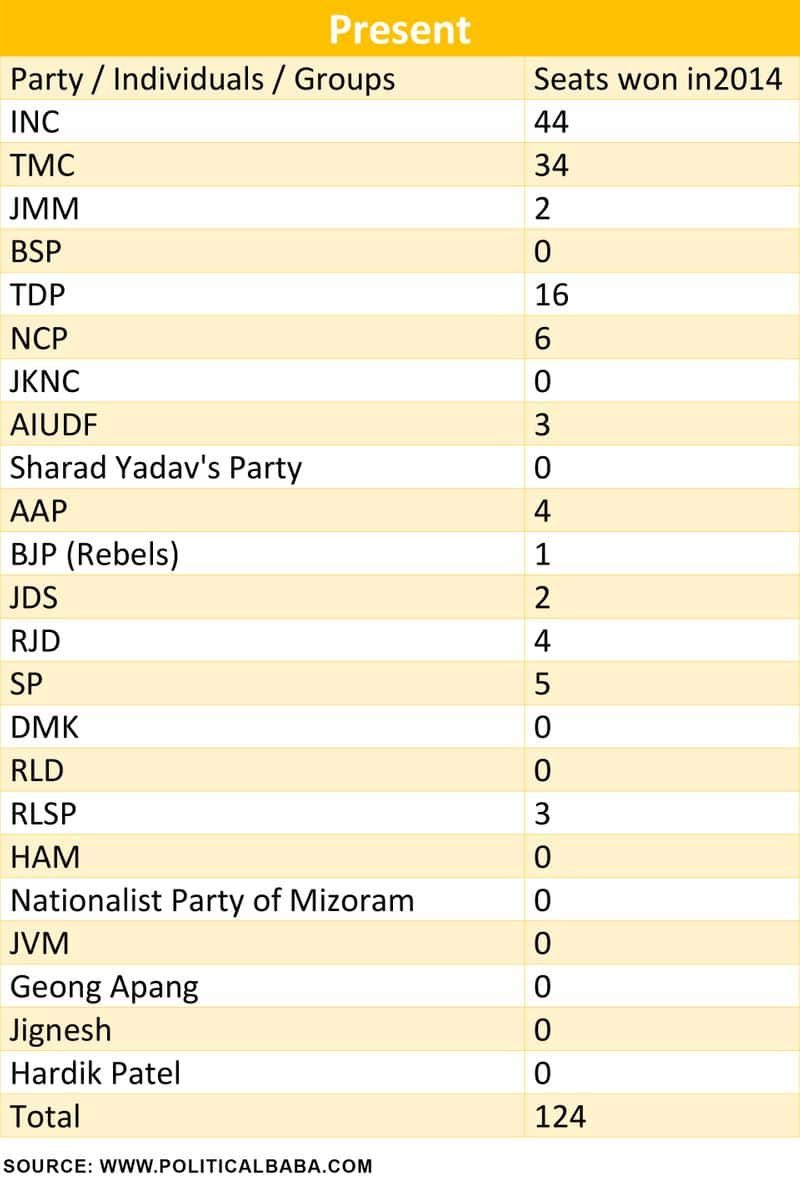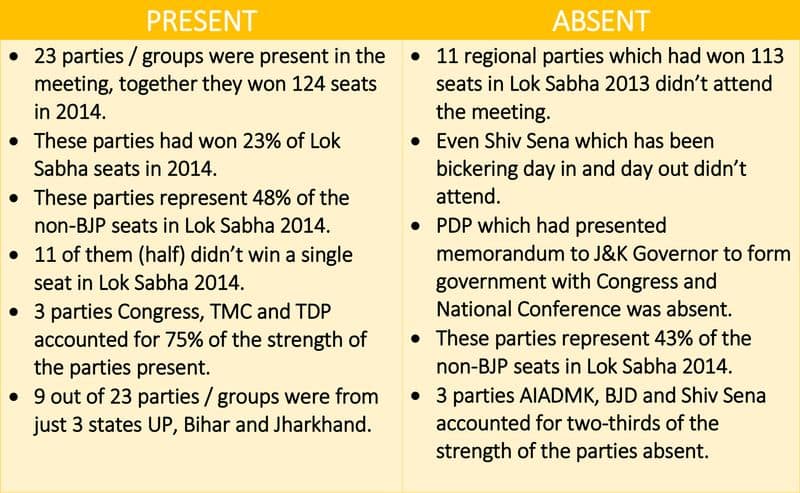 The rally is being seen as merely a show of strength by Mamata. She nurses prime ministerial ambitions and is trying to emerge as the natural choice for the regional parties. 
However, she has competition from Mayawati who had stayed away from the event. Congress president Rahul Gandhi, who has said in the past that he would not shy away from any responsibility, also gave the event a miss. Their representatives were, however, present. 
Also read: Why Mamata's rise in not-so united opposition should worry Congress
The mahagathbandhan has not yet been formalised and is bereft of any structure and is not expected to project any prime ministerial candidate. At a time when elections in India are approximating the presidential style more and more, not having a prime ministerial candidate and clear leadership could prove to be costly for this loose aggregation of parties. 
In 2014, 28% of the electorate gave importance to the prime ministerial candidate while voting for the Lok Sabha according to CSDS National Election Studies. Having confusion over leadership will exclude this set of voters from the target voter group of this alliance.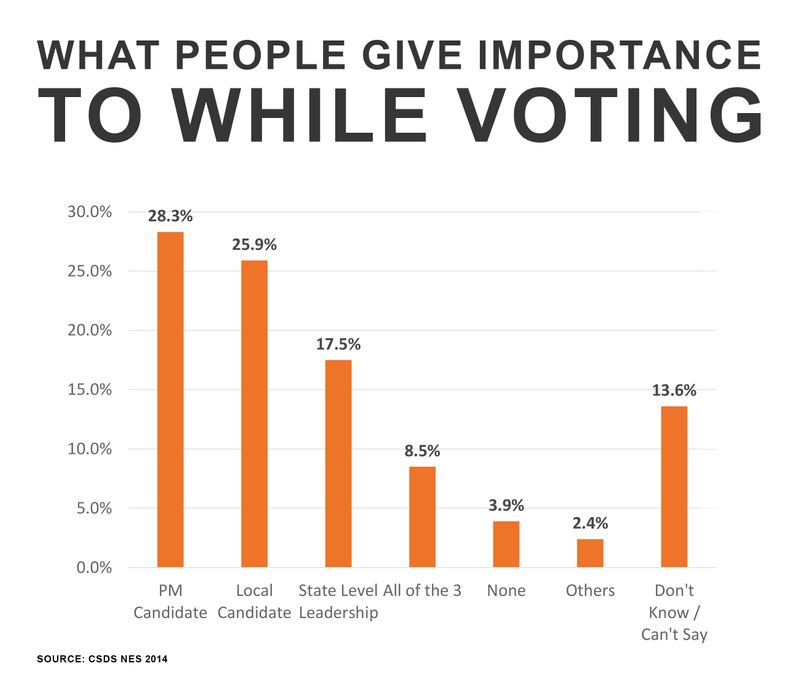 The internal differences and contradictions in this so-called mahagathbandhan are also coming to the forefront. Many parties and leaders have fought the Congress, Samajwadi Party, BSP, TDP and so on their entire lives. For them to now share the stage with these parties causes uneasiness.
Sharad Yadav scored an own goal by talking about the "dacoity" in the Bofors deal, while what he wanted to criticise was the Rafale deal. While the DMK has been rooting for Rahul as the Prime Minister, its leader MK Stalin didn't mention it during his speech. A day after the event, RJD's Tejaswi Yadav rooted for Rahul as the Prime Minister. 
Also read — Ram Mohan Rao: TRS stayed away from Mamata rally because TDP was a part of it
While Shourie was rooting for a one-to-one contest, there were leaders sitting on the dais, who have excluded the Congress from an alliance in their backyard, like Uttar Pradesh. Parties like the Aam Aadmi Party (AAP) have now and again denied any sort of pact with the Congress in Punjab and Delhi.
The table below shows the status of one-on-one contests in states for which regional parties were present at the rally.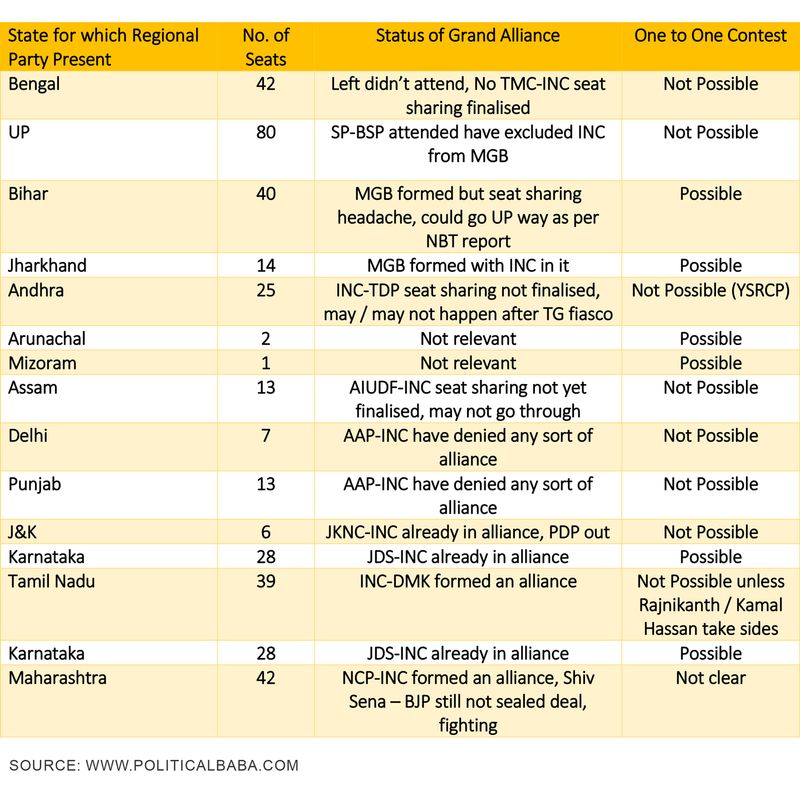 The event was more pomp, show and noise than substance. No seat-sharing details emerged. Nor any common manifesto. It was clearly an attempt to organise forces to remove Narendra Modi from power.
The mahagathbandhan includes leaders and parties well past their prime and don't have much presence left in their respective states. The mahagathbandhan, if formalised, would be the real 'sabka saath, sabka vinash'. And it may have just provided a powerful narrative to Modi for the general election: all corrupt leaders have ganged up to throw an honest person like me out of power!
Read Exclusive COVID-19 Coronavirus News updates, at MyNation.
Last Updated Jan 21, 2019, 5:28 PM IST