To dispel the misinformation of 'decreased' release of funds for rescue and relief operations in the State from the Union, there should be a comparison with "immediate relief" funds allocated to the flood-affected States. The reader will know from the data MyNation presents here that there has been no bias.
Massive, disastrous floods and devastation have struck Kerala. Coorg and other parts of Karnataka have not been spared either. It is hoped the affected families and areas can recover from this 'act of God' as soon as possible. In the midst of this calamity and the suffering that people have to endure, one sees a deluge of misinformation and lies about how Prime Minister Narendra Modi and the Union government have spent thousands of crores on building statues, but has only released Rs 100 crore for Kerala flood relief.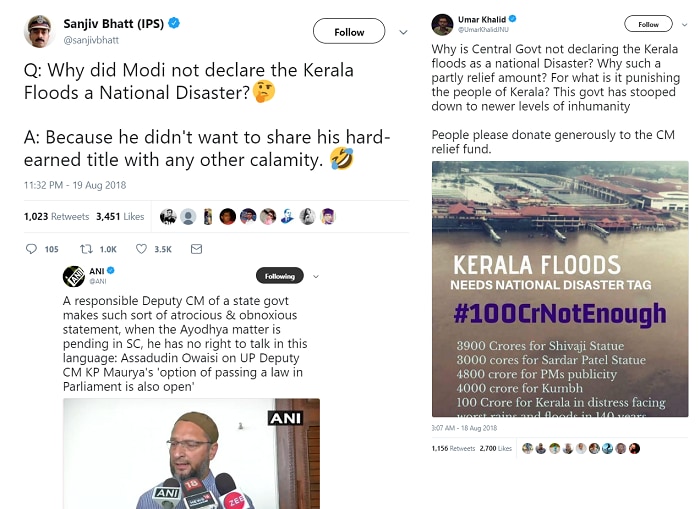 Another blatant lie being shared widely is that the BJP-ruled States across the nation have been mute spectators to the plight of the hapless victims and are not helping or reaching out to Kerala.
While the propaganda may appeal to a few who enjoy perpetuating constant hate and a secessionist mindset, it affects the gullible.
First, this is not a time to politicise the issue. You may hate Modi, the Hindi-speaking crowd or the BJP; hence, you use every other issue to target him. Fair enough! However, the ruinous situation that Kerala and Karnataka find themselves in today is not the time to do that.
As of August 19, the Centre has announced a total package of about Rs 1,000 crore for Kerala. This comprises Rs 920 crore out of which Rs 500 crore are from Prime Minister Modi's interim relief package; Rs 100 crore from Home Minister and Rs 320 crore from disaster reserve fund; Rs 2 lakh to the kin of the dead; Rs 50,000 for those injured besides other relief schemes, free housing for the affected and fund for repairing and reconstruction of all damaged National Highways. Rest assured, this too is an interim relief and, surely, more aid will be directed to Kerala in the near future.
To dispel the misinformation of 'decreased' release of funds for rescue and relief operations in the State from the Union, there should be a comparison with "immediate relief" funds allocated to the flood-affected States. The reader will know from the data that follow that there has been no bias.
| | | |
| --- | --- | --- |
| State affected by flood | Casualties | Relief fund from Centre |
| Gujarat | 222 dead | Rs 500 crore under SDRF |
| Assam | 11 dead | Rs 340.4 crore (SDRF + DoNER) |
| Bihar | 514 dead, 1.71 crore affected | Rs 500 crore |
These amounts subsequently increased after further assessments. The Centre has also assured the State, foodgrains, medicines and other necessities as requested. Further, the Centre has sent all the required help and support including the deployment of the armed forces for the rescue operations: 57 teams of NDRF involving about 1,300 personnel and 435 boats, five companies of BSF, CISF and RAF's, 38 helicopters in addition to 20 aircrafts which are being used for ferrying resources.
The Indian Army has deployed 10 columns and 10 teams of its Engineering Task Force (ETFs) involving around 790 trained personnel. The Indian Navy is providing 82 teams. The Coast Guard has provided 42 teams; 2 helicopters and 2 ships. INS Sanjivani is on standby at Kochi for any medical assistance.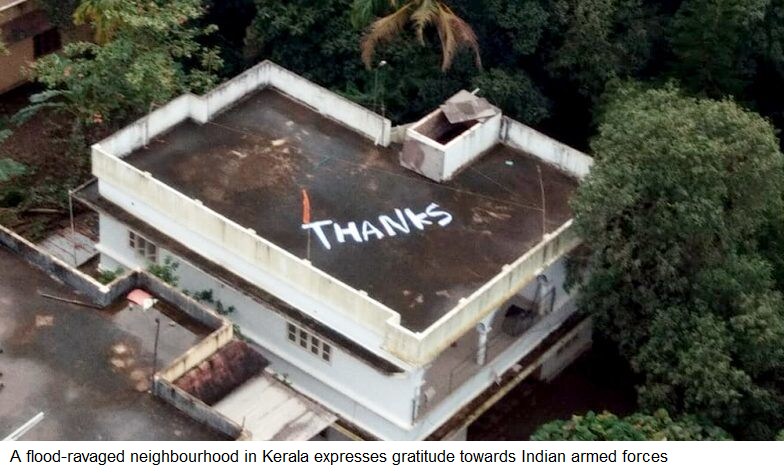 The Army, Air Force, Navy and Coast Guard have been deployed for assisting the State in search and rescue operations.  The Indian armed forces, despised by the communists whose government rules Kerala, have yet again excelled in their duty. No questions asked. A grand salute to the Indian Armed forces!
The frequent and exhaustive updates on the armed forces' multiple tasks for rapid relief in the flood-affected areas of Kerala can be seen on the Defence Ministry's social media handles.
The Centre has pressed into service 339 motorised boats, 2,800 life jackets, 1,400 lifebuoys, 27 light towers and 1,000 raincoats, 72 motor boats, 5,000 life jackets, 2,000 lifebuoys, 13 light towers and 1,000 raincoats. 1 lakh food packets have been distributed and another 1 lakh will be supplied soon. Railways has provided 1,20,000 water bottles. Another 1,20,000 bottles are ready to be despatched.
The Prime Minister has instructed insurance companies to hold special camps for swift assessments and timely release of compensation to the affected families and beneficiaries under the government's social security schemes.
The Mission for Integrated Development of Horticulture is to provide farmers assistance for replantation of damaged horticulture crops. Directions have been issued for early clearance of claims under Fasal Bima Yojna to agriculturists. The Prime Minister has directed the National Highways Authority of India (NHAI) to repair main national highways damaged due to floods on priority. The Central Public Sector like NTPC and PGCIL have also been directed to render all possible assistance to the Kerala government in restoring power lines.
 
Watch- Kerala floods: Victims saved by Indian Navy paint 'thanks' on the roof

Pradhan Mantri Awas Yojana-Gramin houses would provide houses on priority to those whose Kutcha houses have been destroyed by the floods irrespective of their priority in the permanent wait list of the said scheme.
On August 12, Home Minister Rajnath Singh, accompanied by MoS for Tourism KJ Alphons, visited flood-affected areas of Kerala. Also, an Inter-Ministerial Centre Team (IMCT) had already visited the affected areas in the State for assessment of losses from August 7-12. The Kerala government memorandum dated August 21 bears testimony to the fact.
 
And the Prime Minister visited Kerala to review the situation arising due to the floods. Clearly, the propaganda about little aid and support by central government is false.
Further, a rundown of the list of BJP/BJP ally-governed States shows that they have whole-heatedly extended monetary support to Kerala unlike what has been alleged by few portals and social media influencers.
Compare the claim made by the following propagandist from the left with the authentic data that succeeds it in a tabular form.
The blue bits are the state governments that contributed to #KeralaFloodRelief
It kind of tells a story, I guess. pic.twitter.com/bspIRvRqgv

— The Last Caveman #RebuildKerala (@CarDroidusMax) August 18, 2018
Aid to Kerala from NDA-ruled States

Maharashtra

Rs 20 crore

Uttar Pradesh

Rs 15 crore

Gujarat

Rs 10 crore

Haryana

Rs 10 crore

Chhattisgarh

Rs 10 crore

Bihar

Rs 10 crore

Madhya Pradesh

Rs 10 crore

Rajasthan

Rs 10 crore

Uttarakhand

Rs 5 crore

Jharkhand

Rs 5 crore

Himachal Pradesh

Rs 5 crore
The above are beside Arunachal Pradesh's Rs 3 crore, Nagaland's Rs 1 crore, Manipur's Rs 2 crore and Assam's Rs 3 crore. These States from the Northeast were not found wanting in compassion despite their fiscal constraints.
A few of those who are accusing the central government of spending on the Sardar Patel statue (Statue of Unity) surely would not know that it is a Gujarat government's project. The project will bring employment and economic opportunities to lakhs of tribal people living along the Narmada belt and give the State revenue from tourism.
 
The flood situation in Kerala has been constantly and punctiliously monitored by the central government. The Prime Minister has been in constant touch with Chief Minister Pinarayi Vijayan regarding the flood situation. All the necessary help is being provided and assured to overcome this calamity.
 
With all the information above, why is a bunch of people betraying a negative mindset to attack those opposed to their ideology? Using a calamity to score brownie points is despicable.
Yes, Kerala and Kodagu need more help and monetary relief. While Prime Minister Modi and his government are performing their duty along with thousands of people across the States, and volunteers of the RSS are lending helping hands, it is hoped better sense prevails on those spreading hate, pettiness and bigotry. It's shameless and foolish to use a disaster to make a political point. Work, pray and donate for Kerala. You may look for other excuses to target Modi in 2019.
The writer is a commentator on current affairs and dentist by profession
Read Exclusive COVID-19 Coronavirus News updates, at MyNation.
Last Updated Sep 9, 2018, 10:09 AM IST