At the moment, Dinesh Karthik has stolen a definitive march. It has been a year of resurrection for him, especially with his T20 exploits. The shortest format allows him to indulge in stroke-making, but when he tries to replicate it in ODI cricket, it doesn't come through
New Delhi: For the past month or so, international cricket in this country has been reduced to a formality. On any particular day, it is inevitable that the West Indies will collapse and leave an easily chase-able target for India. Sure, there has been the odd fight-back – day one of the second Test at Hyderabad, the second and third ODIs – but mostly the same old tale has been repeated. India are just too good for West Indies at the moment. 
And so it was, at Kolkata too on Sunday, when India won by five wickets in the first T20I. Put into bat, West Indies' batting line-up lacked the maturity to recover from initial blows. Despite missing Bhuvneshwar Kumar and Hardik Pandya, India's rejigged T20 attack looked formidable. It is down to one man at the moment – Jasprit Bumrah is the best limited-overs bowler in the world today, period. 
Then, there is Kuldeep Yadav, who is quickly becoming a thorn in the side of any batting unit. This past summer, England had to work hard to contend with him and if arguably the best batting side in limited-overs cricket at present had trouble against the left-arm wrist spinner, then West Indies didn't have a prayer. If India continue with this attack without any urge to chop and change – along with the possible return of Kumar for the second T20I at Lucknow on Tuesday – this series will be very one-sided too. 
So, it begs the question – what is there for India to gain in this contest? 
The answer is quite simple. With both Virat Kohli and MS Dhoni absent, it is a keen examination of India's batting options at the moment, particularly in the middle order. Never mind the superb run of form Kohli was in, or Dhoni's struggles for that matter. If these two are in the squad, they are bound to be part of the playing 11. 
Perhaps it was this thought that they were both 'benched', thus allowing the likes of Dinesh Karthik, Manish Pandey and Rishabh Pant to get a run of consecutive games. Hardik's absence also allowed his brother Krunal Pandya to get a much-anticipated look in. The crux of this matter is simple – explore as many options as possible for India's middle-order problems.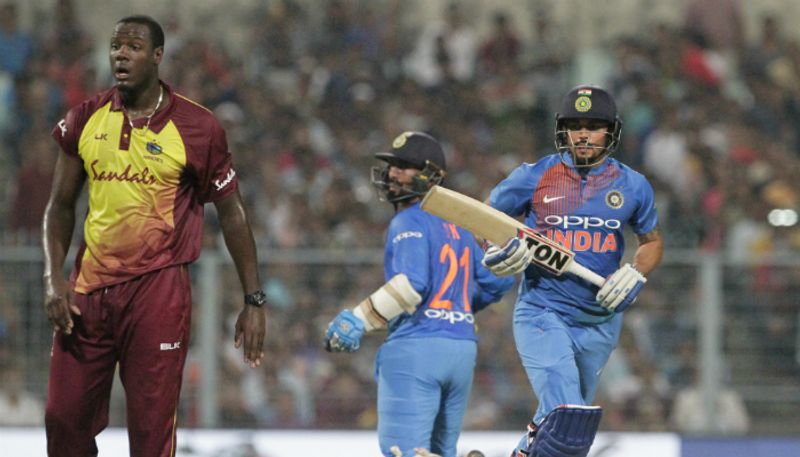 Let it be said here that in limited-overs cricket, the 'Men in Blue' are heavily dependent on their top-order. If Shikhar Dhawan doesn't score, Rohit Sharma will. Sometimes they will both score. Kohli usually scores irrespective of situation, opposition, or whether anyone else is scoring or not. While it is a good thing, it also brings forth a dependency wherein the middle-order has not been tested enough over the last two seasons. Even skipper Kohli has admitted to this 'problem'. 
"In recent times, the top order has done bulk of scoring so usually the middle order doesn't get too many chances. And then depending on the situation, we have to be flexible," said Kohli, ahead of the ODI series against West Indies.
Ambati Rayudu has come through with flying colours – 392 runs in 10 ODI innings at an average of 56 – in the last two months and virtually sealed the number four spot on account of his consistency. Has he done enough to give confidence for Australian, New Zealand and English conditions? We don't know, but Rayudu has been more consistent than any other batsman deployed at number four over the last one year.
Also read: Ambati Rayudu retires from first-class cricket
Even so, more firepower is needed in the middle order and there are at least two spots open in the World Cup squad. Assuming KL Rahul will be the back-up/third-choice opener, it leaves Karthik, Pant and Pandey battling for those two middle-order spots, with the former two also battling for the second wicket-keeper slot. 
At the moment, Karthik has stolen a definitive march. It has been a year of resurrection for him, especially with his T20 exploits. The shortest format allows him to indulge in stroke-making, but when he tries to replicate it in ODI cricket, it doesn't come through. At least it didn't happen in England, where India suffered from middle-order problems. If Karthik showcases ability to bridge his composure between the T20 and ODI formats, he will get into World Cup reckoning again. 
Pant played an atrocious shot at Eden Gardens, and it is fast becoming synonymous with his dismissals. During the Test series, he threw away two hundreds that were there for the taking, simply because he kept going for his shots. It is one thing to play your natural game and then there are situations when you just need to mellow down. The Indian middle order needs his firepower, but they also need someone to shoulder responsibility by not throwing away his wicket. 
Even so, Pant is the golden boy of Indian cricket at present and he will be afforded a long rope. It leaves Pandey in grave danger of being left behind once again. During the South Africa tour, he had talked about 'not making chances count' and that he 'could do more' to cement his spot. Since February, Pandey has only played nine matches – eight T20Is and just the one ODI (a dead rubber in Asia Cup), and it is a telling fact.
As things stand, Pandey will be out of reckoning for the World Cup when this game of musical chairs stops, and it will, soon enough.