According to West Indies pace great Michael Holding, Hardik Pandya was not consistent with the ball in the first two Tests and did not score enough to merit a place at No 6 in the batting order
In February 2017, the then coach of the Indian team Anil Kumble described Hardik Pandya as a "very rare" talent and backed him to fill the all-rounder's slot in the Indian Test team. Five months later, Pandya won his Test cap in Sri Lanka and hit a fifty on debut.
In the same series, Pandya announced his arrival as a more than useful Test batsman with a century (108) in his third match in Pallekele.
Since Kapil Dev's retirement in 1994, India have been on a perpetual search for a genuine all-rounder in the five-day format. It has been a revolving door with many making their entry but failing to remain a permanent fixture in the squad.
Also read: Exclusive interview with Sunil Joshi
Whenever a talented all-rounder emerges on the scene, experts and fans start comparisons with the legendary Kapil. It was the same thing with Pandya as well.
The Baroda youngster shot to fame through the Indian Premier League (IPL) and soon made his international debut, in January 2016, in a T20I in Australia. Same year, in October, the right-hander made ODI entry, as Kapil handed him the India cap.
"I will cherish this for a long time. Someone like Kapil Dev gave me my ODI cap. The feeling is quite amazing," Pandya said after his ODI debut against New Zealand in Dharamsala.
While Pandya remains an integral part of India's limited-overs line-up, he has often faced questions over his Test credentials.
But now, it is time to put them to rest.
Also read— India vs England: Hardik Pandya and Rishabh Pant praised by Sachin Tendulkar
In the ongoing England series, India were outplayed in the opening two Tests. Barring captain Virat Kohli, the rest of the batsmen came a cropper against the English swing bowlers. 
Pandya too had very little to show and was heavily criticised by West Indies pace great Michael Holding. 
Before the third Test in Nottingham, Holding, who is part of Sky Sports commentary team for the five-match rubber, dismissed Pandya as not being a Test all-rounder.
According to him, Pandya was not consistent with the ball and did not score enough to merit a place at No 6 in the batting order.
"I don't think he does a lot with the ball. That is number one. He is not consistent. He does not have the control that puts batsmen under pressure constantly. He will bowl a couple of good deliveries, yes, but you need to have the control to put batsmen under pressure consistently," the former fast bowler told ESPNCricinfo.
However, on Sunday, Pandya changed perceptions and gave a befitting reply to his critics, including Holding.
It is not known whether Pandya was aware of Holding's comments, but something had fired him up.
In the space of 29 balls at Trent Bridge, he demolished the England batting. Pandya achieved his maiden Test five-wicket haul as ended with figures of 6-1-28-5. Later, he returned to smash a run-a-ball 52 not out.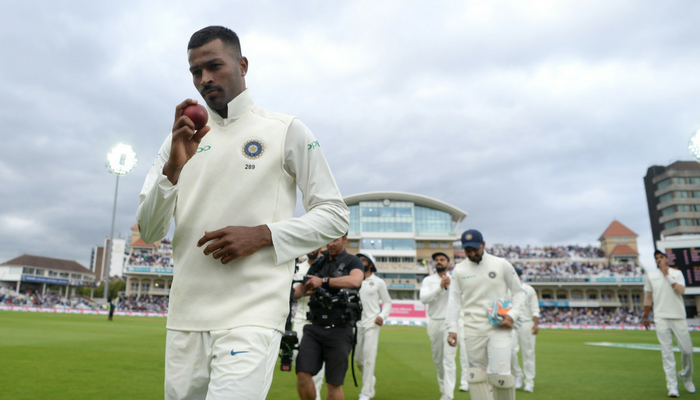 Pandya's outstanding performance has silenced his critics, at least for now. He is just 10-Tests-old and will only improve with more red-ball cricket.
Every cricketer needs to be given time and he has the backing of his skipper Virat Kohli and coach Ravi Shastri.
For India, he is the best available seam-bowling all-rounder at the moment. There are not many coming through the ranks to push him out of the squad.
Holding, one of the most respected voices in world cricket, and other former English players have targeted Kohli's side, especially after the disaster at Lord's. But they have now been made to eat their words.
And this was not the first time that Holding has attacked the Indian team. Earlier, he had criticised the Board of Control for Cricket in India (BCCI) and Indian Premier League (IPL).
In the ongoing series, when India sported black armbands as a mark of respect for former captain Ajit Wadekar, who passed away on August 15, he mocked the players on air, saying, "The Indian players are wearing the black band not because they are 0-2 down."
Then there is former England captain Michael Vaughan, who called Indian bowling "garbage". One wonders what he has to say after the show in Trent Bridge where the hosts were bundled out for 161 in the first innings.
Another ex-England skipper, Nasser Hussain said the contest was between men and boys, after India went down at Edgbaston and Lord's. Now the tables have turned.
After his stupendous swing bowling in Nottingham, Pandya was asked about his critics and he hit back at them stating, "I don't care".
Pandya also asked for comparisons with Kapil to end.
"Comparisons are fine. But the problem with this (comparison) is that all of a sudden when something goes wrong and they are like he is not that. I have never wanted to be Kapil Dev. Let me be Hardik Pandya. I am good at being Hardik Pandya, and I have reached here till now (and) played 40 ODIs and 10 Tests being Hardik Pandya, not Kapil Dev. They have created their era, let me be Hardik Pandya. Let's stop comparing me with anyone. I will be happy if you don't," he said.
As they say, cricket is a great leveller. Every game is a new beginning and every player has a chance to redeem himself.