Kamal Haasan, right from day one, has been talking of his party — Makkal Needhi Maiam (MNM) trying to usher in total change from the existing scheme of things in Tamil Nadu. In that sense, he has been true to his words, as his party is taking on both the AIADMK and the DMK — the two parties that have ruled the state from 1967
"I was standing alone earlier. Now people are standing with me," actor-politician Kamal Haasan said on Thursday, as his party Makkal Needhi Maiam (MNM) — launched on 21 February 2018 — celebrated its first anniversary. Kamal hoisted the party flag and spoke at the party office in Alwarpet, Chennai this morning. He is scheduled to address a public meeting later in the day in the coastal town of Nagapattinam.
Quite unlike his screen rival Rajinikanth, Kamal has proved to be more decisive, and has backed his words by launching his party and running it over the last one year. He has cut down his film career (Indian 2, he says, will be his last film) and focusing solely on politics, which clearly shows his commitment and that he is ready to walk the talk.
Also read: Embarrassed Kamal Haasan's party issues clarification on actor's "plebiscite" remark
But how have Kamal and his party done in the one year of its existence? We check out:
Policy of Kamal Haasan's MNM
Kamal, right from day one, has been talking of his party trying to usher in total change from the existing scheme of things in Tamil Nadu. In that sense, he has been true to his words, as his party is taking on both the AIADMK and the DMK — the two parties that have ruled the state from 1967.
Kamal's initial target was the AIADMK government, and he went after its omissions and commissions with gusto. But probably he felt that it was no big deal to attack this AIADMK government as it faced a leadership crisis and was anyway out on a limb to salvage itself, Kamal is now going out all guns blazing on the DMK.
Watch — Kamal Haasan: Will contest alone, serve people better with clean hands
This has triggered consternation in the DMK camp as it surely was not prepared for the vehemence of the attack. Its knee-jerky, silly attempts to rebut Kamal's charges are backfiring on the DMK itself. But, in general, there is a surprise that Kamal has chosen to take on the DMK in the manner he has. It has given room to the allegation that it is the BJP which is firing from his shoulder. But there is, so far, no real proof, to back this claim. Kamal has, of course, been critical of the Narendra Modi government and the BJP, too. But his critics allege that he has not taken them on frontally.
Alliances
Kamal has announced that his party would contest all the 40 Lok Sabha seats (39 in Tamil Nadu and one in Pondicherry) and wouldn't mind going it all alone. For a party that was started just a year back, with its party structure still in a rudimentary stage, this is indeed a brave call. But is the decision of going solo its own volition or is it something that was forced on the party, is something difficult to tell.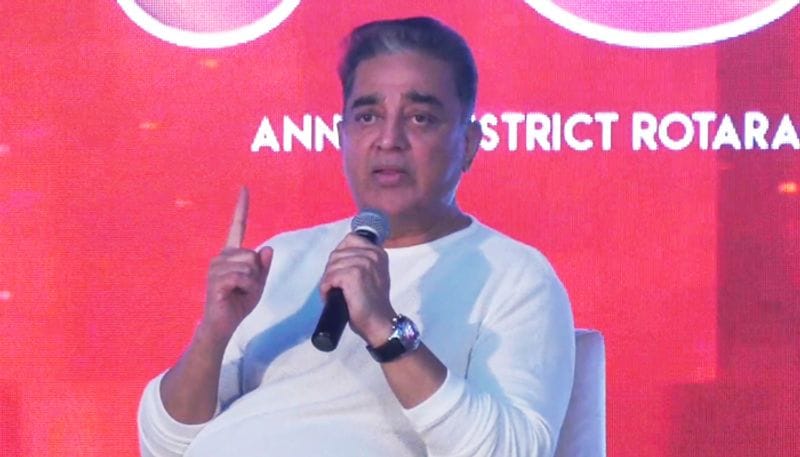 But it is a fact that Kamal himself went and met Congress president Rahul Gandhi in New Delhi. His party was also reportedly in touch with TTV Dhinakaran's party. Was he rebuffed by them, but were they just informal talks is open to conjecture.
But going solo in a field that is filled with parties who know how to win electorally is a big challenge. In that sense, the task before Kamal and his party is enormous. He says he is ready. Whether he is, we will know shortly.
Direct contact
When MGR launched the AIADMK in the 70s, one of the ways he reached out to people by was touring extensively and meeting them at the grassroots levels. NT Rama Rao (NTR), in the neighbouring Andhra Pradesh, stuck the same pattern. Kamal too is following that illustrious tradition. He is not reluctant to put in the hard yards. He has travelled the length and breadth of the state in a bid to understand the pulse of the public.
His Grama Sabha meetings were a huge hit (so much so that the DMK's MK Stalin copied it, leading to an unseemly war of words between the two parties). Kamal and his party also did extensive work in the locations that were hit badly by Cyclone Gaja. In fact, the kind of work MNM put in this matter has been better than that of the established parties.
Kamal has also shown to be accessible and is not shying from addressing meetings or taking on questions from the media. In an era, when leaders tend to be tutored and be trained to parrot only politically correct terms, Kamal is refreshingly candid and speaks his mind, sometimes getting himself stuck in a web of controversies in the process.
Communication
We said Kamal is not afraid to talk on diverse subjects, and is always ready to meet the public directly, the issue though in these matters is his communication or, to be precise, his language. Kamal tends to lapse into metaphors and similes — to be fair to him, he does ever so naturally and organically — it is just that it isn't the most effective  of communication. As politics is all about reaching out to the lowest common denominator in a direct manner, Kamal's language and style keeps him away from the common public. This is something he has to address quickly, if he wants to take his politics closer to the people, is the general verdict.
Despite all his talks and meetings, the public hardly know what his party's stand is on most issues. Kamal tends to take philosophical, phlegmatic positions on many issues. For an individual, it is okay. But for a party, it isn't.
Leaders
Makkal Needhi Maim takes its strength from Kamal. But its weakness is that it takes its strength only from Kamal. At least for the general public, the other leaders of the party, if any, remain unknown. MGR, Indira Gandhi, Jayalalithaa ran the party as one-person show. But Kamal is still to reach that stage.
Kamal has surrounded himself with a good bunch of advisors, sincere activists and energetic organisers. They provide the party the intellectual heft. But they need to be more visible and they must also be heard for the public to develop some strong affinity for the party.
"On the whole, Kamal has done a decent job for himself and his party. I would give 55 to 60 marks for him. This is neither bad nor good. The road before him is long," is the verdict of a senior journalist in Chennai.
Last Updated Feb 21, 2019, 2:23 PM IST