An argument against the proposition of having Ajinkya Rahane opening could be that he hasn't done it in Tests so far. However, what he has done is bat at No 3 and 4, often having to act as a de facto opener, when the team has lost an early wicket
The Indian Test team of late would remind you of a fancy car, which you have spent a fortune on, but then discover, just won't start.
Murali Vijay has been around since 2008, and during his early days, was considered to be an able backup for the formidable Virender Sehwag-Gautam Gambhir pair. He has played some innings of considerable substance and character. However, he has fallen on bad days. He scored a Test ton against a worthwhile opposition as many as 27 innings and as long as two years back, against England in Mumbai. 
Vijay has played against Australia twice, and England and South Africa once each after that, scoring only one fifty over 20 innings against these quality teams. His four hundreds since the Mumbai ton in 2016 have all come against the weaklings — Bangladesh, Sri Lanka and Afghanistan — and in the past 10 innings, his scores read: 20, 0, 18, 11, 0, 0, 6, 20, 105 (against newbies Afghanistan) and 25.   
Vijay's opening partner in the ongoing tour Down Under KL Rahul has been dogged by similar troubles with form. He had got a hundred during the tour of England earlier this year, but to find another hundred you have to go 29 innings and nearly two years back. Rahul's problem: he has been getting to fifties, often fluent ones, but then throwing his wicket away. 
At one time, he had hit nine fifties in 11 innings, but his failure to convert them into big scores, and more importantly, exiting when his team needed him the most have tended to cloud his career.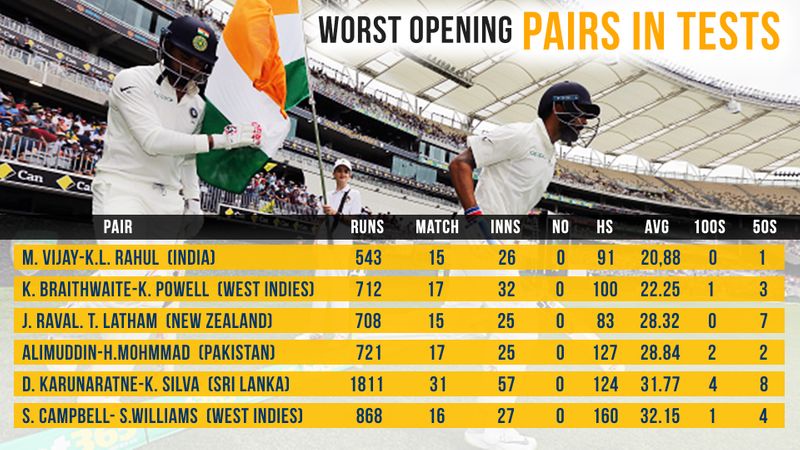 Compiled by Manoj Kumar
Records say that Vijay and Rahul constitute the worst opening pair in the world (with a minimum of 25 Test innings), having scored 543 runs in the 26 times they have been out at the centre together at a paltry rate of 20.88. With Prithvi Shaw, who had made a blistering debut in the home series against West Indies, ruled out of the series Down Under with a freak injury, India are faced with a real problem.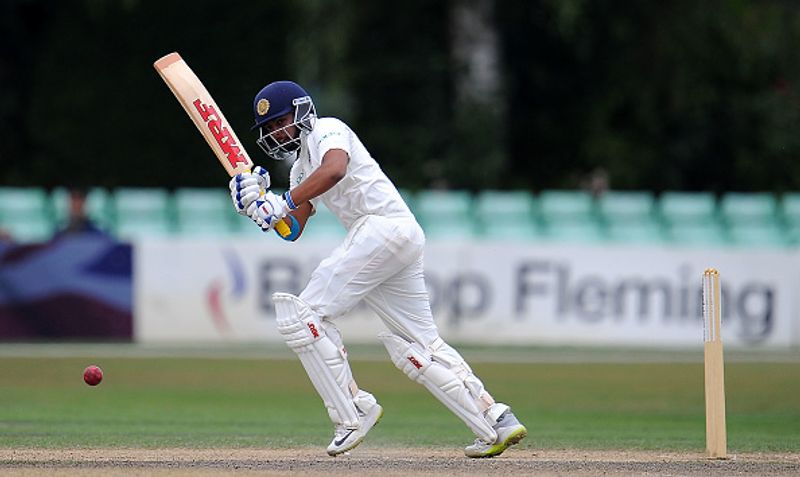 Prithvi Shaw made a rollicking start to his Test career with a ton on debut. Getty Images
Surely, they can't persist with the misfiring Rahul and Vijay. Having dropped Shikhar Dhawan for the series, calling him back will show a lack of depth in India's player pool. If you count out the hundred against Test debutants Afghanistan, it has been over a year since Dhawan had scored a Test fifty. The southpaw's record in Australia is nothing to boast of as well.
Mayank Agarwal instead has been brought into the side in place of Shaw. He has been prolific on the domestic circuit, amassing 1,160 runs at an average of over 100 in the Ranji Trophy last season, and hitting five centuries, including a triple century in the process.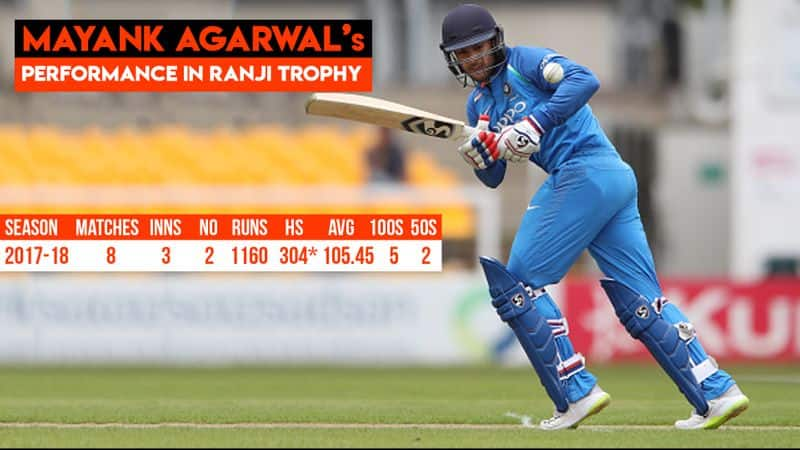 ​​​​​​​
Compiled by Manoj Kumar
The highest run-getter of India's premier domestic competition last season, Agarwal was drafted into the national side against the Windies, but ended up warming the bench. Now, with India bogged down by debilitating opening woes, getting Agarwal into the starting eleven has almost become a necessity. 
Now, who to partner him at the start? The selectors have ignored Faiz Fazal, who has also been scoring heavily at the domestic level. With 912 runs in the Ranji Trophy last season, the Vidarbha batsman finished second only to Agarwal. He has been in top form this season as well, having already accumulated 566 runs in nine innings.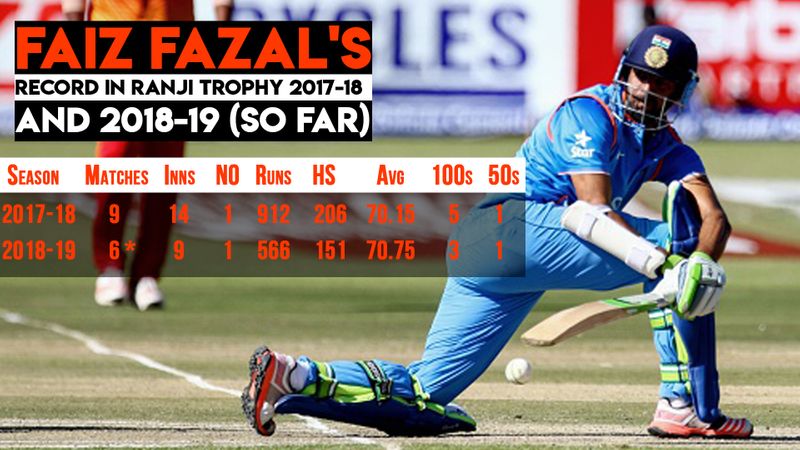 Compiled by Manoj Kumar
Rohit Sharma is in the side, and he opens in limited overs, but opening against Australia in Australia in Tests is a different kettle of fish altogether, and he should not be thrust into that role. Cheteshwar Pujara has opened in the past and has a hundred too in that position, but pulling him out of No 3, where he has done well enough to occasion comparisons with Rahul Dravid, will amount to losing the pivot around which the Indian batting revolves.
The best man for the job, therefore, is Ajinkya Rahane. The Mumbai batsman has a technique tailor-made for fast and bouncy foreign pitches. He has an overseas record to rival that of the best in the business. In the SENA countries (South Africa, England, New Zealand and Australia), which test the skill and temperament of a batsman to the hilt, Rahane's 1,547 runs in 41 knocks at a rate of over 50, makes him one of India's best performers against the swinging, seaming and darting ball. His average in Australia is even better than his overall career average, both of which are more than 50. This puts him in the best position to handle the Aussie quicks upfront when the ball is hard and new and the pitch has 'life'. 
Also read: 'King' Kohli suggests he answers critics with his bat after becoming 2nd fastest to 25 Test tons
An argument against the proposition of having Rahane opening could be that he hasn't done it in Tests so far. However, what he has done is bat at No 3 and 4, often having to act as a de facto opener, when the team has lost an early wicket. Rahane has played four innings at No 3 and has had to come out to bat inside the first over of the match itself on all occasions. 
At No 4, out of five innings, he had to come out to bat much earlier than he would have wanted to on four occasions. Twice this happened inside the first seven overs. On two other occasions, the top-three gave Rahane some respite, though not much. He had to be pressed into action inside the first 15 overs on those two instances, which is still too early to be two-down. 
If Rahane is pushed to the opening slot, his place in the middle order can be filled by Hardik Pandya, who will also offer a handy pace bowling option, and hence, make the side more balanced. 
Also read: India vs Australia: Kohli & Co crumble under pressure in Perth, allow hosts way back into series
Opening woes are not new to India. The role of openers in Tests is invaluable. They are not only needed to give the team a solid foundation but also take the shine off the new ball, so that life becomes easier for the batsmen down the order. Without a meaningful contribution from them, the team is pushed on the back foot from the word go, which often becomes difficult to reverse.  
Also read: India vs Australia, 1st Test: 5 reasons for Virat Kohli and Co's historic win
Except for Sehwag-Gambhir, they have not had a settled opening pair for a long, long time. Many came and went, including Shiv Sunder Das, Deep Dasgupta, Devang Gandhi, Wasim Jaffer, Dinesh Karthik, Sadagopan Ramesh, Aakash Chopra, and there had even been the experiment with VVS Laxman and Rahul Dravid. In recent times, there has been a musical chair of sorts between Vijay, Rahul and Dhawan. It is time to move on and look at Agarwal and Shaw as long-term options. Rahane can be a good stopgap choice.
Read Exclusive COVID-19 Coronavirus News updates, at MyNation.
Last Updated Jan 10, 2019, 4:52 PM IST