Here's what the coolest women in India aka INSV Tarini crew have to say about Women's Day
New Delhi:   When someone tells you they aren't frightened by the sea, they are either a bloody liar or inhuman.
- Robin Knox-Johnston
Isn't it prophetic that when six women Indian Naval officers set out to circumnavigate the world, they sailed on a vessel named INSV Tarini...that is another name for Goddess Durga and literally means she who frees.
And, free is what they did. Not only themselves but scores of girls in the country, who now want to be just like them and choose their own destiny. 
On September 10, 2017, the all-women crew of INSV took off from Goa to set a milestone of circumnavigating the globe covering about 40,000 km on the sea. The grueling 254-day voyage, which included touching five countries, crossing the equator twice, sailing across four continents and three oceans, completing more than 21,600 nautical miles, ended with the crew returning home on May 21, 2018. 
Also read: I don't know a single woman who hasn't faced sexual violence, says singer Monica Dogra
We met the crew Lieutenant Commander Vartika Joshi (skipper), Lt. Commander Pratibha Jamwal, Lt. Commander Aishwarya Boddapati, Lt. Commander P Swathi, Lt. Commander S Vijaya Devi and Lieutenant Payal Gupta, at an exclusive screening of Tarini, a documentary inspired by their oceanic adventures.
Tarini will premiere on National Geographic at 9 pm, on March 8, 2019. It will also be available on Hotstar.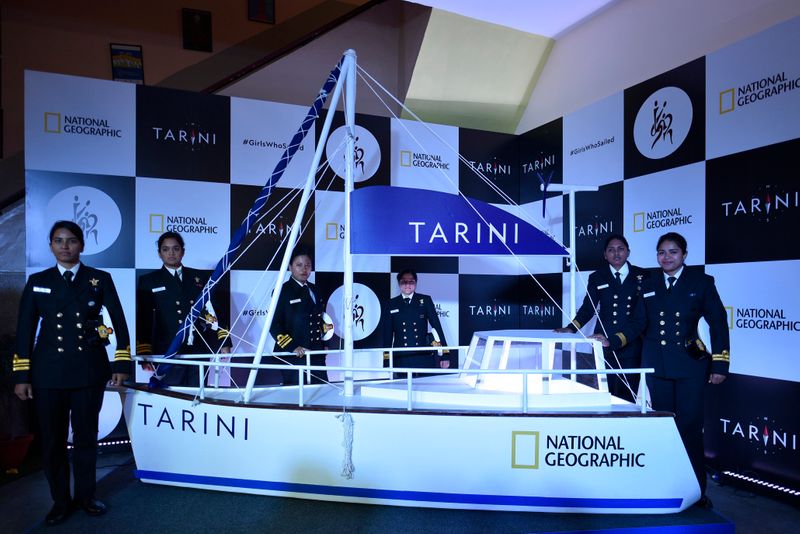 Organised by National Geographic and Indian Navy, over a thousand female students watched the six women circumnavigating the globe in a grueling 254-day voyage and we did overhear many gasps of wonder as well as whispers exclaiming 'How cool' and 'I want to do this too.'
From sharing their experience 'forced' birthday celebrations on the sea to who really deserves the Nari Shakti Puruskar and most importantly, do women really need a Women's Day in their honour - watch the real-life Tarinis handle these rapid-fire questions. 
Also watch: Fight like a girl: Here's how to tackle sexual harassment at workplace