Apple recently released three variants of the iPhone - iPhone 11, iPhone 11 Pro and iPhone 11 Pro Max. Shah Rukh Khan's photo stating that he can't wait to shoot images on his new iPhone 11 Pro Max has gone viral, and here is what people think about it
Bollywood Badshah's latest photo on his Facebook page has taken social media by storm. Shah Rukh Khan's latest photo shows him flaunting his new iPhone 11 Pro Max with the caption can't  wait to shoot on iPhone 11 Pro Max.
"Right now shot on iPhone X...can't wait to shoot on iPhone 11 Pro Max...spoilt for choice...wow 3 camera set up. What next!? Thanx Apple for this powerful device! #shotoniPhoneProMax," this is what exactly his caption reads.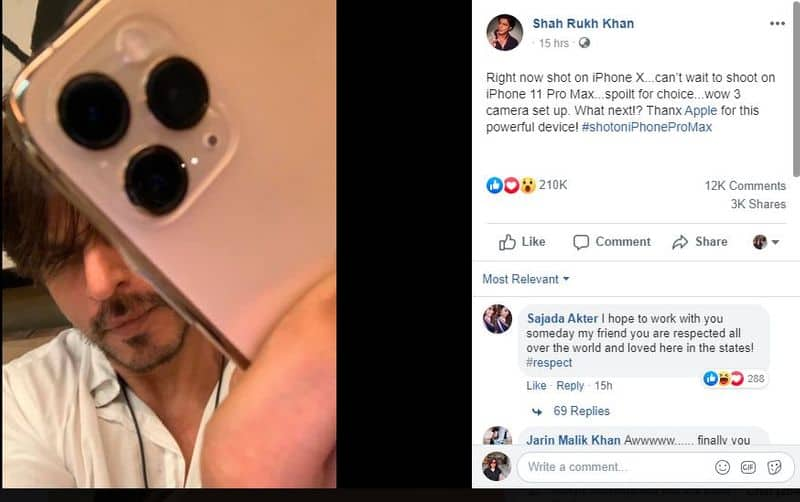 Shah Rukh Khan is seen praising Apple products quite often. Earlier too, he was seen writing about Apple Airpods and thanking the company for releasing something beautiful and useful.
"Apple ups its game with every new product. Don't use earphones much but these new Airpods are amazing. Thanks for adding to my collection Apple," he had written.
In fact, when Apple CEO Tim Cook visited India in 2016, Shah Rukh Khan had organised a party at his house, where Cook had dinner in Mannath.
Since then, there are speculations that Shah Rukh Khan is the brand ambassador of Apple Inc in India. But the news is not true and it looks like Shah Rukh praises Apple products out of his sheer liking for the products.
However, people still believe that Shah Rukh Khan is the brand ambassador of Apple. Here is what they think of Shah Rukh Khan flaunting the Apple phone. Here are some comments on his Facebook wall.  
"Oh this even a common man can buy He is a super star he can buy anything."
"For your kind information, he has 75000 CR. Just imagine how many iphone showroom he can buy."
"He haven't brought. Its collaboration. Apple gifted it to them so he can advertise their product"
"Are he is brand ambassador of Apple India he don't need to buy this"
"Your right he is ambassador of Nokia before now changed"
The comments go on and on with many supporting the actor and some asking him not to promote a brand!
Last Updated Sep 27, 2019, 1:29 PM IST