From the brash teenager of the Indian U-19 side to the skipper of the Indian senior team, Kohli has traversed a long distance. On the occasion of his birthday, MyNation takes a peek into the many facets of the Delhi boy that remains unknown to many.
New Delhi: Already one of the most dominant batsmen ever and an astute captain, Virat Kohli celebrates his 30th birthday on Monday.  
From the brash teenager of the Indian U-19 side to the skipper of the Indian senior team, Kohli has traversed a long distance. On the occasion of his birthday, MyNation takes a peek into the many facets of the Delhi boy that remains unknown to many.
#8 Japanese is his favourite cuisine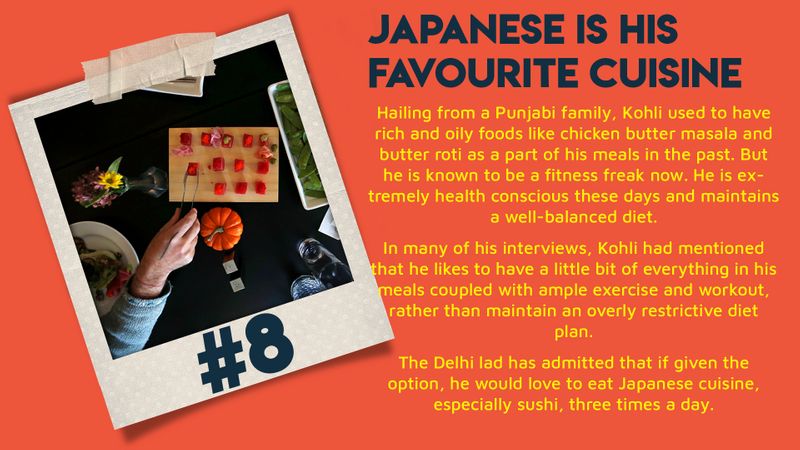 Hailing from a Punjabi family, Kohli used to have rich and oily foods like chicken butter masala and butter roti as a part of his meals in the past. But he is known to be a fitness freak now. He is extremely health conscious these days and maintains a well-balanced diet.
In many of his interviews, Kohli had mentioned that he likes to have a little bit of everything in his meals coupled with ample exercise and workout, rather than maintain an overly restrictive diet plan. 
The Delhi lad has admitted that if given the option, he would love to eat Japanese cuisine, especially sushi, three times a day.
#7 Kohli has an unbridled love for our furry little canine friends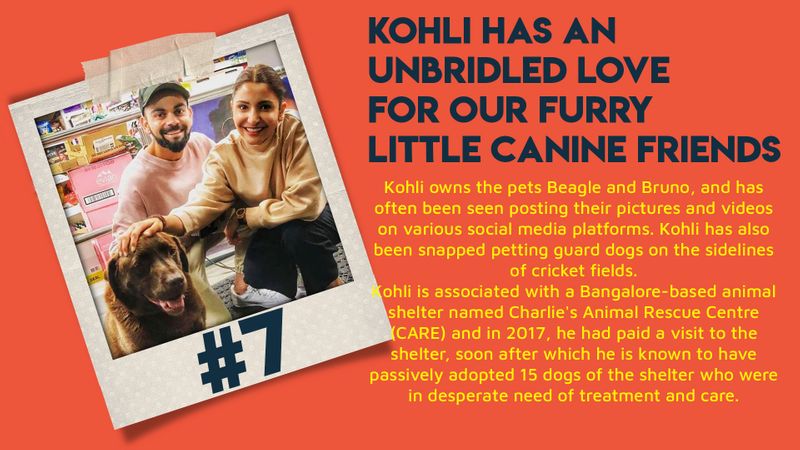 Kohli owns the pets Beagle and Bruno, and has often been seen posting their pictures and videos on various social media platforms. Kohli has also been snapped petting guard dogs on the sidelines of cricket fields. 
Kohli is associated with a Bangalore-based animal shelter named Charlie's Animal Rescue Centre (CARE) and in 2017, he had paid a visit to the shelter, soon after which he is known to have passively adopted 15 dogs of the shelter who were in desperate need of treatment and care.
#6 His favourite subject in school used to be history.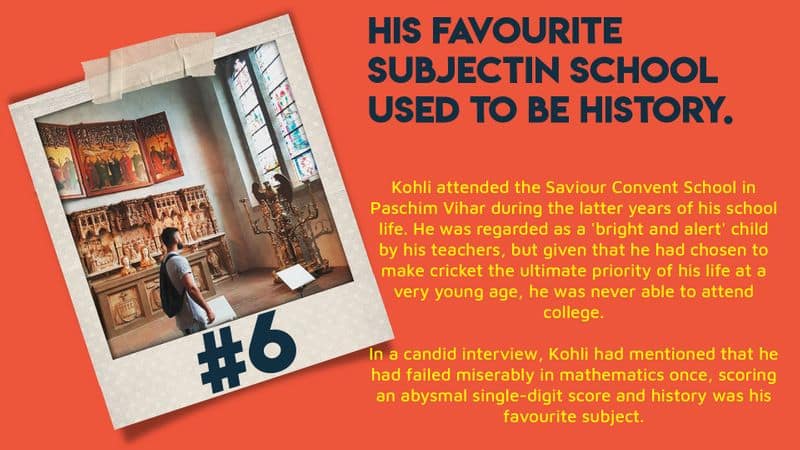 Kohli attended the Saviour Convent School in Paschim Vihar during the latter years of his school life. He was regarded as a 'bright and alert' child by his teachers, but given that he had chosen to make cricket the ultimate priority of his life at a very young age, he was never able to attend college. 
In a candid interview, Kohli had mentioned that he had failed miserably in mathematics once, scoring an abysmal single-digit score and history was his favourite subject.
#5 He never named Tendulkar as his favourite player during his U-19 days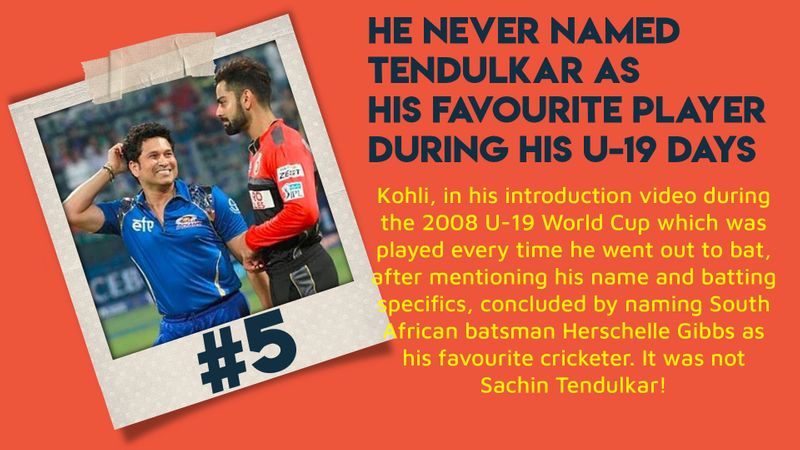 Kohli, in his introduction video during the 2008 U-19 World Cup which was played every time he went out to bat, after mentioning his name and batting specifics, concluded by naming South African batsman Herschelle Gibbs as his favourite cricketer. It was not Sachin Tendulkar!
#4 Kohli is known to have a soft corner for luxury cars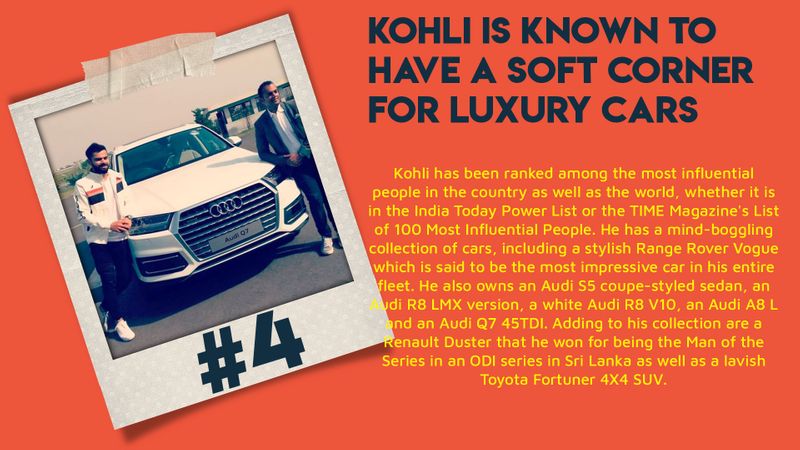 Kohli has been ranked among the most influential people in the country as well as the world, whether it is in the India Today Power List or the TIME Magazine's List of 100 Most Influential People. He has a mind-boggling collection of cars, including a stylish Range Rover Vogue which is said to be the most impressive car in his entire fleet. He also owns an Audi S5 coupe-styled sedan, an Audi R8 LMX version, a white Audi R8 V10, an Audi A8 L and an Audi Q7 45TDI. Adding to his collection are a Renault Duster that he won for being the Man of the Series in an ODI series in Sri Lanka as well as a lavish Toyota Fortuner 4X4 SUV.
#3 Kohli is as good with children as he is with his bat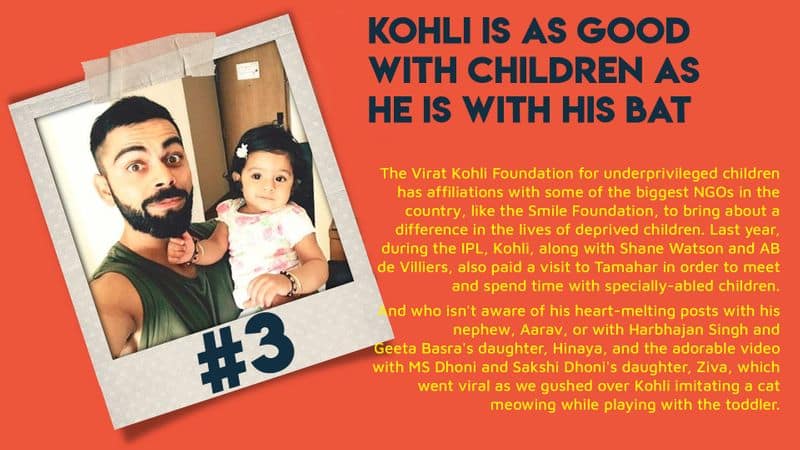 The Virat Kohli Foundation for underprivileged children has affiliations with some of the biggest NGOs in the country, like the Smile Foundation, to bring about a difference in the lives of deprived children. Last year, during the IPL, Kohli, along with Shane Watson and AB de Villiers, also paid a visit to Tamahar in order to meet and spend time with specially-abled children.
And who isn't aware of his heart-melting posts with his nephew, Aarav, or with Harbhajan Singh and Geeta Basra's daughter, Hinaya, and the adorable video with MS Dhoni and Sakshi Dhoni's daughter, Ziva, which went viral as we gushed over Kohli imitating a cat meowing while playing with the toddler. 
#2 Do you know why Dhoni can often be heard referring to Kohli as 'Cheeku' from behind the stumps?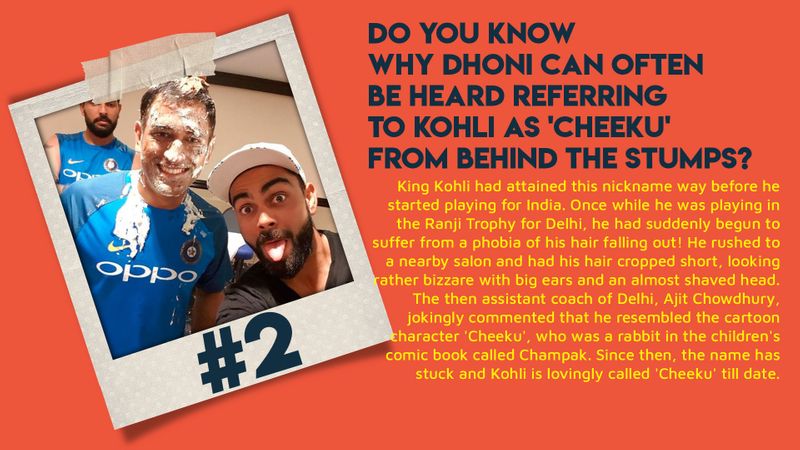 King Kohli had attained this nickname way before he started playing for India. Once while he was playing in the Ranji Trophy for Delhi, he had suddenly begun to suffer from a phobia of his hair falling out! He rushed to a nearby salon and had his hair cropped short, looking rather bizzare with big ears and an almost shaved head. The then assistant coach of Delhi, Ajit Chowdhury, jokingly commented that he resembled the cartoon character 'Cheeku', who was a rabbit in the children's comic book called Champak. Since then, the name has stuck and Kohli is lovingly called 'Cheeku' till date. 
#1 Virat Kohli is a feminist. Yes, you heard that right!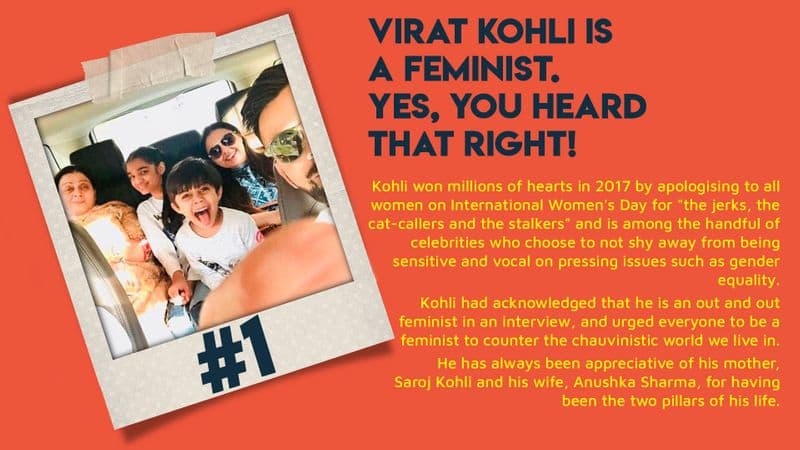 Kohli won millions of hearts in 2017 by apologising to all women on International Women's Day for "the jerks, the cat-callers and the stalkers" and is among the handful of celebrities who choose to not shy away from being sensitive and vocal on pressing issues such as gender equality.
Kohli had acknowledged that he is an out and out feminist in an interview, and urged everyone to be a feminist to counter the chauvinistic world we live in.
He has always been appreciative of his mother, Saroj Kohli and his wife, Anushka Sharma, for having been the two pillars of his life. 
Read Exclusive COVID-19 Coronavirus News updates, at MyNation.
Last Updated Nov 5, 2018, 12:06 PM IST