Take a look at how in 2014-15, the world saw the emergence of Virat Kohli the batsman and the leader and MS Dhoni made a quiet exit from the longest format
From being pushovers, India have come a long way to be the real challengers to Australia in their own conditions in Test cricket. India-Australia rivalry has grown over the years with fans eagerly waiting to see the contests in the longest format. As Virat Kohli and his men chase history Down Under, MyNation brings to you the previous five tours by India to Australia and their highlights. Here is how the 2014-15 series panned out. To read about the other India vs Australia series Down Under, click here
New Delhi: Before the start of the India-Australia four-Test series in 2014, the cricket world was shocked after Aussie opener Phil Hughes passed away tragically due to an on-field injury. He was hit in the neck by a bouncer during a Sheffield Shield match in Sydney. He died in a hospital on November 27, three days before his 26th birthday. The news left Hughes's close friends, Australia Test captain Michael Clarke, David Warner and others devastated.
Kohli, the last man standing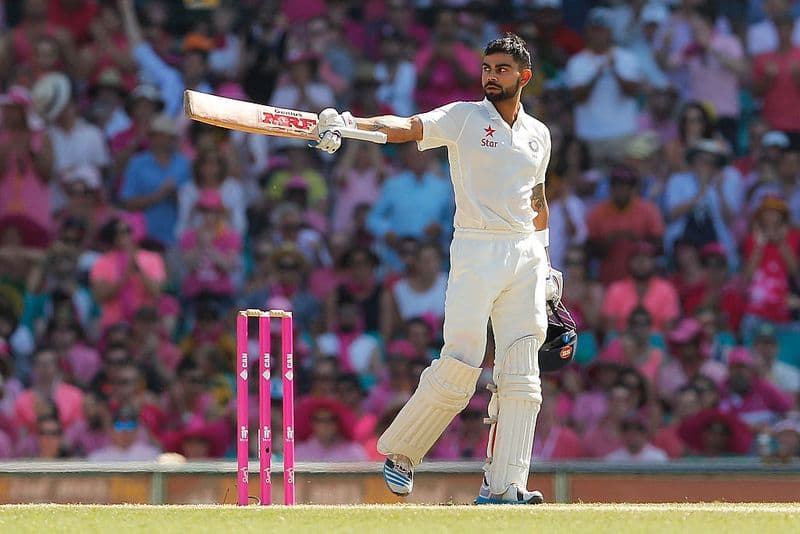 With the players still in mourning over Hughes' death, the first Test began in Adelaide on December 9.
Skipper MS Dhoni was unavailable for the opener and Virat Kohli was named as the stand-in captain. And in his very first match as the leader, he made a huge statement.
At the Adelaide Oval, Kohli hit centuries in both innings of the match and took India very close to victory.
A typical Kohli 'flat batted pull' which he had played many times in his career and succeeded did not came off well resulting in a huge heartbreak. On December 13, it somehow didn't work out as he hit it straight down the throat of deep midwicket. Kohli had scored 141 of the 364-run chase on the final day. Everyone applauded his brilliancy which pained the opposition. It was a masterpiece.
It gave India hope and the belief that they could win. Against a better team, in their own backyard, Kohli got them within 60 runs of the target. But as he fell, so did the hopes of the nation. It didn't matter that three wickets were still remaining, the Aussies had defeated Kohli. They knew they had defeated India. Kohli was on his haunches with nobody by his side. Debutant Karn Sharma stood motionless at the non-striker's end. Unwilling to go, Kohli finally dragged himself back to the pavilion. The standing ovation didn't matter as it has been the case, in many other matches as well. It was a case of so near yet so far for India as they fell short by 48 runs in the chase.
Kohli and Dhoni are at the opposite ends of the spectrum. In the Brisbane Test that followed, Kohli didn't score much (19 and 1) and India lost again. The match was still interesting.
Australia found it tough to chase 128 and they had only four batsmen left, when they reached the finish line. They would have had only three had Kohli not dropped a sitter in the slips. Kohli was not the captain in Brisbane and unlike Adelaide, things didn't happen the way he wanted them to. He seemed a bit frustrated and off-colour.
Dhoni believes a draw is a better result than a loss while Kohli believes losing while going for a win is better than not trying. Kohli loves to attack. He loves to sledge. Under Dhoni, India did not. The people wanted more of Kohli, more of his kind of leadership, the aggressive playing, which made Dhoni step down. Kohli's rise and Dhoni being on the wane, is what was symbolised by the dim sunset during the Brisbane Test.
 
Kohli-Johnson duel, Dhoni's shock retirement at MCG


At Melbourne Cricket Ground (MCG), for the third Test, India started on the back foot, trailing 0-2 in the series. India had given all they had but the score line did not show.
Conceding over 500 runs in the first innings for the third consecutive time, India failed when it came to bowling. They never created chances.
India needed their batsmen to do well which Kohli did, with Ajinkya Rahane for company. Together, they counterattacked the highly rated Australian seam attack and reached their centuries. They took India to a position of considerable strength. Kohli grew in stature, as a batsman and as a person. He attacked Australia, not only with his strokes and game, but also with his words and personality. He spared no one. But it was Mitchell Johnson who was smashed and sledged more.
Kohli was not always on top. There was a phase when Johnson had Kohli's number. Johnson had unintentionally hit Kohli, who was nearing his hundred, while throwing to the striker's end. It had angered Kohli who lost his concentration. It almost cost him his wicket. He missed, edged and offered chances but he was lucky. Kohli survived this phase which none wanted to see him in. He was no more affected by small incidents. He sledged more. He smashed more. He didn't have to confine to Dhoni's style anymore. He was in Australia's face. He didn't care about the boos anymore. With India still nearly seventy runs behind Australia, Kohli was the eighth man out for a magnificent 169 in the last over of the day, as he went for an expansive drive off Johnson and edged it to the wicketkeeper Brad Haddin.
Being the player he is, he was expected to be more responsible and take India to safety, even though he had played an innings of supreme importance. The entire Australian tour made us realise why he stands out is because he will never take the safety first approach, he will never play for a draw, he will never be anything but aggressive. He will make things happen and not wait for them.
Dhoni felt his time was up. It was Kohli's time now. Dhoni was at the crease for the last time as India played out the last few overs under fading light. He rescued India in his last attempt as he guided them to safety. After the match, Dhoni shocked the cricket world by announcing his retirement from Test cricket.
Dhoni walked off on December 30, 2014, leaving Kohli in charge, giving him the responsibility of resurrecting Indian Test team. But, as we know Kohli thrives when he is under pressure and is given responsibility. It was often forgotten that the Indian Test captain was just a 26-year-old boy from Delhi and the huge responsibility could weigh him down.
 
A draw at SCG hands Border-Gavaskar Trophy to Australia

 
India managed to salvage another draw, in Sydney in the New Year Test in 2015. However, the hosts sealed the series 2-0 with Steve Smith taking the Player-of-the-series honour. Kohli once again dazzled with the willow, with 147.
The visitors lost the Test rubber but they had a huge victory with the emergence of Kohli the batsman and the leader. This series was all about Kohli and his batsmanship. Dhoni had left the stage and Kohli took over.