The match on September 19 will keep the players and fans excited and nervous, here is a walk down the memory lane recounting the most memorable clashes between the neighbours over the years at the Asia Cup
Patriotism in India and Pakistan is at its peak when both countries' cricket teams face each other. Both nations' fans will again get a chance to display their unconditional support to their cricketers as Asia Cup 2018 is set to get commence in the United Arab Emirates (UAE) on September 15.
India have been the most successful team at the Asia Cup since its inception in 1984, having won the continental tournament as many as six times (five in ODI format, one in T20I).
The struggle for supremacy on Asian grounds has been intense and more often India's claim to be the best has been challenged by none other than their arch rivals - Pakistan.
So far, India have played against Pakistan on 12 occasions in Asia Cup, since 1984, winning six and losing five, while one match was washed out.
The match on September 19 will keep the players and fans excited and nervous, here is a walk down the memory lane recounting the most memorable clashes between the neighbours over the years at the Asia Cup.
1984 (UAE) : India won by 54 runs  
India registered a win in the very first edition of the Asia Cup. Batting first, India posted a  total of 188/4 in 46 overs. Wicket-keeper Surinder Khanna top-scored with 56 while Sandeep Patil (43) and skipper Sunil Gavaskar (36) chipped in. In response, chasing the target, Pakistan kept losing wickets at regular intervals and could not manage a major partnership. Ravi Shastri and Roger Binny were the stars of the show for India as they took three wickets each. Pakistan were bundled out for 134.
1988 (Bangladesh): India won by four wickets  
India repeated their debut victory by registering a second consecutive success against Pakistan by winning by four wickets and 26 balls to spare. Batting first, Pakistan were restricted to just 142, with India's off-spinner Arshad Ayub wrecking havoc with a five-wicket haul. Kapil Dev and Maninder Singh picked two wickets each. In the run chase, Navjot Singh Sidhu departed early but Mohinder Amarnath held the innings together with a magnificent knock of 73 to take India home.
1995 (UAE): Pakistan won by 97 runs  
Pakistan managed to finally beat India in 1995. Pakistan posted a formidable total of 266/9 from their 50 overs, courtesy of fifties from Inzamam-ul-Haq and Wasim Akram. Inzamam hit 88 off 100, which included seven boundaries. As for Akram, he needed just 46 deliveries to reach the 50-run mark and his innings included four boundaries and two huge sixes. Chasing the target, India lost openers Sachin Tedulkar and Manoj Prabhakar with just 11 runs on the scoreboard. Later, India were 37/4 and from then on, the Pakistani bowlers steamrolled the Indian batting order and bowled them out for 169. Aaquib Javed was the one who orchestrated India's downfall as he took five wickets while Aamer Sohail scalped two.
1997 (Sri Lanka): No Result  
It was clear that India had not forgotten the last encounter as India reduced Pakistan to 30/5 with Venkatesh Prasad scalping 4/17 in five overs. However, rain came down hard at the Sinhalese Sports Club Ground in Colombo and was the saviour for Pakistan as the match was abandoned.
2000 (Bangladesh): Pakistan won by 44 runs  
This match was owned by Mohammad Yusuf and his century.  Batting first, Pakistan posted a huge total of 295/7 in 50 overs, with Yusuf top-scoring with a well-made 112-ball 100. Anil Kumble picked up three wickets for India while Ajit Agarkar and Amit Bhandari scalped two wickets each. Chasing, the Indian top order collapsed and were reduced to 75/4 in 14 overs. Abdul Razzaq wrecked havoc as he was responsible for the wickets of Rahul Dravid, Mohammed Azharuddin and Sachin Tendulkar. Ajay Jadeja led a stunning fightback and his 93-run innings included eight fours and four huge sixes. But Jadeja failed to find support on the other end and India succumbed to a heavy defeat.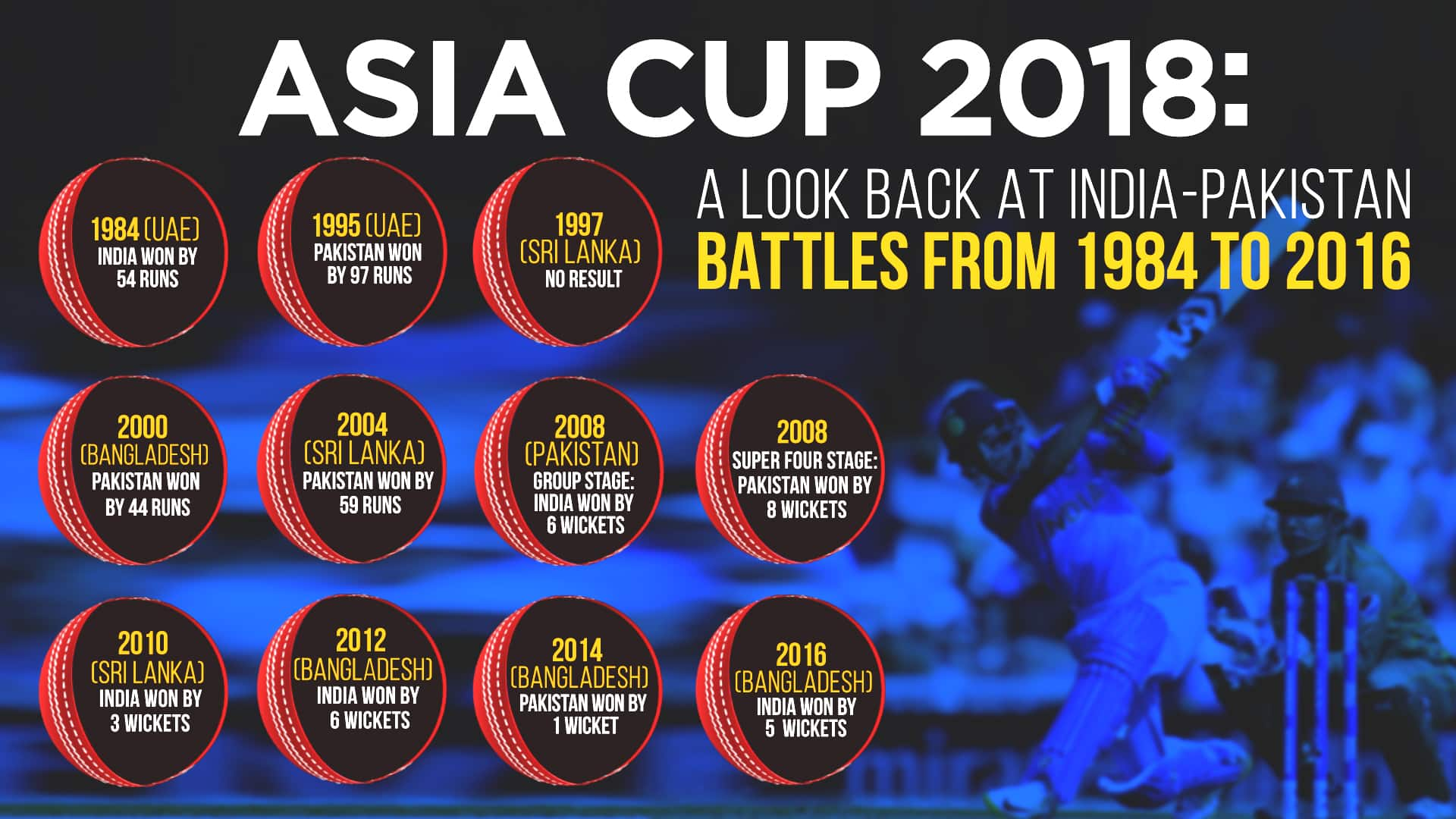 2004 (Sri Lanka): Pakistan won by 59 runs  
While India had dominated Pakistan in the first two editions of the Asia Cup, a trend soon emerged where Pakistan seemed to dominate the Indian side. In 2004, for the first time in their history, Pakistan touched the 300-run mark against India in Asia Cup and it was made possible by Shoaib Malik, who scored 143 runs off 127 at the R Premadasa Stadium in Colombo. His innings included 18 boundaries and one six. The Indian trinity of Virender Sehwag, Sourav Ganguly and Tendulkar failed to bring it home for India.
2008 (Pakistan): Group stage: India won by six wickets  
Shoaib Malik once again ripped the Indian side apart and served them in front of the home  crowd. The skipper smashed 125 off 119 including 16 fours and one six. Younis Khan also contributed with a well-made half century as Pakistan posted 299/4 in 50 overs. India had a bad start chasing the mammoth score as Gautam Gambhir was dismissed soon. However, Sehwag and Suresh Raina stitched together a 198-run partnership. Sehwag smashed 119 off 95 while Raina scored 84 off 69, before they were dismissed. Yuvraj Singh (48) and MS Dhoni (26 not out) provided finishing touches to the chase as India brought the game home with six wickets to spare.
2008: Super Four stage: Pakistan won by eight wickets  
2008 Asia Cup was the only edition where India and Pakistan clashed twice and Pakistan took revenge of their earlier humiliating loss by crushing India. Batting first, India posted a total of 308/7 in 50 overs. Skipper MS Dhoni top-scored with 76, while Rohit Sharma also slammed a half-century. Pakistan chased well with Salman Butt and Nasir Jamshed setting them to a good start. Younis Khan had a memorable century and Misbah-ul-Haq smashed 70 off 62 deliveries too as Pakistan crossed the finish line with eight wickets and 27 balls to spare.
2010 (Sri Lanka): India won by three wickets  
While this match was not a mammoth run scorer like a previous few, it was a nerve clincher and had sufficient drama. Batting first, Pakistan posted a total of 267, owing to fifties from Salman Butt and Kamran Akmal. Praveen Kumar was the star bowler for India as he ended with figures of 3/53 while Zaheer Khan and Harbhajan Singh took two wickets each. Chasing the target, Indian batting did not have a field day, barring Gambhir (83) and Dhoni (56). After Gambhir was dismissed, a verbal spat between Shoaib Akhtar and Harbhajan Singh further increased tensions on both sides. Finally, Bhajji got the game home by sending the ball flying over the boundary with one ball to spare.
2012 (Bangladesh): India won by six wickets  
This match saw Pakistan setting 300 plus target again and it emerged as a massive cause of worry for the Indian side. Openers Mohammad Hafeez and Nasir Jamshed ripped apart the Indian bowling line-up as both slammed centuries and put on a partnership of 224 for the opening wicket. Younis Khan hit a 34-ball 52 to push Pakistan's score to 329/6 in 50 overs. Chasing the target, India lost Gautam Gambhir for a duck but what followed was memorable as Tendulkar and Virat Kohli, the master and the apprentice took over and bailed India out. Tendulkar left the pitch at 50 while Virat carried to a brilliant 183. Raina and Dhoni managed to finish the chase with 13 balls to spare.
2014 (Bangladesh): Pakistan won by one wicket  
The Indian side had three half centuries in this match - Rohit Sharma (56), Ambati Rayudu (58) and Ravindra Jadeja (52) and yet the end total could only be 245/8. Hafeez acted as the all-rounder for Pakistan with two wickets and scoring 75 off 117. In the end, Shahid Afridi slammed 34 off 18 deliveries —including two consecutive sixes off R Ashwin in the final over — to clinch a thriller with just two balls to spare.
2016 (Bangladesh): India won by five wickets  
This edition was converted into a T20 format , because of the World T20 that was scheduled right after the completion of Asia Cup. In the swinging conditions of Dhaka, Indian bowlers wreaked havoc and dismissed Pakistan for just 83. Hardik Pandya was the pick of the bowlers for India as he scalped three wickets for just eight runs in 3.3 overs. Ravindra Jadeja scalped 2/11 in three overs while Ashish Nehra, Jasprit Bumrah and Yuvraj Singh scalped one wicket each.
What seemed like a small total was made to look enormous by Mohammed Amir as he single-handedly reduced India to 8/3 —accounting for the wickets of Rohit, Ajinkya Rahane and Suresh Raina. But Kohli once again showed his class and paid due respect to the deliveries of Amir, while at the same time, taking the attack to other Pakistan bowlers. Mohammed Sami finally got the better of Kohli (49 off 51 deliveries) but he had done his job by then as Dhoni and Yuvraj took India comfortably home from there with 27 balls to spare.
Last Updated Sep 19, 2018, 9:27 AM IST