CPI(M) and SDPI have claimed that BJP leader Suresh Gopi is an "immoral" man after he touched the baby bump of a woman.

Kerala: Malayalam actor-turned-politician Suresh Gopi is grabbing headlines because he is currently campaigning for the upcoming Lok Sabha election. However, he recently became a victim of trolling, when he touched the baby bump of a pregnant lady.
A video that shows Gopi touching the baby bump and blessing the kid in the womb has gone viral. Few netizens considered it a kind gesture given that the woman in the video was also seen smiling.
Take a look at the video
However, many said Suresh Gopi's act is an election gimmick. Supporters of CPI(M) trolled Gopi, calling the act "immoral." CPI(M) followers on social media also called the touch "vulgar", and even questioned the morals of the pregnant woman.
Also read: Dileep, Mohanlal biggest enemies in Mollywood? Journalist Pallisseri says so
A Facebook page named 'We Love CPI(M)' recently shared the video and captioned it, 'Please meet the new gynaecologist in Thrissur' (SIC).
If that was not enough, supporters of SDPI also joined the CPI(M) in attacking Gopi. SDPI supporters claimed that the touch of the baby bump is "against the moral values that prevail in society."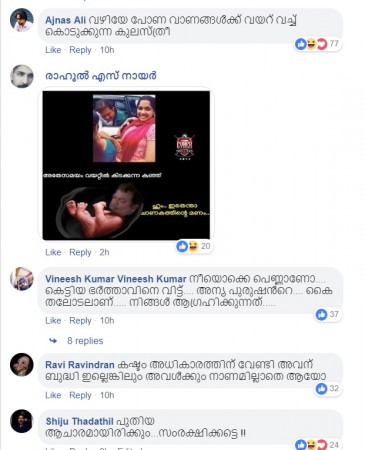 A few backward, orthodox, conservative people debated on Facebook that only a woman's spouse has the right to touch her womb, and it will be a pure act of immorality if somebody else feels it.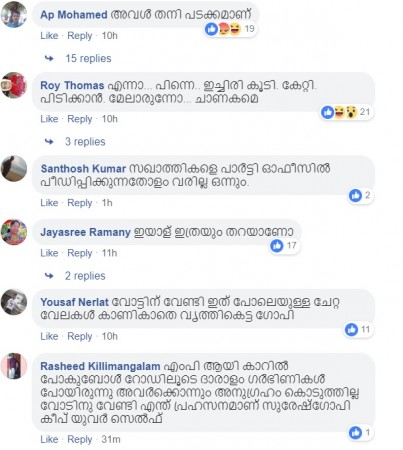 MyNation tried to contact Suresh Gopi to know his side of the story, but he was unavailable.
Read Exclusive COVID-19 Coronavirus News updates, at MyNation.
Last Updated Apr 20, 2019, 2:24 PM IST