Ajith Kumar and Vidya Balan's Nerkonda Paarvai garnered positive reviews from critics and audiences. This Tamil movie is a remake of Hindi film Pink, which features Amitabh Bachchan.
Tamil star Ajith Kumar's Nerkonda Paarvai opened to positive reviews from audiences and film critics. People who have watched the film, have shared their thoughts and excitement on Twitter. The makers have tweaked the content to suit the sensibilities of the Tamil audience without diluting the content as the movie is a remake of Hindi film Pink, which features Amitabh Bachchan.
According to many critics, the movie has been hailed for the content with solid performances by Ajith as well as other artistes. The movie is directed by H Vinoth. The film also features Shraddha Srinath, Abhirami, Andrea Tariang and also Vidya Balan.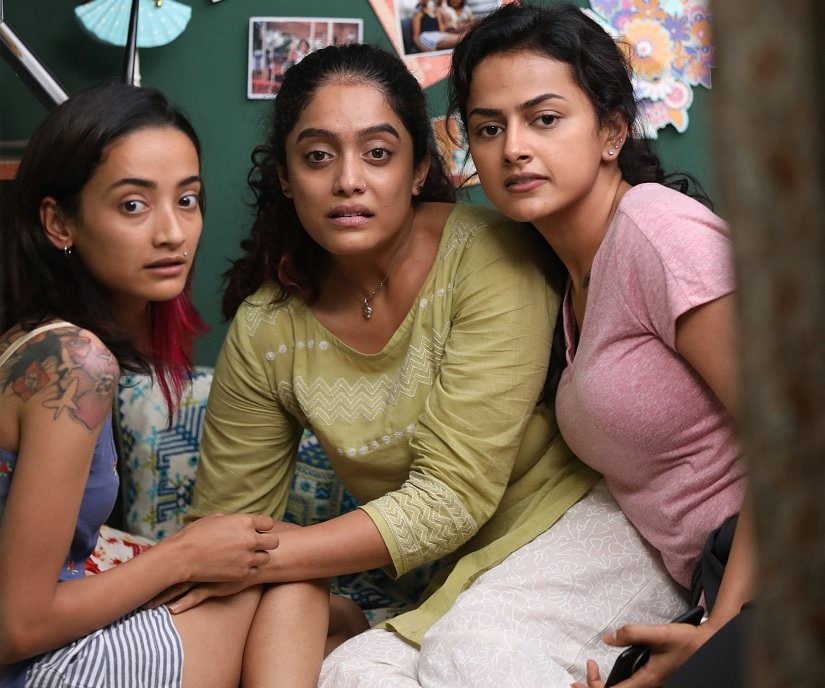 Nerkonda Paarvai revolves around three women Meera Krishnan (Shraddha Srinath), Famila (Abhirami) and Andrea (Andrea Tariang), who land in trouble when a few men persuade them to have sex.
The movie is a total courtroom drama where a lawyer Barath Subramani played by Ajith Kumar fights for the women, who are facing false charges against them by the same men.
Bollywood's leading producer Boney Kapoor has produced the movie, which was his late wife Sridevi's wish. The late actress wanted her husband to work with Ajith.
The movie was earlier premiered to the critics a few days ago where it already garnered positive reviews. 
Now, it's time for Tamil audience to respond to the bold content. Check out the viewers' response below:
Villan_Ofcl: #NerkondaPaarvai Brilliant #Thala's Screenpresence , Dialogue Delivery , Acting Will definitely be one of the Best in his carrer Argument between Rangaraj Pandey and him is enough to prove that ACTOR Ajith is back like BOSS #NKP #HVinoth Now Waiting for #Thala60
#NerKondaPaarvaiFdfs
Sensational , Electrifying movie 👌👌 pic.twitter.com/S1K4XZmCpl

— Jagan G (@jagan21g) August 8, 2019
Akash: #NerkondaPaarvai Brilliant #Thala's Screenpresence , Dialogue Delivery , Acting Will definitely be one of the Best in his carrer Argument between Rangaraj Pandey and him is enough to prove that ACTOR Ajith is back like BOSS #NKP #HVinoth Now Waiting for #Thala60
CINEMAKARAN: #NerKondaPaarvai -(3.5/5) The Thala Ajithish version of Pink which has its full soul of the original. Very revelent topic to speak. The film has its own changes for Tamil and for lead actor. The court scenes worked out well between Thala, Rangaraj Pandey and three girls.
Prashanth Rangaswamy: #NerKondaPaarvai interval - Most classy Ajith movie ever made. Over seas collection alone will cover the production cost. H.Vinoth - true genius . Audience spell bound by the way of narration..And
@thisisysr BGM - one of his best in the past 10 years!!
#NerKondaPaarvai - Please book your tickets with your family. This is the most complete actor Ajith movie you will ever see. The actor inside Ajith Kumar is roaring like a fierce tiger. This man H Vinoth - Needs to be felicitated with a full rojapoo maalai !!
varalaxmi sarathkumar: #NKP is the need of the hour.I'm so glad #ThalaAjith sir has decided to do this movie..I hope everyone can learn from this film.. #NoMeansNo all the best to the entire team #HVinoth
@ShraddhaSrinath @thisisysr I hope this changes our society's outlook a little.. #NerKondaPaarvai
#NerKondaPaarvaiFdfs
Celebration mood💥💥💥 pic.twitter.com/5GeRvWbYHv

— one&only king of Ajith (@AKFans3) August 8, 2019
santhoshraj: #nerkondapaarvai 4.5/5:-
No means no whether she is a sex worker, lover,wife, friend, etc.. NO MEANS NO
From the mega hit blockbuster of viswasam Thala ajith once again strikes with nerkonda paarvai! Hats off to Thala ajith for choosing this script, none of the mass heroes
Everyone stood up and was watching until the credit ends.........,#powerofthala #powerofthismovie #NKPFestivalBegins #Thala #NerKondaPaarvaiFdfs #Hvinoth #massive #hitforsure@BoneyKapoor @ShraddhaSrinath #bangalore pic.twitter.com/csZp8H487A

— Vignesh_cineasta (@Vignesharvin) August 8, 2019
Rajasekar: #NerKondaPaarvai - ⭐⭐⭐⭐ Thala Ajith completely owns the film , easily his career best work. The actor's baritone voice and majestic screen presence are just wow in the courtroom scenes. Hats off for accepting this film and performed it with great elan, kudos
kishore: #NerKondaPaarvai - Blockbuster stuff. #HVinoth is the best thing that has happened to #Thala #Ajith in the recent times.
Ajith sir has literally set the screen on fire with his terrific performance.
This one is 200 percent sureshot!
#ThalaAjith #NerKondaPaarvaiFdfs At @RamCinemas 🔥🔥🔥@AjithFc_Nellai @Nellai_AjithFC #NerkondaPaarvaiInRamCinemas #NerKondaPaarvaiFromToday #NKPFestivalBegins #NerKondaPaarvai pic.twitter.com/19NmTuPTPf

— Suriya Raja2.0(Esakki) 😎😎 (@suriyaesakki2) August 8, 2019
A2 Studio: #NerKondaPaarvai: Marana Masss #Thala #Ajith Screen Space is Ultimate & the dialogue delivery chancey eh illa ! So far best perfomance for #AK #Thala Fans ku semma treat iruku 
@ShraddhaSrinath hattsoff ... you just nailed it. @thisisysr BGM 
Therific Movie #HV
Fans celebrating Nerkonda Parvai in Heavy rain too at #Cumbum #Theni District #NerKondaPaarvaiFdfs #NKPFestivalBegins #Thala #HVinoth @thisisysr pic.twitter.com/DIzSedfNsJ

— Evergreen Cumbum (@EvergreenCumbum) August 8, 2019
Sreedhar Pillai: #NerkondaPaarvai Powerful a reflection on the patriarchal mindset independent women faces in our society. Hats off to #ThalaAjith 4 doing such a daring & difficult role so convincingly,
@ShraddhaSrinath fab. Dir #HVinoth a faithful & neat remake with some commercial ingredients.
எந்த இசையமைப்பாளர் க்கும் கிடைக்காத ஒன்று #Yuvan Sirக்கு மட்டுமே கிடைத்துள்ளது ஆம் அது தான் வெறித்தனமான ரசிகர்கள் பட்டாளம் அதுவும் #Thala யுடன் இணையும் போது பல மடங்கு உயர்கிறது #NerKondaPaarvai #NKPFDFS #NKPFestivalBegins #NoMeansNo #NerKondaPaarvaiFdfs pic.twitter.com/oWkaz8uK81

— Shivaniᴺᴷᴾதல²⁷ʸʳˢ (@Ssshivani1) August 8, 2019
sridevi sreedhar: #NerKondaPaarvai : A remake which works big time #HVinoth has added a bit of masala to make it work with #Thala fans ..
@ShraddhaSrinath and the other two girls A well made engaging film in Tamil cinema @BoneyKapoor
Frank: Watched a premiere show of a film called #NerKondaPaarvai in Singapore. I'm an American and I have no idea about this film. What's the actor name? Man he was very good. Very much resembles George clooney. Anyway loved the film. Good story. #NerkondaPaarvaiWorldPremiere
Surendhar MK: #NerKondaPaarvai: 2019 has turned out to be the most memorable year for #ThalaAjith and his legion of loyal fans. #IndustryHitViswasam followed by a career-best performance now has revived a fantastic momentum for the actor
#NerKondaPaarvai will be a game-changing film for Tamil cinema if it hits the right chord at the boxoffice. It will let other top stars examine their choice of films and open up the market. #ThalaAjith leads the way this time with his choice of #Pink remake. Topical decision!
#NerKondaPaarvai: Loved all the dialogues from the second half in the courtroom scenes. Sensibly and very thoughtfully written by Vinoth. Progressive, bold lines and to hear it from #ThalaAjith's majestic baritone just stole the show Liked the minute touches to his role.
#NerKondaPaarvai (3.75/5) is easily #ThalaAjith's career-best work. While he quietly lets others take centrestage in the 1st half, he completely steals the show in the second half with his lionlike performance. Takes guts for an actor of his stature to do a film like this
#NKP Girl @ShraddhaSrinath Got Emotional after Seeing the Response of FDFS of #NerKondaPaarvai 🤗🤗🤗🤗

She Moved With Tears after seeing response for her performance in movie 😊😊👍👍#NKPFestivalBegins #NerKondaPaarvaiFdfs pic.twitter.com/1nEX0JkUeh

— THALA FANS COMMUNITY™ (@TFC_Teams) August 8, 2019
Kaushik LM: #NerKondaPaarvai - 3.75/5.. Spl. mention to opposing lawyer
@RangarajPandeyR, BB #AbhiramiVenkatachalam, Arjun Chidambaram,
@Adhikravi , the actor playing the judge, Andrea Tariang and all the other support actors. Topnotch!
And, @ShraddhaSrinath
A fitting answer to all those who wished to see #Thala #Ajith in a strong content based film. He does it so well. Sema characterization - Bharath Subramaniam, mass and powerful
Courtroom scenes - thought provoking & fiery. Clapworthy moments galore
A razor sharp 2nd half with super hard-hitting dialogs.. Dir #HVinoth pulls off this remake with flying colors. A really sensitive subject, and he does the tightrope walk like a boss.
#Thala #Ajith's best performance in recent times. He owns 2019
Read Exclusive COVID-19 Coronavirus News updates, at MyNation.
Last Updated Aug 8, 2019, 10:55 AM IST