The Vela submarine is the fourth of six underwater warships being built in India with French collaboration

New Delhi: It's a day to remember for the Indian Navy, as the curtain falls on frontline missile destroyer INS Ranjit while the Scorpene-class submarine Vela debuts guarding India's maritime territory.
With an aim to boost Indian capability to secure the strategic sea, the Indian Navy on Monday launched Vela, which was constructed by Mazgaon Dock Shipbuilders Limited. It is the fourth of six underwater warships being built in India with French collaboration. The Vela submarine will undergo a number of tests conducted by the Navy before it is commissioned in the defence fleet.
The state-owned Mazgaon Dock Shipbuilders Limited has entered into a contract for construction and transfer of technology for six Scorpene-class subs with French collaborator Ms Naval Group (formerly DCNS). INS Vela is the fourth in that series. Before Vela, MDL launched Kalvari, Khanderi, Karanj submarines. While Kalvari has been commissioned, the others are at various levels of trials and tests.
What is a Scorpene submarine
Scorpene is a conventional-powered submarine weighing 1,500 tonnes and can go up to depths of 300m.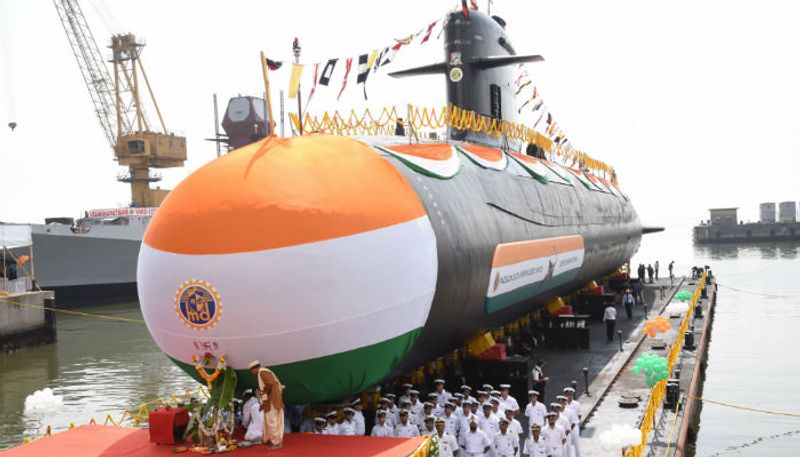 Submarine Vela
A submarine is the quietest military platform and extremely tough to detect. Their main cover is their ability to move stealthily underwater and keep an eye on enemy movement of vessels.
Submarines are the most potent military platforms currently available even ahead of aircraft carriers which need a large entourage to protect it.
INS Ranjit
While on the other hand at the Naval Dockyard, Visakhapatnam INS Ranjit, the third of the five Kashin-class destroyers built by the erstwhile USSR was decommissioned.  INS Ranjit which has given service to the Indian Navy for over 36 years was commissioned in 1983.
Over the years, the ship has the distinction of serving in both western and eastern seaboard and has been the flag ship of both the western and eastern Fleets.
With a motto of 'Sada Rane Jayate' or 'Ever Victorious in Battle', INS Ranjit has been at the forefront in keeping the nation secure and participated in a number of operations. Some of these include Indian Peace Keeping Force (IPKF) operations, Operation Talwar during Kargil conflict.