Karnataka JDS president Vishwanath and former chief minister Siddaramaiah have openly fought over the issue of the latter becoming the next chief minister. While Vishwanath said Siddaramaiah is not like former chief minister Devraj Urs, Sidddaramaiah hit back at Vishwanath saying he is full of jealousy. BJP senior leader Eshwarappa said the Congress high command should look into the issue
Bengaluru: In what comes as a formal assurance, the bickering in the ruling coalition in Karnataka has spilled out on the streets.
The open feud is between two gigantic senior politicians, former chief minister Siddaramaiah and president of the state JD(S) unit, H Vishwanath. The argy-bargies pertain to the issue of Siddaramaiah becoming the chief minister again.
As the alleged cronies of Siddaramaiah have been advocating his return as the chief minister for the second term, Vishwanath hit out at him, saying Siddaramaiah was not a leader akin to Devraj Urs, a former Karnataka chief minister who was known for his revolutionary ideas.
Reacting to his allegations, the Siddaramaiah took to Twitter and lashed out at him, saying the JD(S) president is known for making such meaningless remarks. He also declared that the principles of the Congress-JD(S) coalition had coerced him to observe silence on the issue.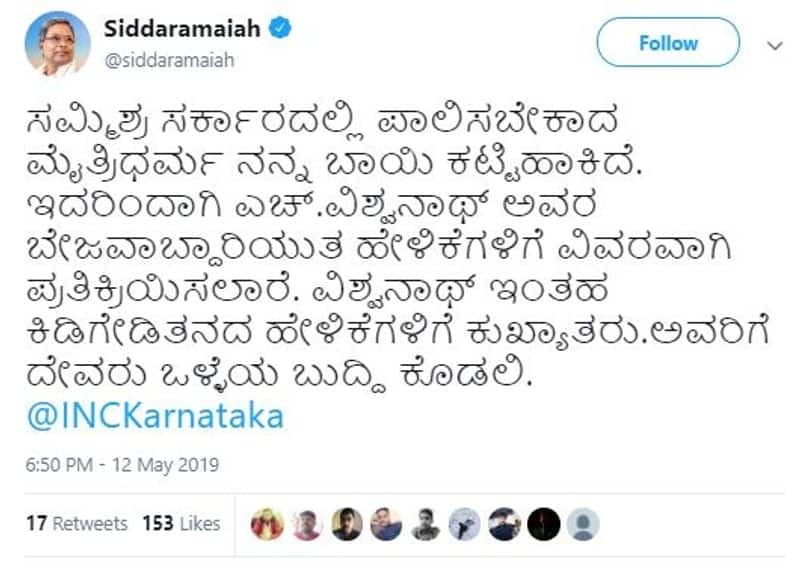 Siddaramaiah also urged the JD(S) leaders to look into the issue and wondered who next, after Vishwanath and GT Deve Gowda (he had earlier taken a jibe at Siddaramaiah for losing Chamundeshwari constituency) would target him.
It is pertinent here to state that the joust between the two coalition parties has hit the skies in the recent weeks. Several Congress leaders including MTB Nagaraj, Congress MLA from Hoskote, Sudhakar, Congress MLA from Chikkaballapura and others have openly batted for Siddaramaiah for the post of chief ministership.
On the other hand, there are talks that the JD(S) supremo HD Deve Gowda himself is orchestrating the entire episode, keeping Vishwanath in the vanguard so as to corner Siddaramaiah and destroy his ambitions of holding the reins, if any.
However, KS Eshwarappa, senior BJP leader trained his guns at Siddaramaiah and was conspicuous with his silence over Vishwanath.
"Siddaramaiah destroyed the prospects of Congress by getting only 78 seats in the last Assembly elections. He goes around saying he is the next chief minister of the state. What has he done to promote himself like this? The Congress high command should look into the issue," said Eshwarappa.
Read Exclusive COVID-19 Coronavirus News updates, at MyNation.
Last Updated May 13, 2019, 10:02 AM IST