Congress spokesman Randeep Surjewala on Monday shared two pieces of news that weren't. One was a newspaper clipping that claimed there was some scam in the organisation of the Kumbh Mela. The other said Kalraj Mishra threatened to shoot some protesting BJP cadre dead. Both were pieces of satire published on the occasion of Holi. Passing them off as facts made the Congress tweets classic cases of fake news.
New Delhi: An exchange of allegations between political rivals is commonplace during an election season. But the Congress does not stop at that; it takes recourse to fake news to make its point against its archrival BJP. On the occasion of Holi, a newspaper published the satirical piece that claimed the organisation of this Kumbh Mela was scam-tainted. The Congress Twitter handle shared the link and demanded a probe into the 'scandal'.
On Holi — as on the All Fools' Day on April 1 worldwide — newspapers publish satire that is meant for nothing but a hearty laugh. However, the Congress, arguably knowing the article in question was sarcastic, took it literally.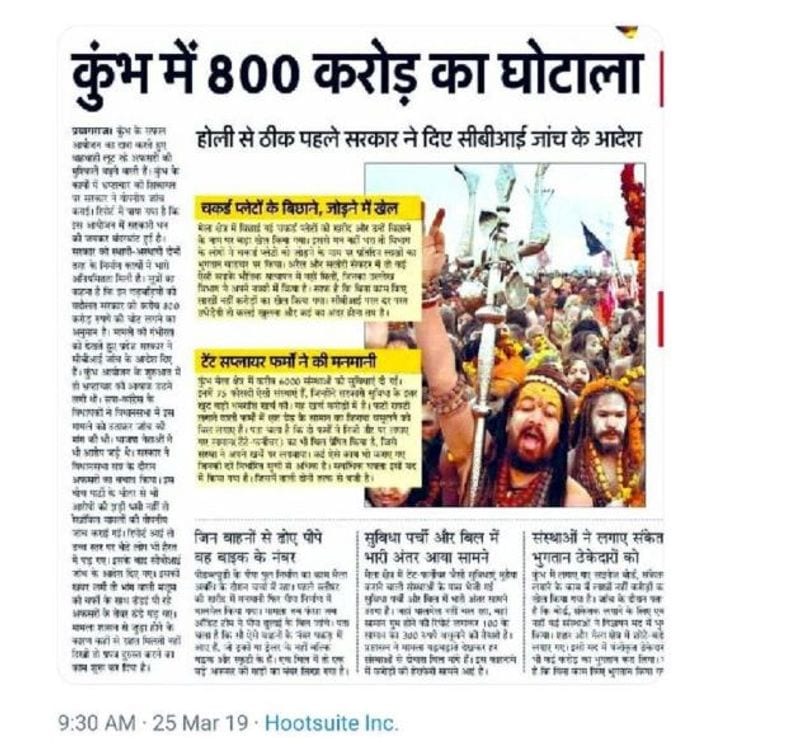 Congress bore the brunt of social media users for this deliberate falsehood. Since the time party spokesperson Randeep Surjewala posted the satire, interpreting it literally, social media users have been shaming the party.
Not to be discouraged by the brickbats, the Congress repeated the folly by sharing another piece of 'news' that claimed BJP's Kalraj Mishra, in-charge of the party's affairs in Haryana, had said that he would shoot the cadre dead for demanding a different candidate if this had been Uttar Pradesh!
Congress spokesman Surjewala linked this speech to the nomination of Krishan Pal Gurjar. The workers were protesting the re-nomination of Gurjar in Faridabad.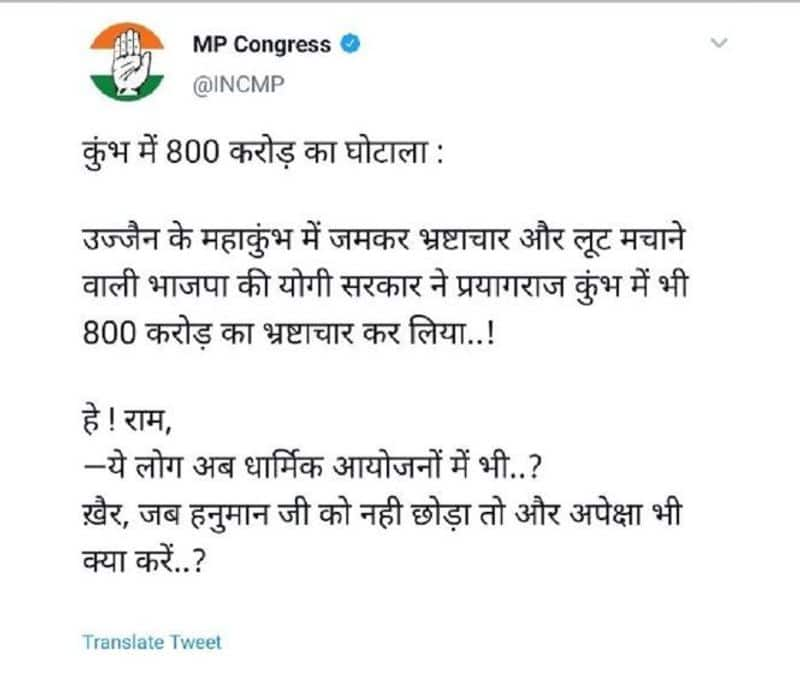 Behaving like a me-too Congress since its inception, the AAP could not stay behind in the peddling of fake news. Its MP Sanjay Singh, carried away by Surjewala's unfounded tweets, tweeted a cropped screenshot of the Kumbh satire too.
The part that was cropped out clarified that it was a piece of satire.
However, with his bluff being called, Singh deleted his tweet after a while.
भाजपा की हिंसक मानसिकता का ताज़ा नमूना-

कलराज मिश्र जी ने फरीदाबाद सांसद के विरोध में नारे लगाने वालों को धमकी भरे लहजे में कहा-

"अगर यह उनका प्रदेश होता तो इस तरह गड़बड़ करने वालों को वह स्टेज से उतरकर गोली मार देते"

क्या ये है भाजपा का संदेश-

सवाल पूछो तो गोली खाओ!

सुनिये- pic.twitter.com/JV480z1gMk

— Randeep Singh Surjewala (@rssurjewala) March 24, 2019
Read Exclusive COVID-19 Coronavirus News updates, at MyNation.
Last Updated Mar 25, 2019, 3:55 PM IST