Mahesh Vikram Hegde, founder of Postcard News and a supporter of Prime Minister Narendra Modi was arrested in Coorg, Karnataka, on April 24, based on a complaint filed by state home minister MB Patil in relation to a letter to Sonia Gandhi about a separate religion for Lingayats. However, BJP hit back saying why no arrests were made when Congress leaders Zameer Ahmed and Beluru Gopala Krishna issued statements against Modi in the most obnoxious manner.
Bengaluru: Mahesh Vikram Hegde, a known social medial activist and founder of Postcard News, who tweets in favour of Prime Minister Narendra Modi and his policies, was arrested by the sleuths of the CID in Coorg, Karnataka, on Wednesday while he was attending a private function. The arrest was made based on a complaint filed by state home minister MB Patil.
Mahesh Vikram Hegde had published a post in relation to MB Patil's letter to former AICC chief Sonia Gandhi, on the issue of separate religion for Lingayats. Once the arrest was made, hashtag #IStandWithMaheshHegde began to trend and several BJP leaders openly expressed their anger against the arrest.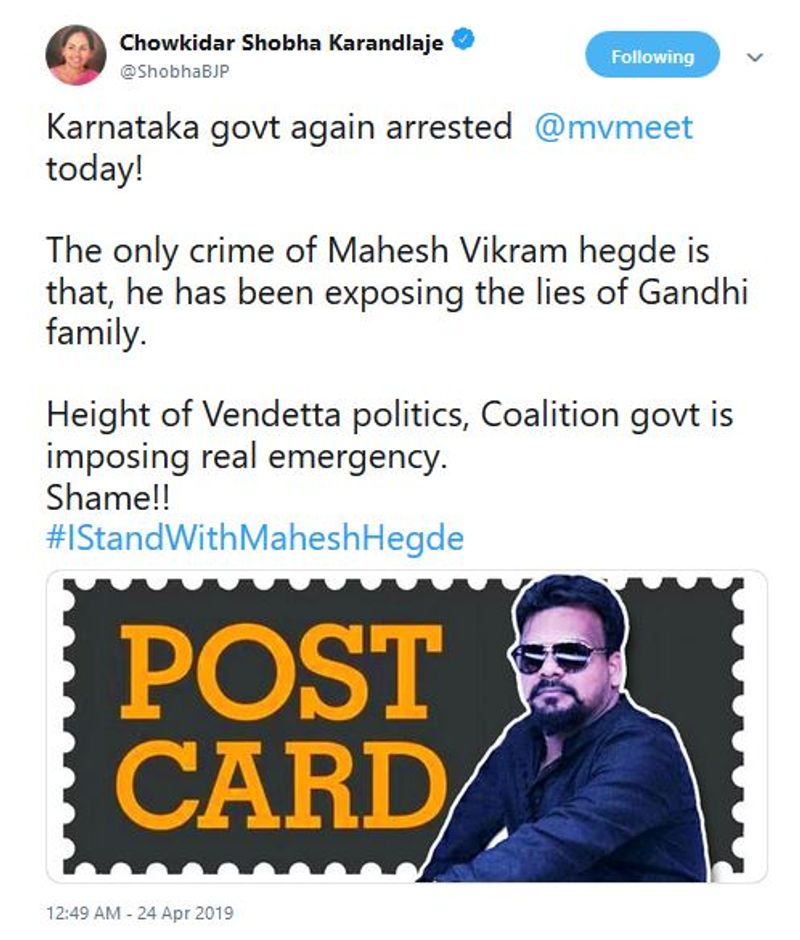 BJP sources say that all possible legal help is being provided to Mahesh Vikram Hegde and the entire team is behind him. Furthermore, they say, "It's a personal vendetta against Mahesh by the home minister, and nothing beyond it. The police machinery is being misused by the state to pursue its whims and fancies."
On the other hand, several BJP leaders have questioned the palpable silence observed by the government on issues of leaders from other parties talking ill of Prime Minister Narendra Modi.
In its press release, the BJP has questioned the state government, under HD Kumaraswamy, as to why it has failed to take action against Zameer Ahmed, a Congress MLA and Belur Gopalakrishna, a former Congress MLA for criticising Narendra Modi in obnoxious terms.
Other senior journalists have also hit out at the government.
"I do not accept, agree with the arrest of Mahesh by the CID. This is an undemocratic move. The issue pertains to purported letter by MB Patil to Sonia Gandhi. It is nothing new. It has been in circulation for some time now. Why take action now? Moreover, this letter was carried by electronic and print media as well. Why choose only Mahesh? Is it because he is espousing the cause of Modi that he is being targeted," asked Hemanth Kumar, a senior journalist.
Read Exclusive COVID-19 Coronavirus News updates, at MyNation.
Last Updated Apr 24, 2019, 7:26 PM IST