Save Karbala Jor Bagh Movement sends complaint naming Gandhi family loyalist to police, PMO and others; says activists have been getting dire threats despite their case going favourably in court
New Delhi: A Shia activist fighting to save the Karbala land in upscale Jor Bagh area in Delhi from alleged land grabbers was shot in daylight on Monday, right in front of his house in Ghaziabad's Loni.
Shabbar Zaidy, a vocal supporter of the 'Save Karbala Jor Bagh Land Movement', was shot in the head just a day after he presided over the 'Save Waqf Conference'. Guardians of the waqf land see this as no coincidence.
Zaharul Hassan, manager of Anjuman-e-Haidari which takes care of waqf properties in Jor Bagh's Aliganj including the holy Karbala grounds and Dargah-e-Mardan, is in shock. He lodged a complaint on Wednesday with the Delhi police commissioner, Union home minister and the Prime Minister's Office (PMO), among others, alleging that senior Congress leader and Gandhi family loyalist Ahmed Patel had been continuously threatening him and fellow activists of the Shia body, including general secretary Bahadur Abbas Naqvi. Patel, they allege, is the force behind those trying to illegally lay claim on the holy land worth hundreds of crores.
The case is in the Patiala House Court. The complainant has requested police protection, citing threat to their lives.
When MyNation called up Patel's residence in Delhi for a response, his assistant said the Congress leader was not at home and that he would call us when he was back. The story will be updated if and when Patel responds.
MyNation was the first to report that Patel had been accused of attempting to grab 2.5 acres of Karbala Jor Bagh land and had landed in legal trouble over the matter.
'Life at risk, need protection'
Hassan has been spearheading the legal battle to save the religious land from falling into the clutches of a group he maintains is led by Patel. He had moved the Patiala House Court against Patel, who was served notice. Hassan was allegedly assaulted when he went to paste the notice at Patel's Mother Teresa Crescent residence.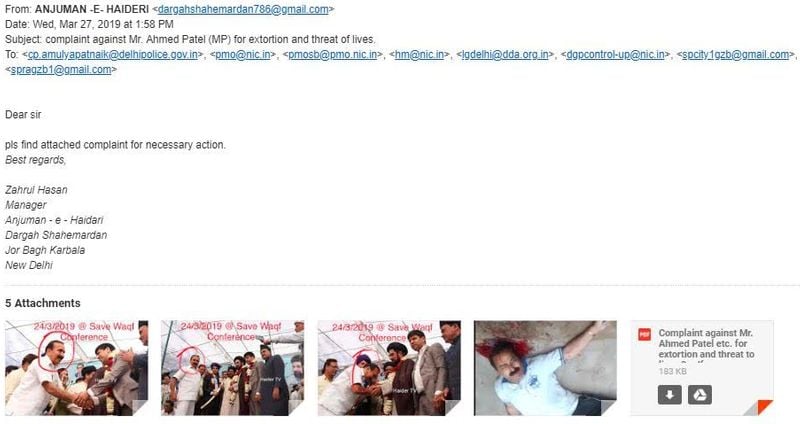 "As the entire movement was led by Maulana Syed Kalbe Jawad Naqvi, the tallest Shia leader of the country having crores of followers cutting across community divides across the globe, Mr Bahdhur Abbas Naqvi, general secretary and other office bearers of Anjuman-e-Haideri, their lives are under imminent threat at the hands of waqf land mafia Mr Ahmed and his cohorts," he alleged in the police complaint. 
A slew of allegations
"Starting from [March 8], veiled threats have been regularly extended by the members of waqf land mafia and their other cohorts to the office bearers, members, and supporters associated with the 'Free Karbala Jor Bagh Land Movement' that everybody associated with dispossessing the mafia from the Karbala land will be killed/eliminated/taught a lesson," the complaint read.
Hassan also wrote that Zaidy, who was murdered, had been "a very vocal and active supporter of Save Karbala Movement" and "a big thorn in the eyes of waqf land mafia".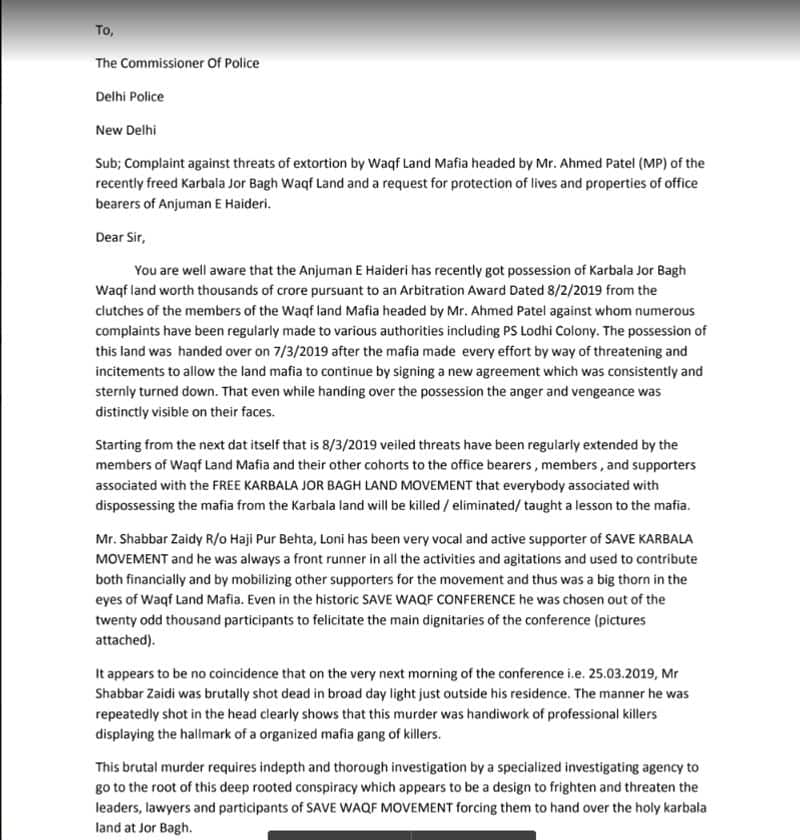 "The manner he was repeatedly shot in the head clearly shows that this murder was the handiwork of professional killers displaying the hallmark of an organised mafia gang of killers," Hassan added in the complaint.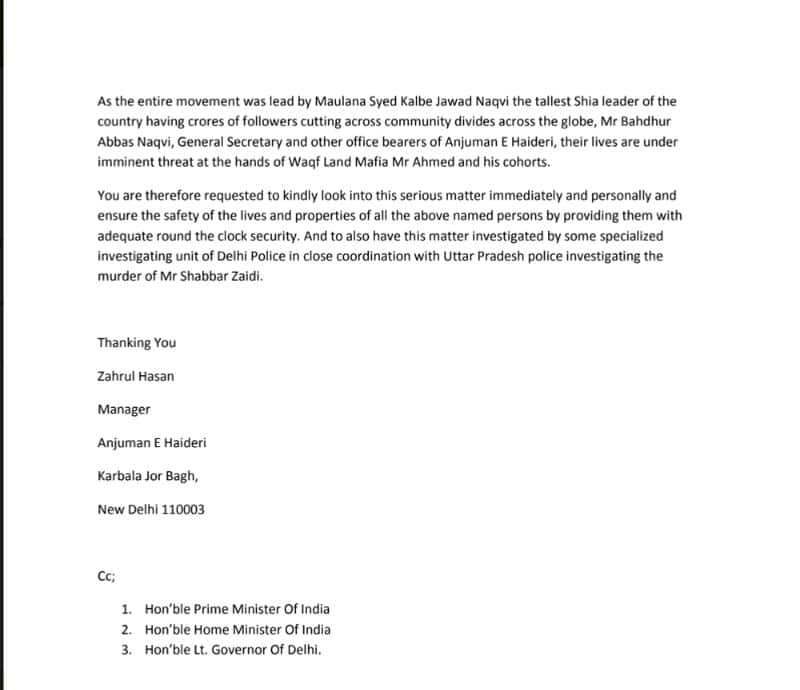 It mentioned that the Karbala land was released "from the clutches of the members of the waqf land mafia headed by Mr Ahmed Patel" recently through an arbitration award on February 8, but the mafia had not taken kindly to it. It "made every effort by way of threatening and incitements" even at the time of handing over the property to Anjuman-e-Haidari.
Past complaints
Hassan also told MyNation that they had lodged complaints against Patel with the police on several occasions, but no action has been taken.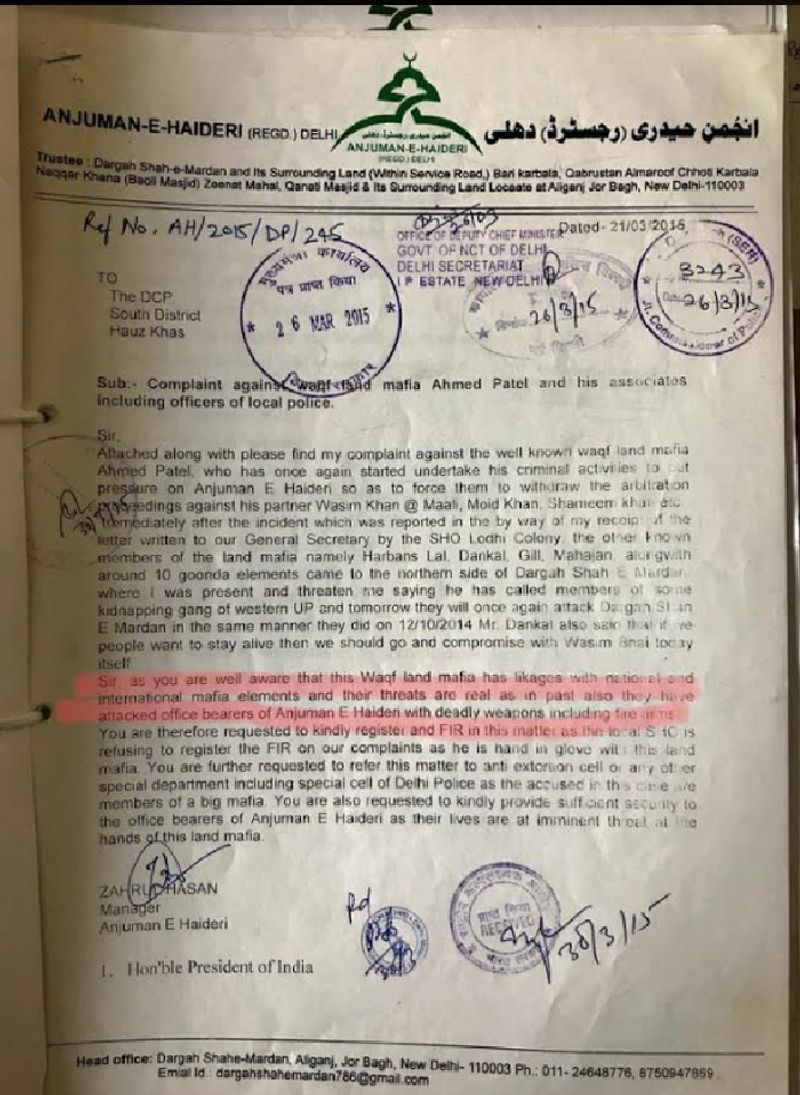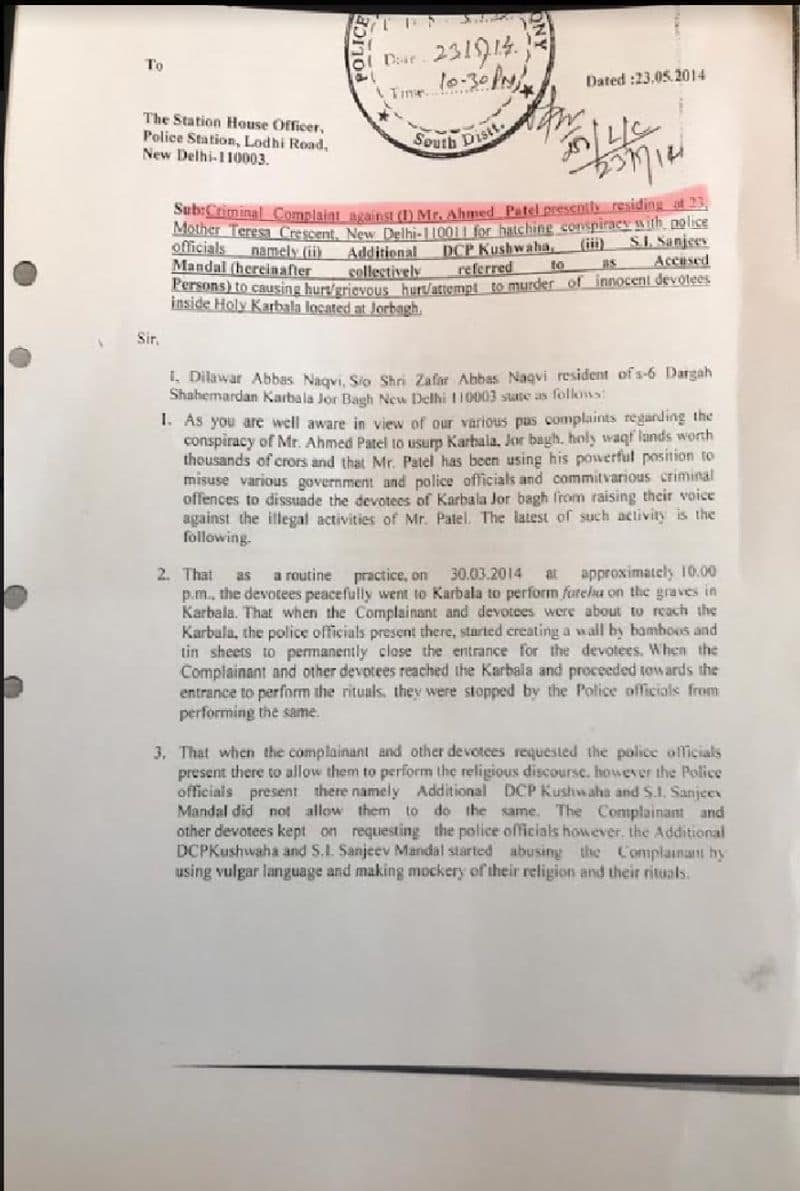 Read Exclusive COVID-19 Coronavirus News updates, at MyNation.
Last Updated Mar 27, 2019, 9:05 PM IST